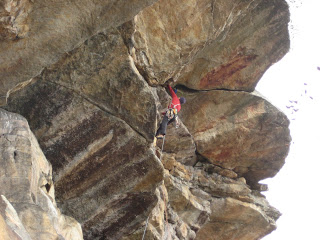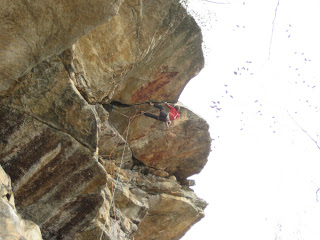 Jamie Hamilton
onsighting
the sickeningly delightful roof crack (hands to off-fingers) named
Arachnious
(5.11c) at Triple Right, the
Gunks
. It was first climbed by Jim Munson and Hugh Herr (ca. 1981); Rich Romano (who belayed Jamie on his
onsight
) also onsighted this route twenty-five years ago using only nuts for protection and wearing a swami-belt (as he always has and still does) rather than a harness. Rich, when asked about the rating, said: "I'm inclined to rate it hard .11." I would like to provide the following commentary: "It is my belief that the rating is not soft." Jamie is on FIRE! You are CRUSHING bro'!!!!!!! I got
bouted
on it big-time; but, with Rich's help, figured it out and am super-psyched to get back on it this weekend and clean it up. It's one of the most magnificent rock climbs I've ever seen. SICK!!!!!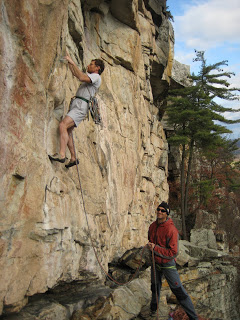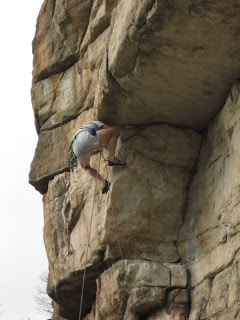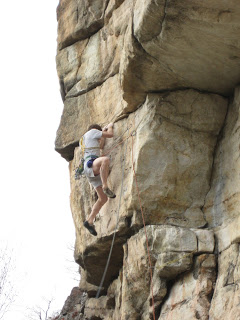 Rich Romano (depicted here sending another heinously marvelous masterpiece Marooned (5.11+) that he did the first ascent of
onsight
twenty-five years ago in a swami-belt protecting only with nuts) is a living traditional rock climbing archetype. Watching Rich climb I get the conviction,
more so
than with any other climber I have ever seen, that he is NOT COMING OFF. He's so solid, I swear, I feel like even if an atomic bomb were to detonate in the immediate vicinity Rich would still be NOT COMING OFF. Climbing with Rich Romano is so madly inspiring; he has set the bar so high as to almost become a mythical trad climbing model; yet, he's a living breathing sending mortal. And, he's 110% Yankee! He is certainly one of the greatest traditional rock climbers that this country has ever produced, in my opinion. You are the MAN, Rich!!!!!!!!!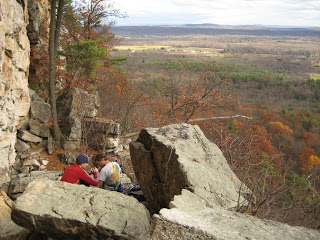 The troops in preparation.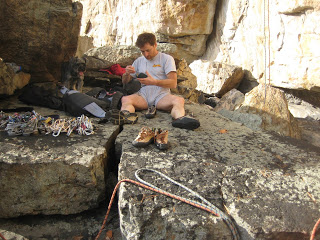 The master, Rich Romano, and his dog
Meo
(pronounced: "Mayo" - which makes me and Rich's dog namesakes phonetically - weird, I know).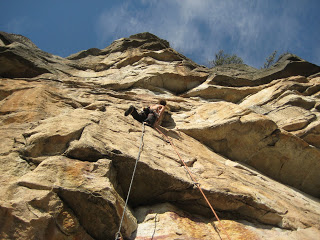 Jamie Hamilton firing Dark Shadows (5.12). The kid's got problems (all good ones, it seems to me). Inspirational!!!!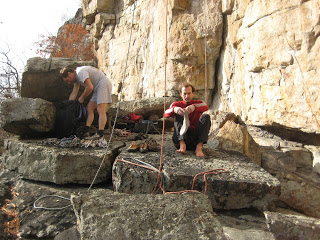 NEXT!!!!!!!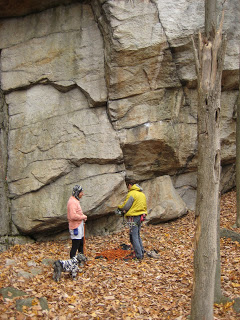 Rich (and
Meo
) giving me a little Dutch Uncle-
ing
below Aphrodite (5.11b/c)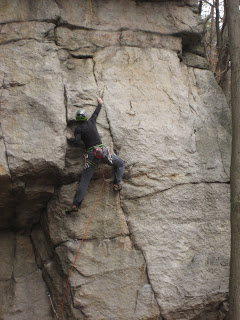 I got Aphrodite second try,
onsighted
Sinus Drip (5.11b) and otherwise got pretty spanked but learned a lot and will be back soon to send some more of these beauties in better style. Thanks for the inspiration boys; see you in a couple!!! Cheers, Will Mayo