by John Atkinson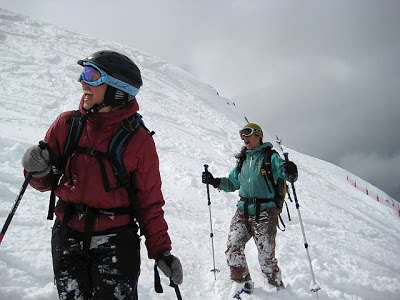 Zermatt to the Argentierre Glacier, that is.
Hannah and I recently celebrated our upcoming July betrothal with an early honeymoon to Europe. Given that we were on a well-deserved (and mellow) vacation, our goals did not include major extreme routes, so don't expect any 50 degree couloirs or 50 foot bergschrund hucks. That's for another trip. However, do expect deep culture, fun skiing, inspiring landscapes and a little amour. Tres bien!
A little powder on the Grand Montets ...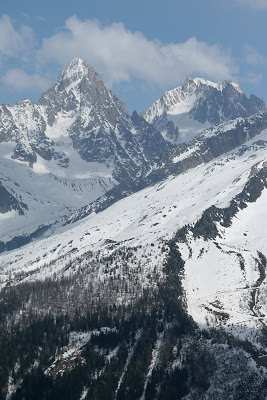 As I was packing for the trip, I realized that this was not just a personal pilgrimage to one of skiing's major meccas, all my gear was returning home too.
Garmont boots are designed and made in Italy, Dynastar skis are born in the Chamonix Valley and of course Mammut is a Swiss company. In fact, I couldn't believe how much Mammut has a presence in these areas.







Not too shabby!
When I got down to the turn-around point, I pulled out lunch and started to eat, marveling in the surrounding scenery.
This is St. Gervais, out the end of the Chamonix Valley.
Brevent is a popular parapenter launch, so I wasn't surprised to see a few. However, a few quickly turned into too many to count, as Mont Blanc's skies were engulfed multi-hued nylon.
This is the Aiguille Du Midi from across the Valley.
It was so calm, I could hear them talking to each other. I heard a few whoa's, but otherwise, they flew like birds in a flock.
This turned out to be a competition of some sort and I watched them fly all the way down the Chamonix Valley and out to St. Gervais.
Watch for the seracs and crevasses!
These mountains were inspiring from beginning to end and we felt lucky to be able to share them with good friends, both old and new.
Many thanks to Mammut, Garmont, Dean Decas,Vermont North Ski Shop, Alpine Options, Sugarbush Resort, our parents, Paul the caretaker, and all our friends who helped make this trip possible and fun.
Au revoir!