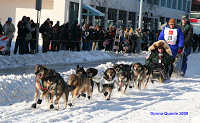 The dogs and I are home from Iditarod, and I'm still trying to put everything in perspective. We travelled over 1,000 miles in 12 days, across the most impressive terrain that Alaska can offer, and encountered just about every kind of winter weather imaginable. I'm trying to pick out a couple of highlights because the entire trip could fill a book.

The dogs were truly incredible, wonderful, and beautiful. I will never understand why they have such a joy and passion for running mile after mile, but they do and I am glad to go with them as a partner. Overall, we had a blast. It is not supposed to be easy or fun, but I have to say it was for us. Not to say there weren't challenges…This was supposed to be the toughest year in decades. Maybe I'm crazier than the average musher (that's saying a lot!) but I still had a great time even in the teeth of the storm. So, highlights;

Most fun: Running down through Rainy Pass and Dalzell Gorge. It was kind of scary because this is supposed to be a sled-eating nightmare and I was running in the dark with a little cloud-covered moonlight to spook things up. But the trail was beautiful and the dogs were nuts – just cranking along. Whenever the dogs were happy, I was having fun. We ripped through this section and roared into Rohn checkpoint where some of the other mushers started calling the dogs my "freight train".

Toughest: The weather this year was pretty extreme, and I got caught on the Yukon River when the big storm came up. 130 miles with no discernable trail, deep drifts, a ground blizzard that kept visibility minimal, and a head wind that was blowing dogs around. Did I mention it was pretty cold, too? You were fine as long as you kept moving, but you did not want to shut down out on the river where there was no protection from the wind. Some teams that quit in this weather were in a pretty dire situation and at least one had to be rescued. I was pretty worried, but my leaders are just spectacular and not one of the dogs ever looked like they would quit. We came through in great shape, which actually makes this also one of the best parts of the race.

Most beautiful: Gliding down off Little McKinley mile after mile with swooping flights of ptarmigan flitting across the trail in front of us. The hills and bushes were all white, the birds were white, the lighted sky was pale blue/white. The birds looked like white penguins swimming through the sky. Very surreal.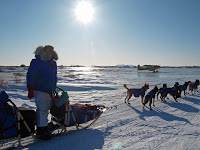 Team on the trail:
Lowest moment: Crossing the frozen sea ice between Shaktoolik and Koyuk. The dogs were not very excited about trudging hour after hour across a frozen white plain with no landmarks and not even a real horizon. All I could think was that we were going so slow we would get to Nome after the banquet and no one would be there - I was really upset to think I would miss the party. That doesn't count as much of a 'bad moment'!

Best hallucination: OK, when your physical exertion is at a peak for over 12 days and you are getting 2-3 hours of sleep per day, plus severe weather, limited hydration and often poor nutrition, hallucinations are pretty common. I really only had one vision, and it was less than a second, but it made an impression. I was dozing (yes I can sleep on my feet, and even drive the sled through tight trees pretty well while only semi-conscious). I blinked my eyes open and instead of seeing 12 dogs, there were 12 aliens with glowing eyes and open mouths all staring at me. I woke up pretty fast. Funny how the reflective tape on the dogs insulated jackets looked just like scary, creepy eyes. Not so funny at the time, though. I just about had a coronary.

We finished in 40th place, not bad for a rookie. Maybe the best part of the entire race was that so many of the world's best mushers were impressed with my dogs and assured me that we could be competitive. These guys sought me out to tell me I had a real team, and they don't BS when it comes to dogs. So now we are trying to wrap our heads around racing next year. For my next miracle I need to raise $30,000 and find the time and energy to train again while working full time.
Tired musher after the race: