Mammut had a strong presence at the New River Rendezvous in West Virginia last weekend. The weather was great and the event was well attended. Will Mayo, Peter Kamitses, and I all taught various clinics throughout the weekend while Lee Means and Shannon Walton (from Scholler) talked shop from our booth in the Vendor area. Brian Williams dropped in from time to time and answered questions for event attendees on various Mammut apparel and gear as well.

I had a great time with the whole Mammut crew and even got out for a few hours of bouldering with friends!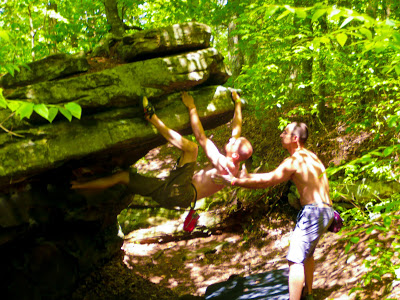 Other than playing catch up after being gone, i was able to get some fitness in at our local choss pile with Heather and some friends last night. I got pumped strait away and spent the rest of the evening hanging out in my Hermes harness shooting photos for your viewing pleasure...
Heather Lords on her route - The Bride of Crankenstein 5.12-
Rick also on the Bride
Jennylin on Powder Finger 5.9
Dean Lords