ANYWAY. MALLORCA IS AN ISLAND IN SPAIN, popular among German urlauber (drunk on board Berlin Air flight # 9414) for its temperate waters and beautiful beaches. It is also famous among climbers round-the-world for its temperate waters, beautiful beaches, and freaking beautiful , overhanging, seaside limestone cliffs. In recent years, deepwater soloing (or "psychobloc" in European ) has become an increasingly popular, yet still exotic, style of rock climbing whereby climbers ascend seaside routes directly over the water, without ropes or any means of protection other than the deep sea below.
Having never properly engaged in psychobloc before, and because of a number of other contributing factors, I decided my next step in this Euro-journey would be Mallorca .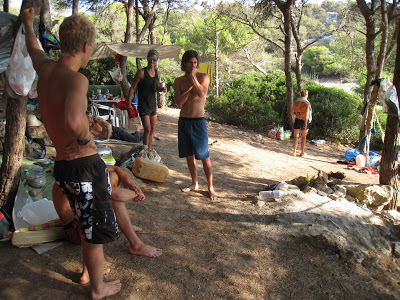 I arrived at Palma Airport (via Nice, Dusseldorf ) with Ceuse friends, Alex and Chris, on the night of September 10. Here we were retrieved by a gracious, car-driving friend. I aimed to meet back up with my Australian friend, Chicko… somewhere on the island. According to Chicko,
"from Porto Cristo you can catch a cab to Cala Varques or hitch. About 8 ks out of porto cristo in the dirrrection of cales de Mellorca you will come across a house that looks like a castle (on the left) about 40 mts before the house is a dirt road at the end of the dirt road is a steel gate, through the gate and follow the path. at the beach on the right in the pine trees is me and a smile."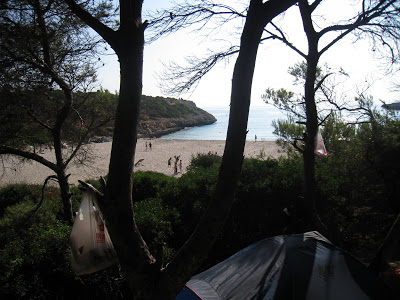 Luckily, one of Alex's friends knew what this meant (because I definitely did not ), and they dropped me off —right at the steel gate— the next day, after inviting me to crash with them for a night and (thank you!) taking me to the grocery store for food and water.
I wielded all of my unwieldy crap the 10 minutes down this aforementioned path to a beachside campsite in two trips, spoke immediately with someone in the campsite who knew Chicko, and found him playing in the ocean shortly thereafter.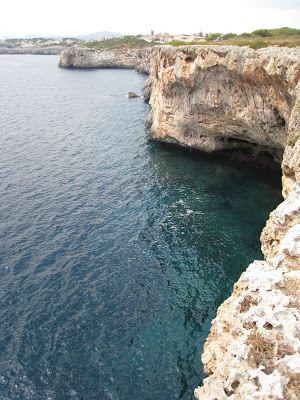 The next few days we spent in sunny paradise, deepwater soloing and generally absorbing the Spanish maritime paradise. A contributing factor to the utopian aura of the place is definitely the campsite –we sleep in a breezy pine forest immediately above a turquoise cove and white sand beach. Also, the majority population of this campsite is… (surprise) Spanish!
This (being a minority tourist among Spanish locals) has been a genuine treat, as, unlike my last time in Spain (El Chorro, December 2008), I've actually been immersed in the language, culture (albeit in the form of dirtbagging on the beach), and the sharing of food, jokes, etc. I've even been getting Spanish lessons in earnest from a Uruguayan here. With paper and pens and an English-Spanish dictionary.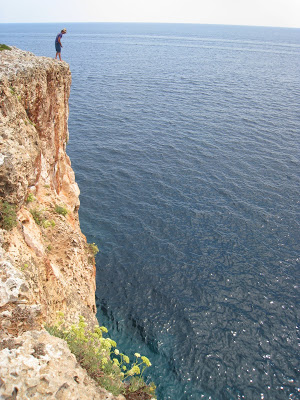 All temperate waters, sunshine, and tropical beaches aside, the last few days have been, eh… a bit trying because, though the area is beautiful and, though it statistically never rains here in the summer, it has, in fact, been raining hard … off and on for the last four days. Which is less-than-ideal on a steeply-sloping campsite that easily becomes a river of mud and pine needles, soggy food bits and other rubbish. An aging tent (with large, new hole in the rain fly), and sub-tent river have severely dampened nearly all of my belongings, and the persistent precipitation has not allowed for any drying of these… Needless to say, everyone else in camp is suffering under the same dampness and, though solidarity is high, morale is generally low.
On the bright side: we have enjoyed a staple of grace from newly-made, local friends and acquaintances. A shower one day and a dry couch one night have made a world of difference in the otherwise clammy mud bog of the last four days.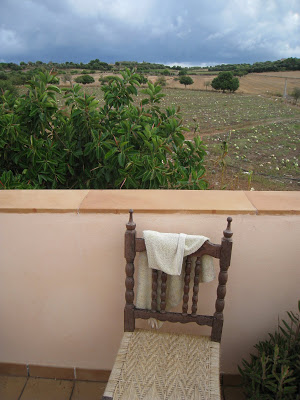 Climbing-wise: I'm not there yet. I've had a high rate of painful falls into the water. Odd belly- and face-flops, thigh slaps, wind-knocked-out-of-me's, sinus blasts, etc, etc… are making it very difficult for me to properly wrap my brain around this particular style of climbing... needless to say, four days of off-and-on rain haven't eased this transition for a number of factors (wet rocks, chilly weather, and sometimes simply unclimbable conditions). But I'm convinced that I'm just slow in getting used to it. So… whenever the weather clears, I'll keep chipping away at this problem. Given deepwater soloing's popularity, it can't be all that bad. I think the responsibility is with me and that I'm just an awkwardly-falling, high-surface-area wuss.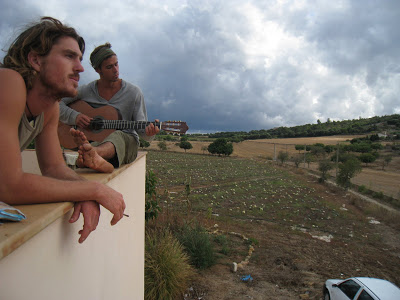 But anyway. I definitely can't complain, though I do look forward to hitting my stride again with climbing (in terms of mentality and volume), and hope I can get some of it done soon.