A summer from the limestone of Ten Sleep, to the home crag of the Gallatin Canyon, to the Black Canyon, it's been one of my best summers of rock climbing ever. At times it was total humiliation and at times blissful success. Over the hundreds of pitches climbed I don't have a single photo. Lucky for me a story about Montana climbing was in Rock and Ice that featured some pics of me at the home crag. I need to work on taking more photos, I really did climb some cool rock this summer. The one photo I did get about sums it up for me. Eli sampling his first boulder problem.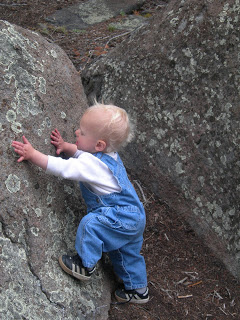 Well...... it's been slow coming but winter has arrived. It's always bitter sweet, I'll miss the care free feeling of summer but at the same time it's a time of year I appreciate. A time to rest and reboot for the winter months and all the fun activities that come with it. The next photo I take will probably be Eli skiing.
For now I'll be getting the tools sharpened up, waxing the boards, and working on a trip to Patagonia for some big towers.
Onward,
Whit
Bozeman, MT