2011 has been the winter that wouldn't quit. It is now June 7th and there is snow in the forecast all week. The Tetons should be getting a re-fresh to smooth out snow surfaces--if not provide an entirely new blanket of Spring Powder.
The weather windows have been few and far between. I have had my share of storm-bound slogging throughout May. Despite a dirth of summit ski descents, I did manage to shake off the heli-belly that grew in Valdez during March and April.
On June 3rd, the weather broke for the first time in a couple of weeks. Mountain Guide Kent McBride called me with the ambitious plan of ski guiding a client on the North-East Ridge of Mount Moran--a descent that had only been done three times before by very competent ski mountaineers. Two guides would enable us to ski-belay this client down several pitches of 50+ degree terrain which sits above a 300' cliff. The client, Cameron Romero, was no newbie--he had skied the Grand Teton with Doug Coombs and Mark Newcomb in 2005 and he probably has more first descents in Alaska's Chugach than any other client in the world.
Cameron, a successful ski instructor from Utah, promised a "Deer Valley experience" and he did not dissapoint. On June 4th, we climbed aboard "No Worries", a 20' speedboat Captained by Frederick Howard. "No Worries" allowed us to circumvent an arduous canoe trip across the lake. On the western edge of the lake, Cameron donned waders to ferry the gear and guides to the icy shore. Cameron was proving to be very "guidable."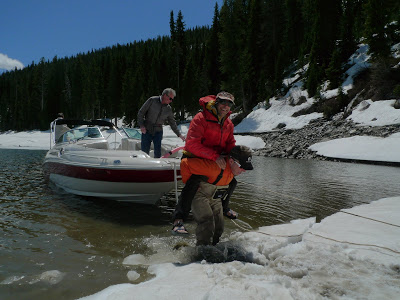 Cameron ferrying Kent McBride to shore. Photo: Doug Workman
After securing a hot pizza to his pack, Cameron turned over the guiding duties to the guides and we began skinning up the steep wooded slopes to the base of the North East Ridge of Moran. In two hours we had checked into our "room" (read: Mega-Mid) at the base of our 6000" ski run.
After an early evening nap, we awoke at 12:30am, downed a couple hot drinks and were on our way by 2:00am. We climbed quickly in the dark up a north facing ramp (the "Romeo-Finlay" variation) to gain the ridge proper at 11,000'. On the ridge it was apparent we were early, which gave us a sense of security. We picnicked in the dawn light staring at fading stars and dimming headlamps ascending the Skillet Glacier to the south.
The upper route is a 2000' face over a large cliff. The snow underfoot was perfect neve making cramponing fast and secure. At 6:30 we were on the summit ridge--200' below the true summit. This would be our high point, as the summit would not add any significant skiing. We were now poised to wait for the smooth 50+ degree face below us to corn up.
Cameron started down at 8:15am. He skied three belayed pitches down the upper snowfields. He was more than capable of skiing the run without a rope, but with two guides it was easy to move through the terrain while maintaining a greater measure of safety.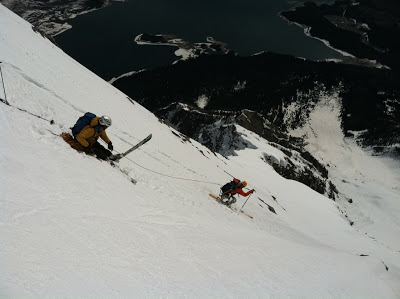 Kent McBride belaying Cameron down the upper face. Photo: Doug Workman
As the face eased off to 45 degrees, the corn snow became even softer and more secure. We put the rope away and continued to the top of the Romeo-Finlay variation, which we had hoped to ski. However, on the ascent it had become apparent that recent shedding had destroyed the snow texture. Instead we opted for the ridge proper, a run not repeated since Stephen Koch's first descent. This crux included a 55+ degree roped ski pitch to gain a horizontal ledge which allows passage of "The Gendarme" by climbing 50' around a snow mushroom.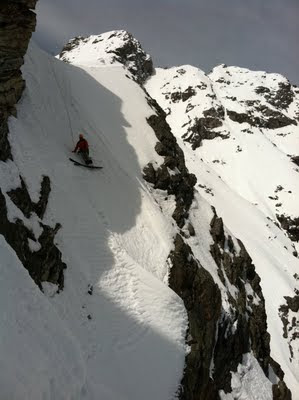 Cameron descending the 55+ degree ramp around The Gendarme. Photo: Doug Workman
Beyond The Gendarme, we gained the ridge again, skiing good corn further down the ridge before pulling a hard left into a west facing coulior--perhaps unskied before us--to bring us back to camp.
By mid-afternoon, Captain Frederick picked us up 6000' below the summit of Mount Moran at Grassy Island with a boat full of beers. It is rare that a client provides such good "guide-care." Thanks Cameron for setting the bar so high.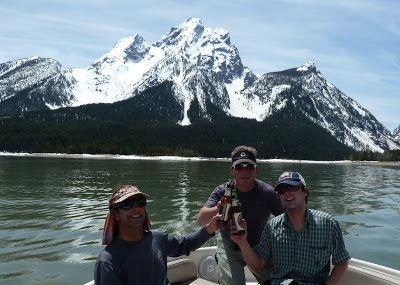 Back aboard No Worries. Photo: Samantha Danahy
Mammut gear that was indispensable on this trip included: the Twilight rope, Kento Jacket, Packaway Pants, Glacier Pants, Alpine Light Harness and Trion Guide 35 pack.