We got lucky today and enjoyed a guided tour of Whiskey Gulch. I'm originally from Bozeman, and been to Whiskey a handful of times back in 1999... and before I really even had properly started climbing. What a difference in the place: it now has a decently maintained road leading to it (flanked on either side by spur roads and dozens of homes) and clearly worn paths connecting the boulders - which now have chalk on them, and occasional shoe polish (if you look really hard).
In any case, I didn't remember anything about the place, climbing-wise. This day served as a great introduction to the layout of this maze-like area, filled with trees, knobs, and similar-looking boulders and rock fins.
We climbed for several hours, only stopping when we'd run out of skin. David's skin even managed to NOT bleed the entire time.
In case you were wondering, we returned to a house after climbing. Cooked dinner in a kitchen, and took a shower.
We're hoping to head back to Whiskey as soon as the weather is good. David cleaned a semi-highball near The Wave Boulder that he wants to climb when we return. I have a short list of problems I'd like to try (with fresh skin), and we both would like to spend some hours wandering the area, looking for new problems.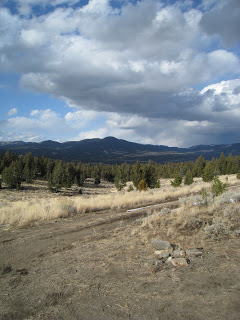 View from the parking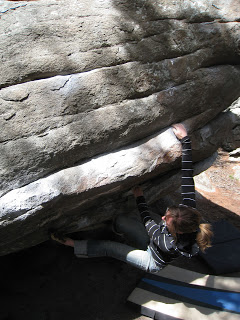 A really fun V4 on The Wave Boulder, a classic warmup area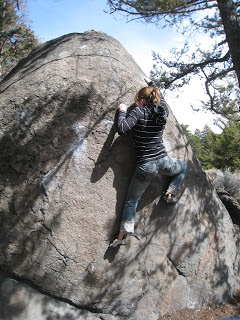 A non-hold sloper on a V5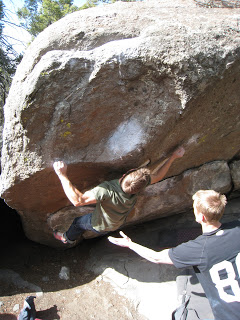 David on Super Loose Tuna, V10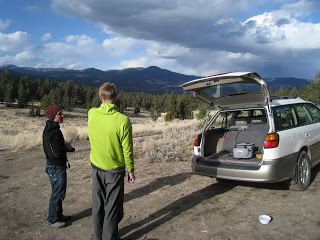 A storm rolling in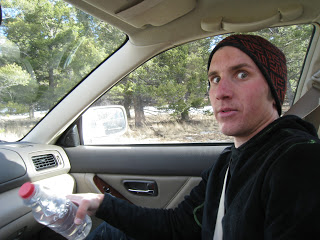 The look of surprise satisfaction and "Oh my, we have to come back soon."