This year, I've decided to return to school--9 years after graduating from college. I've embarked on a 1-year pre-med, post-baccalaureate program. During this program, we'll take all the math and science a person needs to apply to medical school. It's been great, but intense! It kicked off with a 12-week summer session; this included a full year's worth of chemistry and of physics: 48 labs (with pre-lab reading and lengthy write-ups), 18 exams and over 1,000 pages of science text reading.
Needless to say, I've had difficulty finding time to sleep and eat--let alone climb.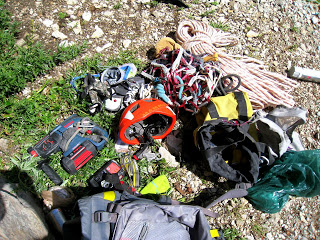 This summer term finished on Friday, Aug 2--and I've been doing nothing but bolt and climb ever since. A proper sprint mission for fun--trying to pack in as much rock time as possible before a two-week trip to Sweden! Following are some images of bolting at a few areas in Southwest Montana.