The start of a two week climbing trip began with a first ascent in the Bear Tooth Mountains of Montana/Wyoming. I had put a week of effort into this route starting in May before my brother Sam and I made the free ascent on the 19th of August. We called this 8 pitch line the Velvet Hammer 5.12.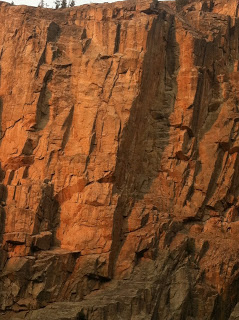 The Route follows just left of the sun shade line along the arete, the top 5 pitches are visible is this photo. Thanks to all those who helped me with this route: Tim Seiple, Sam Magro, Conrad Anker, and Jason Thompson. It goes guys!
Now off to Ten Sleep for some Dolomite sport climbing before I embark on the real goal of the trip which is to climb Mt. Hooker in the Wind River Mountains. I am meeting up with my good friend Josh Wharton and John Dickey both out of Colorado for this adventure. We have hired an outfitter with horses to pack us in. Mt. Hooker has been on my radar for at least 12 years being the tallest back country big wall in the lower 48. I am looking forward to over a week of living below this 2000 foot chunk of granite. We hike in the 21 to the horse drop. Then we'll carry heavy loads up over Hailey Pass to base Camp on the 22. That gives us the 23- 30 to try hard for as much rock climbing as the weather permits.
Post trip report will post after Labor Day.
My Mammut big wall kit for Hooker:
Serenity 8.9mm rope
Twilight 7.5mm rope
Alpine smart belay device
3 or 4 Element lockers
14 Mammut Contact slings with Moses biners
Togir Light Harness
Rock Rider Helmet
Courmayeur Advanced Pants
Kala Patar Tech Jacket
Wing Half Zip
Broad Peak Hoody - puff jacket
Go Dry long underwear
MTR 141 shorts
Sphere summer Sleeping Bag
Whit Magro
Bozeman, MT.