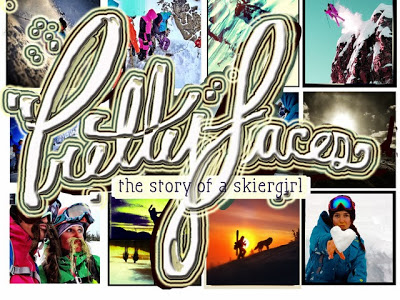 It is not often in life that you have an amazing opportunity to be a part of a project that could be industry changing. As a woman I am constantly trying to advocate for myself and my fellow female athletes and carve a place in the action sports world for all of the young girls out there who dream of outdoor adventure. It is difficult to battle the stigma that women are not as good at sports, that we are weaker, that we are not as adventurous. All of these preconceived notions make it that much harder for the next generation to be secure in their abilities and push their personal boundaries and the boundaries of their sport of choice.
When I got the opportunity to put together an East Coast segment for the all female film "
Pretty Faces
," produced by Unicorn Picnic Productions and organized by fellow freeskier
Lynsey Dyer
, I was acutely aware that this could be a game changer not just for myself but for all of the women and girls involved and all who watched the film. It will be a chance to show the world that women are capable of great things and that we do not need to cater to a men's standard to stand out. We ski for ourselves and have our own style. We are powerful athletes in our own right and deserve to be acknowledged. It is wonderful to be affiliated with a company like
Mammut
who understands the value of women in skiing and without their help I would have a much harder time achieving my own goals in freeskiing. With their attention to detail in their women's clothing and hardware, getting around in the snow would be a struggle. It is a company like this that helps further the sport of skiing for women's as Mammut increase the access and comfort
through quality products when we choose to push our physical and mental boundaries. Thanks you Mammut!
Please help with the
Kickstarter campaign for Pretty Faces
over the next few weeks. We have decided to do a crowd source funding initiative because it is our friends and family who have the ability to make women in skiing a lasting presence. Your help will make our dream a reality. Check out the link to the Kickstarter campaign here:
and the promo video that will give you a taste of the awesomeness to come!
Until next time!
Louise Lintilhac
a.k.a Steezy Weezie