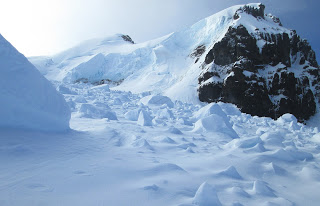 Climate change is making mountains more dangerous and threatening the prosperity of the guiding profession. This spring a historic mass of ice broke off from Colfax Peak, sweeping across the standard ascent route for Washington State's Mount Baker climb.
Photo: Kel Rossiter
Recently, Guides for Glaciers (G4G) was established, with a mission to address the issues of the changing mountain environment and its impacts on the guiding profession. G4G intends to mount an educational campaign to bring together common stakeholders in order to influence public policy and preserve the longevity and economic sustenance of the mountain guiding profession globally. The longevity of the entire guiding profession hinges on guides' ability to advocate for climate change policy and preserve our mountain environments well into the future.
Rockfall is not the only issue for mountain guides in the age of a changing climate.
In the face of such adversity for the guiding profession there exists a gap between the effect of climate change on the profession and the actions taken to address it. There are thousands of guides certified through the American Mountain Guiding Association, yet, there is no clear path for guides to interact with and communicate about how a changing climate is directly affecting their economic and physical livelihoods. Mountain guides have regular contact with glaciers and the winter world, serving as credible witnesses and recorders of the effects of climate change. Through their work with clients and guests, guides have the ability to drive economic and environmental policy. However, the guiding profession is in great need of a platform to share their stories in order to influence public perception. G4G is calling on mountain guides, as well as passionate recreationists, to join the movement and speak up against adverse climate policy.
Guides for Glaciers' Facebook Page
is driven by your voices. Share in the conversation by adding your observations, photos, and articles to highlight climate change and its effect on the mountain, alpine and glacial environments. You can also share G4G's message by hash-tagging your photos #guides4glaciers or #climbitchange. And you can also follow
Guide for Glaciers on Instagram
. Through each of us sharing our passion for the mountain world via these channels and each of us taking important personal steps—everything from lifestyle choices to letters to your elected representatives—we can work together to preserve our cherished mountain places.
Climb on,
Taylor Luneau
Guides for Glaciers
Using climber's guidebooks to assess rock fall patterns over large spatial and decadal temporal scales: an example from the Swiss Alps.
Geografiska Annaler: Series A, Physical Geography. 97, 793–807. (The Geografiska Annaler is a journal on physical geography published monthly published by the Swedish Society of Anthropology and Geography.)