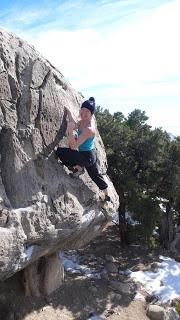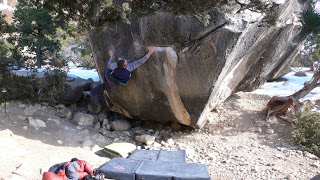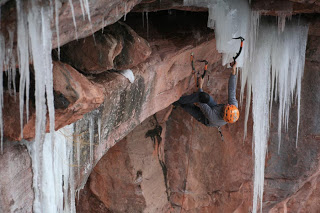 Photos top to bottom: Erinn Kelly enjoying the sunshine in Joe's Valley, the opening move of
Resident Evil
(V10) by Erinn Kelly,
Package of Woe
(M10) by Chris
Goplerud.
This week I pulled off my arbitrary goal of
redpointing
a new M10, 5.13, and V10 in a single week. On
Monday
I repeated a Duane Raleigh's hybrid route in
Redstone
,
Package of Woe
. On Tuesday I climbed
Blind Date
(5.13b) at The Fortress of Solitude. Thursday I made the mistake of doing a few pitches at the Fortress, and working on a 5.13+ I'd never climbed. This turned out to be a big mistake, and Saturday was an epic three hour battle to climb
Resident Evil
(V10) at Joe's Valley. This project was a great experience builder, and taught me all sorts of things about what it takes to be
competent
at several types of climbing simultaneously. I think it would be very impressive to see someone push this towards the cutting edge in each discipline. My guess is that someone like Dave
McLeod
might be able to do an M12, 5.14, and V12 in three days! Here's to climbing, and all the contrived random goals we all concoct to keep the fire burning.
Cheers,
josh