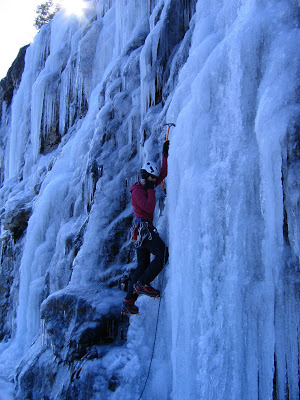 The Southeast was recently hit with a long spell of very cold temps giving us a week of excellent ice conditions. I was able to climb ice seven days in a row which is not too common here in NC. Above is a shot of me leading a route at Graveyard Fields (I have no idea how to rate ice climbs but this felt hard enough for someone who's climbed ice a total of 7 times). The hardest part was remembering not to put the ice screws in your mouth when it is 5 degrees out.
Just a few days before the cold snap I found and put up a new route at Ghost Town called 'Gold Rush' (5.12). It features difficult crack climbing and a devious slab boulder problem crux. Just another addition to this incredible area of steep granite cragging. If any of you are in the area you
have
to get in touch with me and take the Ghost Town tour. Simply put, this is likely the best concentration of granite cragging in the 5.10 and up range in the state. Hopefully, as the new state park takes shape, access to this area will remain open.