To all the Mammut bloggers, to all the readers:

Hi, my name is Vasya Vorotnikov and this is my first post from a small college town of Durham, NH. But really, it's not like I'm trying to reach aliens or something, hello-hello (btw if you haven't seen Zoolander, watch it whether you're in dipers or you're a tenured professor).
"Allow myself to introduce… myself" (Mike Myers). I am now getting ready to graduate, as long as I manage to put together my senior thesis, two chemical engineering design projects, do well on my nuclear engineering exam (hopefully, it'll be open book/notes and maybe we'll get to ask our professor how to actually do the problems)… all that in the next month. I seem to be enjoying this so much that I decided to continue torturing myself with more books full of equations and more variables than English and Greek alphabets can handle. I'm going to graduate school, not sure where at this point, but will shortly figure it all out (who needs deadlines?).
WTF?? Don't worry, guys. I use engineering as a cover-up for my rest days from climbing. It's all good. I plan to keep climbing, even if it means typing up lab reports while chewing on a slide or two from Miguel's Pizza… and by one or two, I mean four or more. But yeah, I recently paid a visit to KY with my engineering-climbing friend (he doesn't really know what he wants, heard he's been pulling V11s at Pawtuckaway, NH recently while answering his work phone) Neil Mushaweh. This trip inspired me to learn how to manage climbing trips and higher education in a whole new way: spend a week in a lab, then one at a climbing crag typing up your report – that's my Utopia anyway.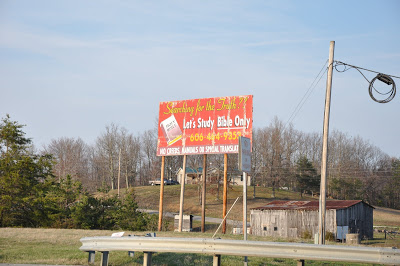 No comment. I plead the 5th. Photo by Neil Mushaweh.
So… Kentucky… Bob Marley wall… Motherlode… yeah, that's pretty much all we saw there in the 3.5 climbing days Neil and I spent there. My goal was to get on Southern Smoke (5.14c), Joey Kinder's new route from last fall and give it some good work, a.k.a. send it. Between low endurance, half-hurt finger, manky or some might say wet conditions, I gave it all I could before quitting on the proj and just getting some climbing in: Ultraperm (13d), No Redemption (13b), Cut throat (13b), and Take That Katie Brown (13b). But you know how trips are: it's a never-ending struggle between getting on all the stuff you can do 1st/2nd try and that project you dream of, or have nightmares about, whichever.

But trips are also about the people, and we did hang with a few… A fresh-outa-high-school thug-gangsta Ian Dory was killing it with a slightly old-school approach: by doing the easier routes first (who knew that would actually work?) Then, there was Peter Kamitses, celebrating his birthday Kentucky-style, getting away from his family for 3 weeks to send Transworld Depravity (14a), ticking off a few others, and play around on Southern Smoke. I didn't forget to mention Will Mayo, who wowed us with his Chris Sharma screams, growling his way to the top of a 5.12 while the only sounds I made on my proj started with the letter "F" (sorry, should have warned about this post being rated R). Sorry about the lack of photos or video. Tim Kemple was too busy on his latest routine trip to Argentina, although Will took a few pics of my "lats".

Let me throw a couple more updates at you since I already started. I've been trying to get outside as much as possible this past winter, but it added up to about 3 climbing days, productive nonetheless. I paid a visit to the Spectacle Pond boulder, oh so surprisingly situated at the Spectacle Pond up in the Rumney area. Weather was cool, with about 20 degrees F with the wind chill, snow was 1.5-2 feet deep, but fortunately for Mike Foley, Max, Taylor, and I, our friend Dave Wetmore volunteered to produce a trail to our bouldering destination. Unfortunately for Dave, his pants got wet and ended up freezing, so upon reaching the boulder, he had to take them off and hang out in his boxers. My warm up (kids, please always warm up before you climb) consisted of taking off my extra pair of pants and lending them to Dave, after torturing him for 10 minutes Dumb-and-dumber style, and clearing the landing from all the snow. Our target route was the Spectacle Illusion (V12) put up by Paul Robinson a few springs ago, and I ended up sending after learning all the moves.

Every time we go out to climb in the Northeast, whether the temps are good or not, seems to be just another adventure. And, being in this game for the past 12 years, I still seem to learn something new every time. When Neil and I headed up to Great Barrington, it was no different. We met up with Danny Yagmin and Phil Schaal at the Speed boulder, only to find that Roses and Blue Jays (V12/13) cannot possibly go because the key holds are wet despite the perfect 50s-and-sunny conditions. The dedication and ingenuity of our South-side (Connecticut) connections, however, reported otherwise. Phil absolutely crushed Double Down (V13 put up by Danny Yagmin) despite EVERY hold being wet when they got up there. I ended up sending Roses and Blue Jays on my third try from the start. Dan came 0.25 inches from crushing Something from Nothing, the bottom of which was also full of mank and dank… "Ridiculous… How doeth he doo it???" This is a secret I'm willing to share with all ya'll today: it's toilet paper! No, we didn't wipe our own a$$, we stuffed it deep into the holds of some of the hardest New England has to offer. Within minutes, the amazing TP absorbed all the moisture to allow sendage. The day didn't stop there, and I ended up topping out a V9 and two more 10s, making it one of the best bouldering days I've had.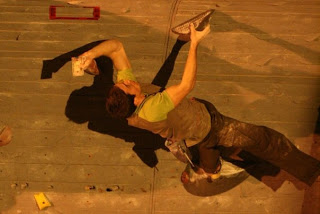 Pulling money off the wall at Heart of Steel Bouldering Competition. Photo by Mike Hall.

As much as I have already written, I wanted to add a few words about the Heart of Steel Bouldering Comp that took place at Boston Rock Gym a few months ago, in January. Max Zolotukhin and Gavin Heverly were going for an afternoon session at GB, and obviously had nothing to do in the car but talk a bunch of climbing nonsense. One of the topics that came up was competitions, and you know how it goes: "Euro style dis and dat, the ABS blah blah blah, but I like Jason Danforth's Mammut Bouldering Championships the best because dat and dis". But these guys said "Let's make climbers climb for the money they want, literally", and that's what happened. Three guys, three girls, disco-lights-style finals, and you have to strategize on how to pull cash off your climb. It doesn't matter if you finish the climb, whether you get a certain hold or not, just that you start from the beginning, and pull as much dinero off the wall as you can. $200 per problem, with $10, 2X$20, $50, and $100 bills flying in the air. I was lucky enough to win the competition with strong men Dave "Mr. Metrorock" Wetmore and John Glassberg on my back. Not to brag or anything, but I was psyched to get all the money they didn't pull off the wall…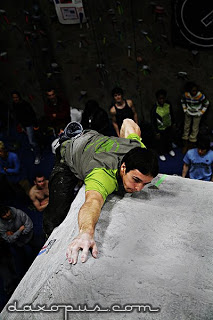 Feats of Strength IV comp at the Cliffs in Valhalla, NY. (daxopus.com)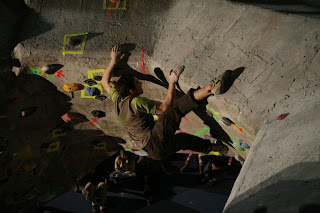 Another one from Valhalla, NY. Courtesy of the Cliffs climbing gym.
Check out a cool video at http://vimeo.com/2984985 (Heart of Steel by Taylor de Lench)
On that note (if anyone got this far reading this blog entry), I'll end… till next time!

Yours,

Vasya