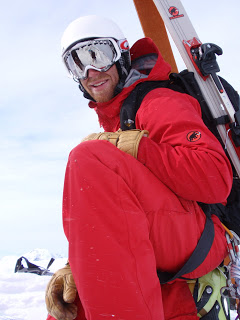 Steve on the summit of Iceland Peak 
Alaska Part I
As folks in the Northeast were pulling on stone and praying for mud season to be over Andrea and I decided to delay the return to climbing season and keep the planks on our feet as long as we could.  In early April Andrea and I stuffed our bags to 49.9999 lbs. each and flew to Anchorage, Alaska.  Our plan was to sample more of the spectacular Chugach Mountains, get reacquainted with Alaska's epic snow and prepare for the AMGA Ski Mountaineering Course and Aspirant exam (more on this later).
We started our journey with a short drive to Palmer, AK where we met up with Mike from Meekins Air Service.  Mike is extremely knowledgeable and will give you more beta on routes and possible objectives in the area than you ever could hit on one trip, definitely get the scoop from him if you're out this way.  After a short recon flight in the Piper Super Cub, we landed one by one on the Scandinavian Glacier above the mighty Matanuska Glacier and in the shadow of the Chugach's highest peak, Mt. Marcus Baker, just in time to witness a massive serac-induced avalanche run down almost the entire flank of Baker.  The Scandinavian glacier offers a wide variety of ski mountaineering and alpine climbing objectives and more importantly a very sweet hut managed by the Mountaineering Club of Alaska (MCA).  This hut would be our home away from home while we explored the many objectives on its doorstep.
Unfortunately the central Chugach was experiencing a low snow year, and just before our arrival there was a major wind event.  The president of the MCA and a few other members were stuck in the hut for 4 days with high wind and no visibility, imprisoning them in the hut. They wrote in the cabin's log book that 2 foot thick slabs were being picked up and thrown all the way to Canada. They even tried to ski out the Matanuska but its labyrinth of crevasses forced them to return to the hut and wait it out.  So the shallow snowpack and wind meant much of the crevasse bridges were super thin or non existent- the snow on the steeps would be bullet proof and the "trade routes" would be particularly sketch. So what's an east coast ski mountaineer to do? Climb and shred the gnar anyway!      
Keep thinking Snow
Andrea & Steve Charest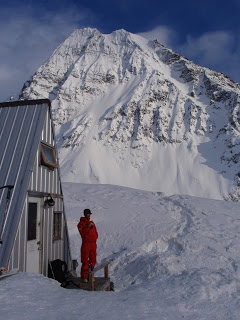 Enjoying a tasty beverage at the Scandinavian Hut, Denmark Peak and its epic couloir can be seen behind the peak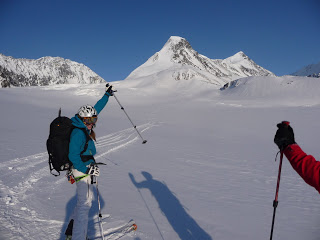 Andrea Claiming Norway Peak after a successful summit!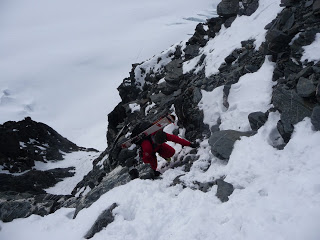 Topping out on Yah Sure to the Viking Glacier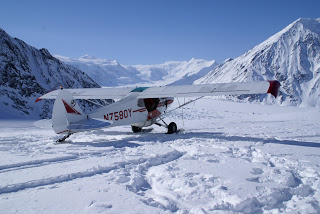 Landing on the Scandinavian Glacier, with Mount Marcus Baker in the Background