Northeast Snowfields, Mt Owen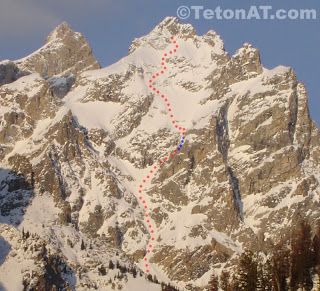 I am home from Valdez Alaska, where we get to ski some of the most jaw dropping lines in the world, and back to reality where there is no heli to scoop us to the top. Back to blue-collar skiing, which is a much-deserved reality check.
Got to chase my ski buddies Jimmy and Dan up the Northeast Snowfields of Mt Owen a few days ago. While I was stepping out of helicopters all spring, they were climbing peaks in the Tetons, so I was glad to have them along breaking trail up the 4000' 50 degree face.
It is one of the most coveted lines in the Tetons—and for good reason. Besides a 100' rap, it is a 4000' face with a fairly consistent 45-50 degree pitch. Below the face lies another 2500' of skiing to the Valley floor. Abundant spring storms have filled in the high alpine lines in the Tetons this year as well I we have seen them in a while. In fact, we were able to ski all the way to the shore of Jenny Lake where we stepped right onto the boat. Whew! I was relieved to get to burn a little petroleum on this trip! That's more like it.