Each spring, I am fortunate to be a part of the Peter Terbush Memorial Leadership Summit. Peter was a student at Western State College in Gunnison, CO when he was killed in a massive rock fall in Yosemite 10 years ago while rock climbing with friends. Peter was know as an ultra friendly, outgoing guy with tons of energy and a way of motivating people to extend their limits in the mountains. Peter died while maintaining the belay that saved the life of his friend and climbing partner.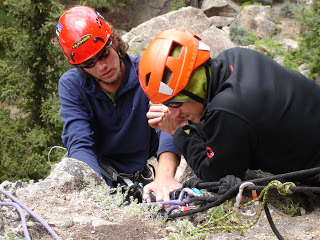 Through the generosity of the Terbush family and Western State College, around 25 participants a year gather from around the country to learn leadership in the mountains. Students select from single pitch rock, multi pitch rock or alpine climbing for a week of hard skill instruction as well as the softer skills of leadership, mentorship and guiding. This year I instructed the single pitch discipline, with all the cushiness of car camping in Taylor Canyon and at Hartman Rocks (Perfect since recovery from ACL surgery this spring seems to be taking FOREVER). With a crew of 6 students, my co-instructor Laura Chase from Crested Butte Mt. Guides and I spent the week teaching the basics from knots and belay techniques to haul systems and rescue scenarios while preparing a feast each evening by the campfire.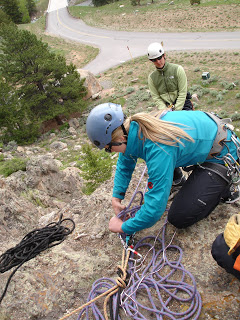 The Summit has become important for me to instruct each spring because of the energy and spirit of servant leadership Peter's legacy has brought to the program. I am inspired each year by the enthusiasm of the participants as well as by the keynote addresses given by Peter's father Jim on leadership. It is great to see such enthusiasm from the students as they prepare to head into careers such as guiding or running academic outdoor programs.

SteveBanks
IFMGA Guide