I recently ventured off to California for some super fine rock climbing. We stumbled into Little Slide canyon where the Incredible Hulk looms on the Eastern side of the Sierra. Some of the finest alpine stone in North America.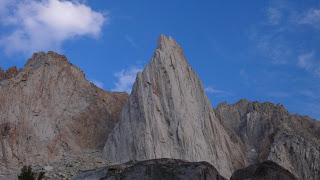 We carried in super light loads; the key to that being the 9.2 Revelation, 60 meters of 6 mil pro cord for a pull line, and an entire rack of Mosses wire gates. The less weight the better right?
The first day Justin Griffin and I climbed a route called Solar Flare which is stacked, with 4 of the the 8 pitches covering the whole spectrum of 5.12 from A to D. The route went very smooth, I guess I was lucky to have climbed the whole route clean except that burly 12 D pitch. I took a bunch of falls on that but eventually made it. We topped out then rappelled right on down the line back to the shoes. For me there is nothing better than putting on my shoes and soft socks at the end of a day. It's the simple things in life.
The second day waking up we were feeling a bit less motivated but after thirty cups of coffee we were rearing to go. We switched partners (there were four of us) and both teams decided to climb a route called Positive Vibrations V 5.11. It's named so because for thirteen hundred feet you're jammin. It's absolutely splitter the whole way. Pat Wolfe and Justin, then Tony Brown and I sailed up this fine route in a few hours, summited, descended, and then we walked right on out of there to the nearest burger joint we could find.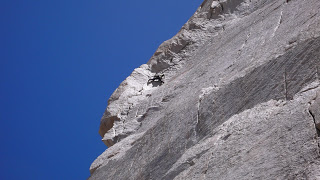 Above: Justin at the crux of Positive Vibrations. Below: Tony Brown following the last pitch .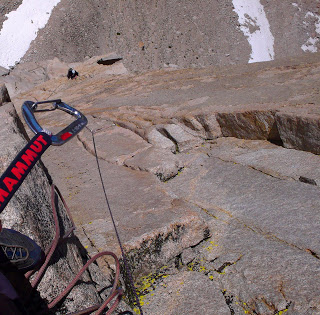 Whit Magro
Bozeman, MT