We've been in Kalymos for about two weeks now and the climbing is ridiculous. It's so good that it's hard to imagine sport climbing getting much better, and the Grande Grotta has some of the longest, steepest routes I've ever done. The extension pitches range from 50 to 55 m and the climbing is extremely steep. Although you can walk to a number of the best cliffs from the town of Massouri, it seems as though having some form of transportation really opens up the options. We rented a car today for the remainder of our stay and look forward to touring the island and visiting some outlying cliffs. Crowding here in October is a bit of a problem, but it's understandable why everyone comes at this time. The water is still warm for swimming and the cliffs are starting to cool off and offer decent conditions. Plus, there is very little seepage in the tufas because of the timing at the end of the dry summer.
The Grande Grotta.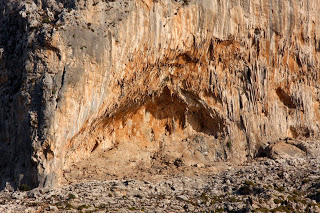 Sector Arhi.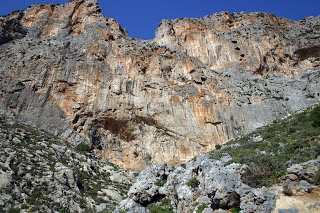 There are lots of cats around here...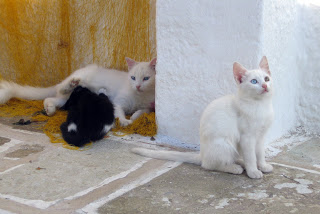 Ivy (7b) in the Grande Grotta.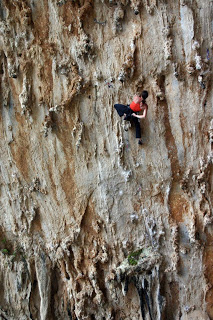 Aegealis (7c) in the Grande Grotta. One of the best routes in the cave!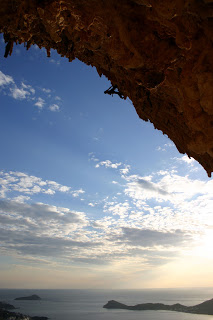 DNA (7a+)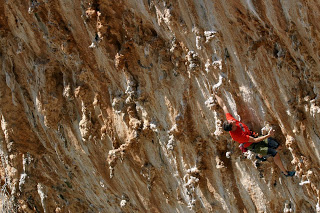 The incredible Trella (7a) on the right side of the Grande Grotta cave.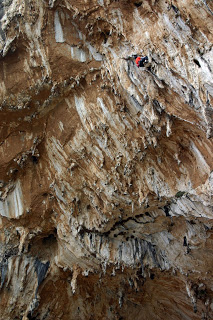 Church above the port city of Pothia.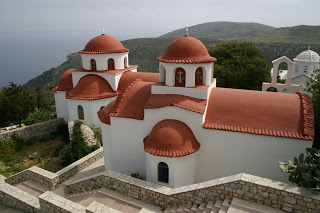 Climb at Odyssey sector at sunset.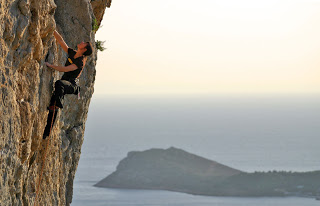 Beach on the island of Telendos.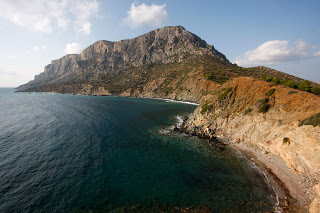 Climbing-wise, so far I've sent two monster routes in the Grande Grotta cave, Super Priapos and DNA Extension (both 8a+). I brought an 80m Mammut Infinity rope and this sure is coming in handy for cleaning draws and lowering off the big cave routes. I'd highly recommend investing in a long rope before coming here, especially if you have designs on the longer pitches. I'd also recommend bringing between 30 and 40 quickdraws. You heard me right. Some of the routes are between 20-28 quickdraws long, and if you leave your draws on a project, you'll still need at least 12 to climb elsewhere. Keep this in mind. Also, long slings are very useful for directing your rope around tufas and stalactites. Think trad climbing. I'd bring between 6 and 12, depending on whether or not you want to try the monster routes. Regardless, leave the short quickdraw slings at home. Bring medium to long quickdraw slings, at the very least.
The resident goat at the Grande Grotta.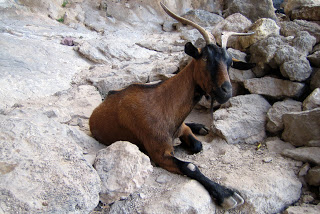 Ivy (7b) at the Grande Grotta.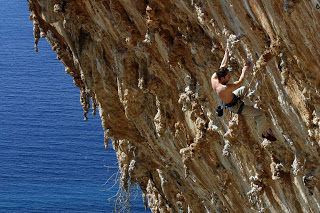 Swimming near the Grande Grotta.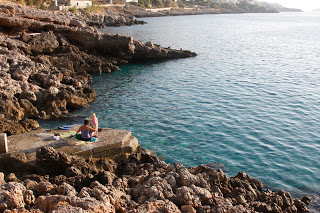 Hari Kari (6b) at Spartacus sector.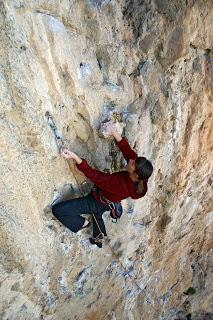 Fish market in Pothia.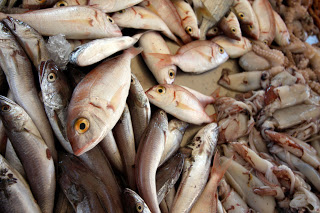 Church above Pothia.
Don't touch my Willy (13c) at sector Arhi.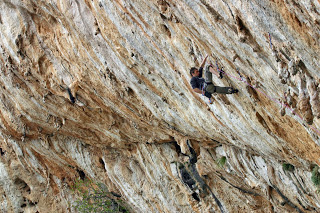 Sunset over Telendos.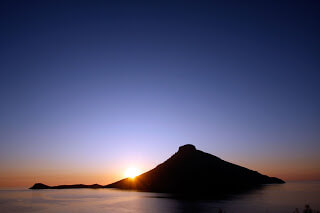 We are waiting for the conditions to cool off a bit before getting on the more fingery routes at the other crags. For now, we are searching for routes with largish holds that allow upward progress even when bathed with sweat!
Marc B