After a rough fall and early winter, life has finally taken a turn for the better. I had a great time in Ouray (Check out Alpinist.com for details). I cashed in on my comp. training, and polished off three classic Front Range 5.13s on a quickie trip over to Boulder last week. I've got a slew of exciting trip ideas/possibilities for this upcoming summer. And I'm off to Patagonia soon for five weeks of alpine climbing and bouldering. Indeed, life is good! Hope you enjoy the photos below, and that you're all having a great winter. I'll be back in the blogoshphere soon...hopefully with tales of blue skies and great climbs. As always, many thanks to Mammut for their continued support!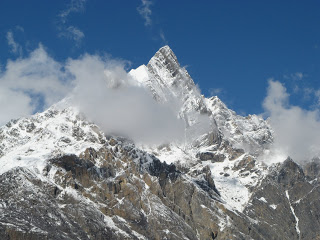 Unclimbed gem in Tibet--next summer's trip?
Whit tearing up the "Westie Face (V 5.13a A0)" on Leaning Tower, Yosemite.