I will be the first to admit that skiing isn't my best skill set. I spend a fair amount of time doing tricks; you know the kind of tricks that some say looked like a crash, but unless i come to a complete stop, it's a trick.. right?!? Yeah, that's what i thought! I'm pretty good at those kind of tricks!
For me, climbing and exploring have largely been about seeking adventure. Whether it's on a severely overhung 35m sport pitch dripping with tufa's on the Island of Kalymnos, jamming my way up clean splitters on Devil's Tower, or scratching around with my crampons and ice tools on some icy north face in the mountains near my home. Adventure keeps me looking around the next corner for something exciting to try.
This winter, my adventure has been exploring the remote Lemhi Range on skis. Often passed over for more famous ranges in the area such as the Tetons or the Sawtooths, the Lemhi's provide several hundred peaks with the tallest reaching an elevation just over 12,ooo'. However, the majority of peaks range between 10,ooo' and 12,ooo' and usually offer 4,ooo' to 5,ooo' vertical feet from the valley floor to the summit. Not massive by any means, but adventurous due to their craggy nature. The Lem's are windy and cold, and at times effected by the rain-shadow effect, leaving us to deal with many winter challenges. Likely these are some of the reasons why most people don't waist their time in the Lemhi's and focus on more reliable winter alpine environments.
Enter adventure...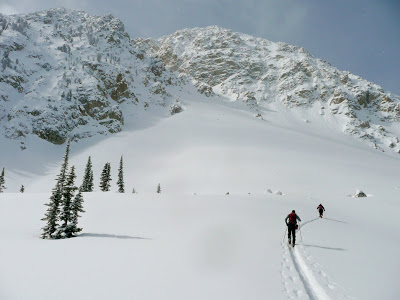 An unnamed peak in the Lemhi's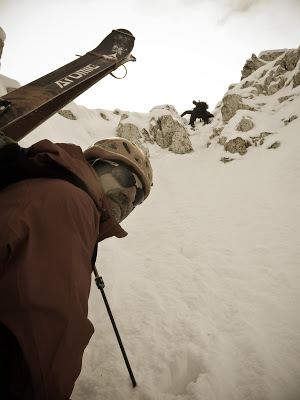 A bit of scrambling and easy rock climbing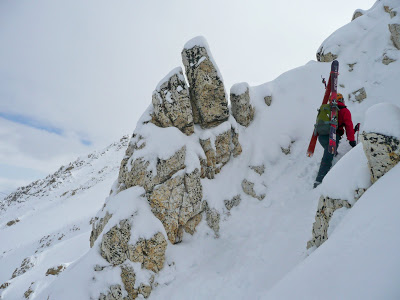 Some classic alpine terrain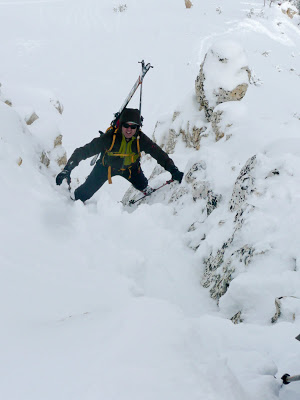 The chimney exit pitch near the summit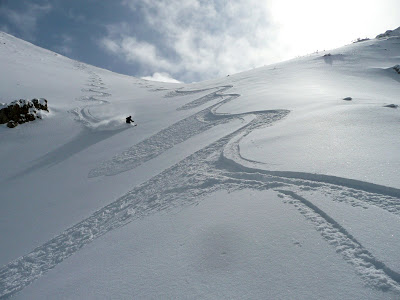 Steep and deep powder turns below the summit ridge leading into a nice couloir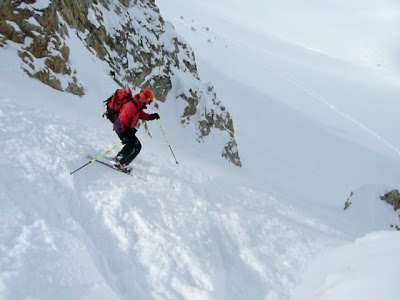 The bottom end of a nice couloir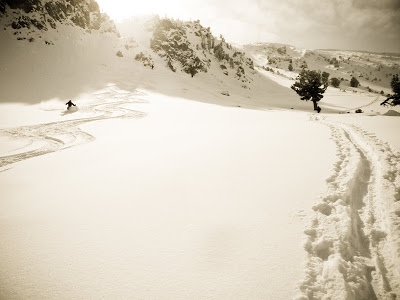 And of course, the apron below the couloir back to the skin track!
There are dozens if not a hundred peaks in the Lemhi's that have not seen winter visitors. Slowly but surely we have been exploring them, skiing them, and finding so much adventure within the Lemhi Range.
It has been a rejuvenating couple of months away from climbing this winter. Now the warm rays of spring in the Snake River Valley are greeting me on my front porch hang board during my upper body fitness sessions! Winter isn't quite over yet and i would imagine the springtime adventures in the Lemhi's will continue for several more months!
In parting, my friend Wade attempts one of my famous tricks but botches the end sequence by stopping. Volume helps!
-Dean Lords