Josh and I on the North Face of Raphael~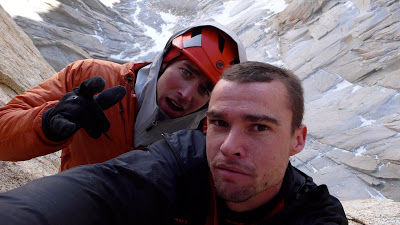 It's been two weeks since I got back from Patagonia. It was great to get home and see my son Eli who is now 9 months and getting ready to walk. It's a new feeling for me missing my son while out climbing, I am going to have to start bringing him along.
The short mission I had down there was all I could ever ask for in a alpine climbing trip. From the previous posts Josh and I put up you can see we got some good, high quality climbing in and had a blast doing it. It's great hanging with a good friend on a bunch of huge granite walls.
Though we were not successful on Desomochata it stands out because of the dramatic weather and poor conditions that we had to make work. Josh below in classic Patagonia conditions. The cool thing is that now we have a project for next year. Can't wait!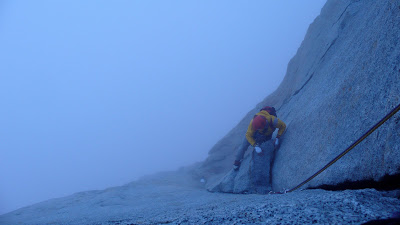 Josh flew out a day earlier than I did so with my remaing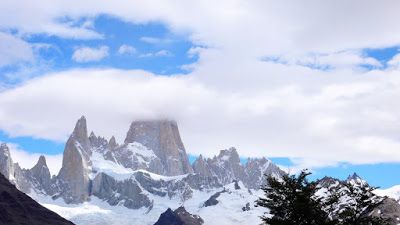 hours and a good forcast I chose an objective that I could climb fast. I hooked up with a good Canadian climber named Jason Kruk. Together we made a speed ascent of Poincenot. We climbed the 2000 foot route in three hours by soloing together with no ropes. I did belay Jason through one 60m section at the top of the ramp.
Poinceniot is the prominent tower left of the large Fitz Roy. The Willians route follows the subtle ice ramp from right to left; then wraps around and up the left sky line. The climbing was supurb and perfect for moving fast.
Of the twelve days I spent down there I had only two rest days. What a lucky roll of the dice, a perfect alpine climbing trip! Now Eli and I have to get training for the spring.
Whit Magro
Bozeman, MT