It's been a great spring here in Eastern Idaho. Despite much traveling to far off places, I've been able to keep active in my own backyard. My rekindled passion for bouldering in the Lower Teton River Canyon has yielded over two dozen new boulder problems. From near 30' highballs to powerful overhung craziness! The cherry on top was quickly dispatching a project that i thought would take me sometime to complete. It must have been a low gravity day or something! San Callisto V9 has been the highlight of my efforts down there. The low spot in activity at the Lower Teton River Canyon is when my three crash pads got stolen while i was in Vermont. I stashed them well off the beaten path of activity so my friend could continue to work on his project while i was away. Double sadness, stolen pads and not enough padding for the highball project...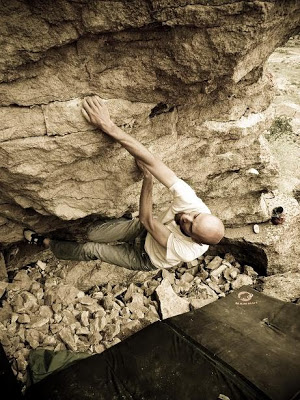 Warming up on my route
Scream, Dracula, Scream
at the Catacomb Sector of the Teton Dam Bouldering Zone.
While in Vermont for the Sales Meeting, i took a bad spill while bouldering at Smuggler's Notch; landing square on my tail bone on the only un-padded rock. What i thought was just some bad muscle bruising, turned out to be a bruised pelvis... not psyched. Sitting doesn't last for very long, walking seems to be okay for the most part, although i do walk with a gimpy limp, and hanging in a harness is tolerable albeit painful.
So without any bouldering pads to continue my efforts in the Lower Teton River Canyon, i have been making the two mile walk (gimpy waddle) up Palisade Creek to the Weeping Cave. This is an awesome little limestone zone in a lush canyon. The routes went in last summer and there are still three remaining projects. I focused my efforts last fall on a line we call the
Basilisk
, but only put in a few good days of projecting on it. My two visits this week have been somewhat productive on the
Basilisk
with finding a sequence that just might work for me. Still light years away from even getting close to sending this rig, it is very easy for me to say this is by far the hardest route I've projected in my life, which, is very exciting to me!
Here are a few images of the movement on the
Basilisk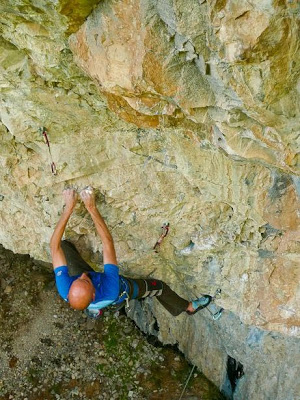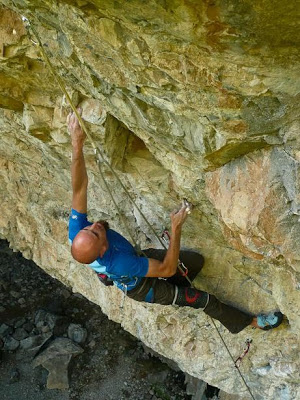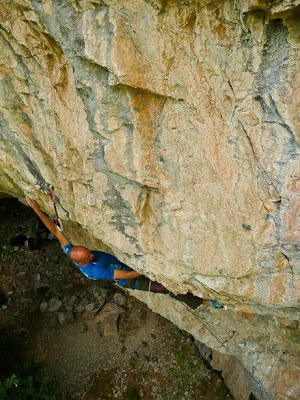 Dean Lords - East Idaho