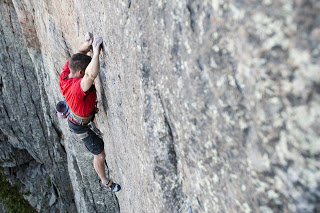 Onsighting the fantastic slabbyiness of
The
Afterlife
(5.12d.) at the Wizard's Gate. Photo JacobFuerst.com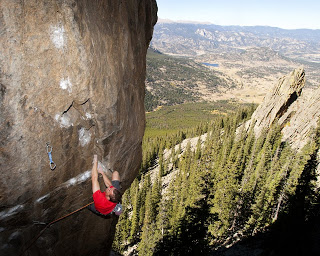 Left: redpointing the brilliant
Cloak and Dagger
(5.13c), also at the Wizard's Gate, with n
ice views of Estes Park. Photo Jacob Fuerst.
Left: our cat Sky harnessing the eye of the tiger for Rocktober!
Thankfully I've been able to start climbing in earnest the past few weeks, and haven't missed the great conditions October always seems to offer. My back is getting better all the time, and I've been leading and bouldering without too much fear of breaking myself again. I even managed to get up a long 5.12+ in the Black Canyon called Air Guitar, which I been wanting to climb for the last few years, without feeling entirely crippled the next day. It probably helped that we used a Serenity Rope, and that every 'biner on the rack was a Moses, making the overwhelming pile of gear feel light. Off to Switzerland next week for a dealer camp, some product design meetings, and a few days of climbing. I'm very excited, and thankful for the opportunity! Hope you've all been sending whatever "project" life has thrown your way!