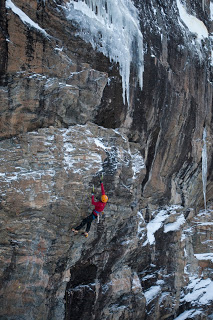 In mid-November I spent two weeks in Switzerland. I participated in the premiere of the the new Eiger Extreme Line, gave some slideshows, toured the factory, met with product designers, and even snuck in some bouldering. I also climbed the West Face of the Eiger, to be part of the new add campaign for the Eiger Extreme Line. It was a gorgeous day, and I'm sure the add image will be pretty spectacular! Peep the photo above by Dave Watson.
Back at home in Colorado, winter is finally here, and I've been getting out for some mixed climbing in the local hills. There's some great winter climbing in the Estes area, so it's nice to have lots of new places to explore. It's also pretty cool to be able to sneak down the hill towards Boulder, when the sun is out, and get out rock climbing, something that took a bit more effort during Rifle winters! Top photo of me on Mixed Emotions Direct (M8ish), courtesy Jacob Fuerst. (jacobfuerst.com)
Finally, earlier this fall Jacob Fuerst put together a short video about my recovery. (Still working to get back, pun intended, that remaining 1o%, but felling better all the time!) There's some pretty funny footage of the water aerobics class. Hope you enjoy it, and check out Jacob's site. He's a talented photographer, climber, and badass wingsuit basejumper! Link below:
Hope your all having a great start to you winter, and looking forward to the Holidays!