by Chris Thomas
The variable weather of Utah leads to fickle ice routes forming at very unusual times. It's a typical on-again off-again season this year – we had some great conditions around Thanksgiving, followed by near 50-degree temps for a few weeks, followed by a fantastic stretch of cold weather that's lasted since the New Year and is forecasted to keep on keepin' on for the foreseeable future.
Two weeks ago, before most of the standard moderate classic routes like Squash Head and Backoff had even touched down, a steep and extremely rarely forming route in Santaquin Canyon come into great condition.

To my knowledge, Ricochet hadn't seen a second ascent since Doug Heinrich and Chris Harmston did the FA back in the 90s. That's not for a lack of talented climbers in the greater Salt Lake area – they're a dime a down around here. But it takes just the right combination of a wet fall, melt-freeze cycles, and a little bit of luck for routes like Ricochet to come in. Paul Richer and I had a blind date to go give it a shot..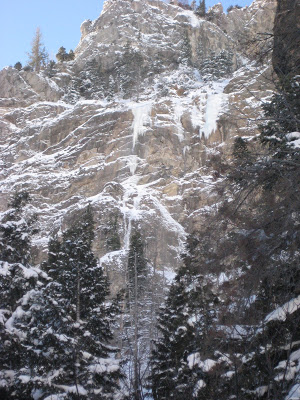 Ricochet is the pointy dagger in the center of the photo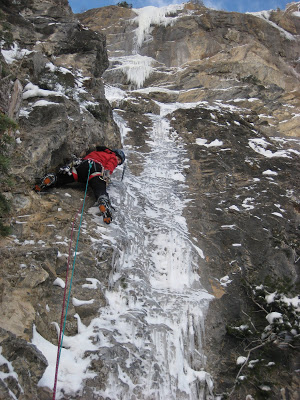 Starting up the scrappy mixed first pitch. A full rock rack, including pins, were needed to protect the thin ice.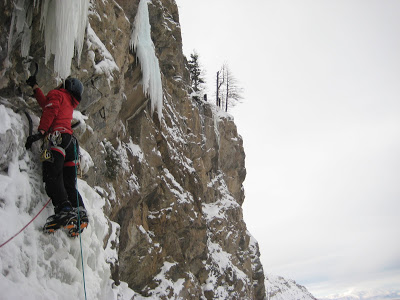 Starting up the last pitch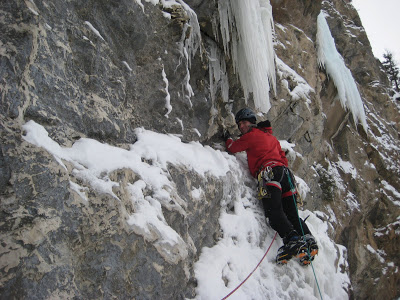 Quick smile for the camera before commiting to the first free hanging icicle of the pitch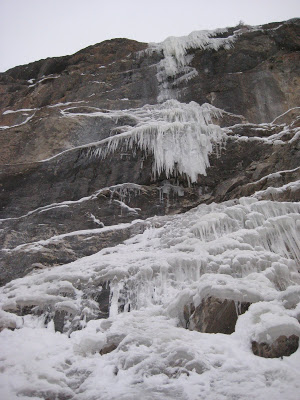 On the first and second ascents , a section of steep rock had to be aided to give access to the free hanging dagger. Hayden Kennedy and I are headed back tomorrow to give free climbing it a shot. Wish us luck!
Chris