After a few months of strictly indoor climbing with a few days here and there skiing with my boys I was pretty desperate for some non frozen outdoor adventures. In late January I was fortunate enough to make that happen and after flying to SLC and helping out with the Mammut trade show booth I made it down to St George for just over a week of limestone cragging treats.
I made a similar trip last winter for a couple of weeks and sampled some of the routes at the local crags around St George, Utah. One super classic route I'd tried and failed to complete was the 5.14a "Old World Lullaby" at the Black and Tan wall. Established by Joe Kinder about 5 years ago, OWL is an awesome testpiece of consistent power endurance and with out a doubt the best line at the cliff. One of the main issues I'd had trying to send this thing last year was the cold. The route gets no sun and the temps were in the upper 40's....also my poor circulation in my fingers combined with the consistent crimping with no real rests made for wooden digits right in the middle of the crux every time.
This year I got luckier and found myself out there on a 60 degrees in the shade, windless day. After a quick warm up, I sprinted thru the bottom and managed to bullwhip my arms downwards just frequently enough through the sustained first half of the route to maintain blood flow and feeling in my fingers. The second half is super techy, slightly overhanging, and viscious... as I moved thru the razor blade gastons and side pulls, the fierce pain in my skin offered nothing but satisfaction....i.e....if it hurts, that means you can still feel the holds, which for me meant I was going to send! Another great experience of a rock climb feeling impossible at first, and then coming together to flow like water.....love it!
Here are four shots of Old World Lullaby shot by one of southern Utahs original developers of the sport climbing in the area, photographer Jorge Visser. Thanks Jorge!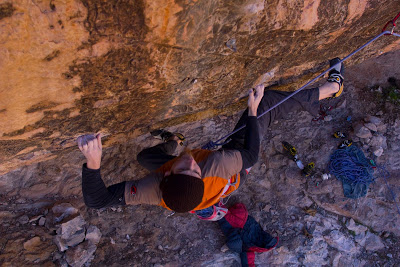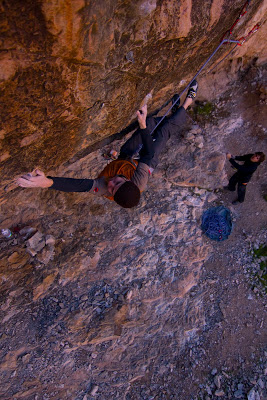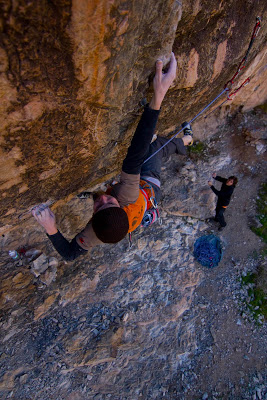 The business...all horizontal, body tension and big lock offs
This area around St George is truly amazing...sooooo much rock!! soooo much good winter weather!! Here are two shots of a 13c route I climbed at a new joint called the Blank Cave in the Utah Hills. The routes on this cliff didn't exist last time I was here and now there are a bunch of three star lines and more projects to be done.
Thanks to local videographer Seth Giles for these shots.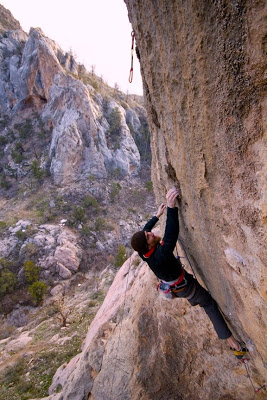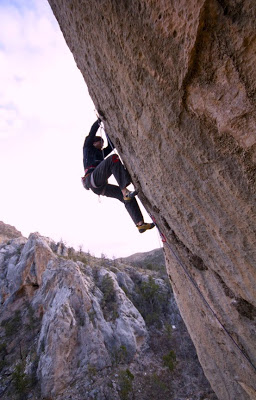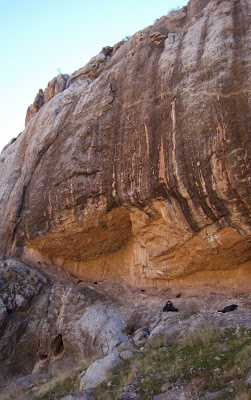 The Black and Tan Wall.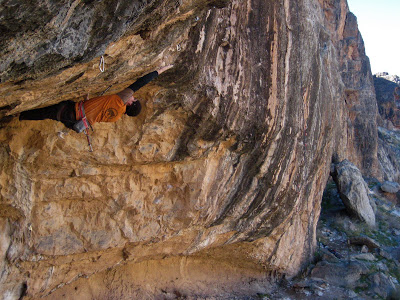 Sending "Talking Smack" 13b.
After flying back to Vermont my wife and two sons headed down to the Virgin Islands for the kids february break where my older son Bodhi learned to skim board and also caught his first few waves surfing....there's nothing better than seeing your 7 year old pop up on his first wave, eat crap, and come up grinning a grin a mile wide!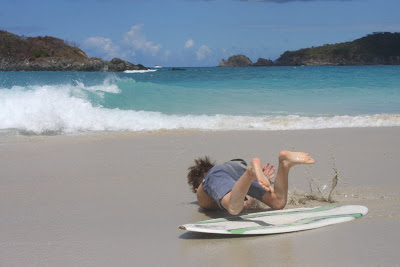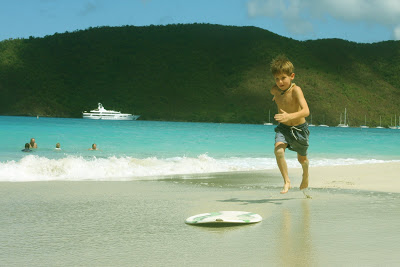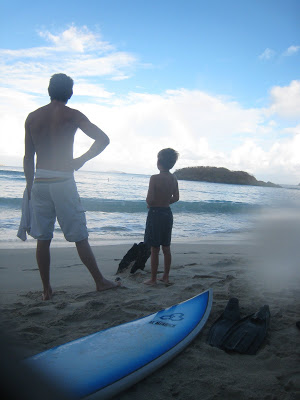 Me and my boy about to paddle out for a morning surf. STOKED!
Back home in VT there are mountains of snow everywhere but the sun is strong when its out and that snow is gonna melt sooner than later and it'll be on once again! Psyched!
cheers
Peter Kamitses
Burlington, VT