Greetings all, I hope everyone is having a killer fall.
I've been hunkered down here in New England playing the weekend warrior and slowly stockpiling time off in hopes of some good winter trips.
I've had the chance to share some excellent weekends with good friends throughout New Hampshire and Maine.
Rumney can be hard to beat this time of year and if anyone makes it East you HAVE to hit up Shagg Crag in Maine.
Perfect picturesque setting and some of the most unique granite I have ever climbed on!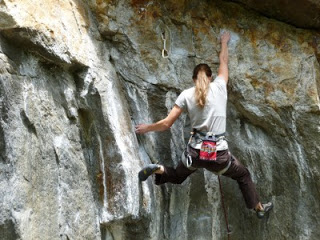 Jen stylin' Bottom Feeder 13a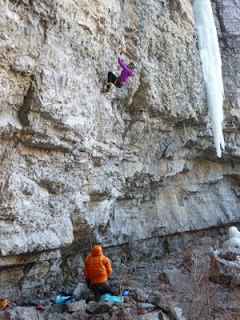 Tim attempting Cold War 14a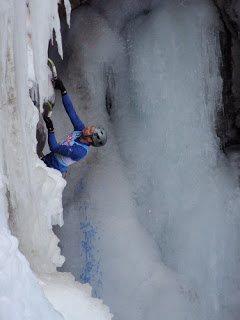 The Shagg classic Ginseng 12c
It wouldn't be a good New England fall without a little rain and snow and we have definitely seen both.
I've spent a few wet days cleaning and equipping some really cool looking new lines at one of our best winter ice and mixed climbing spots, Snake Mountain.
I'm especially psyched on one in particular that will climb four sections of steep ice, three large rock roofs and finish on a super solid 30ft free hanger.
Gonna be good!!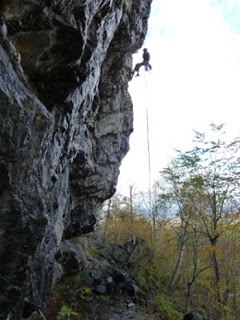 A crappy shot of cool work in progress, Snake Mountain
During the cold days we have made the trek north over the border to one of my favorite early winter training areas in Saint Alban Quebec.
The place is the perfect place to work out on your tools and get ready for winter.
The place is STEEP, 40 some routes for all abilities; faces, roofs, caves, and a solid crew of locals who are some of the nicest and strongest folks around!
Whether you want to get ready for your first ice climb or are training for competition this is the place.
Last week I added a great new link-up of
Petit Victor
M10 and
Eos
M9+ for some solid extra pump and spent some time replacing some aging fixed gear on some of the classic routes.
Big thanks to local crankers Patrick and Martin for the great psych and beta, stoked to check out your new routes this winter!!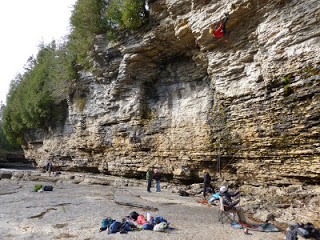 The popular Secteur La Guignolee, Saint Alban, Quebec. Vincent on Hysterie M9-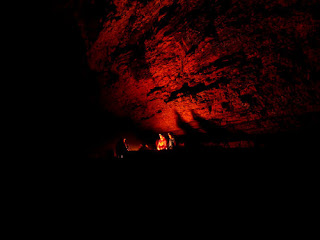 Nightlife, Saint Alban
Be well everyone!
Josh Worley -Burlington, VT