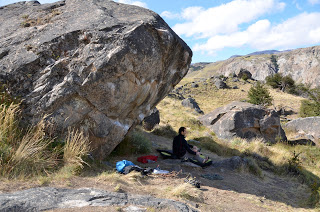 Another season in Patagonia; congratulations to Dave Kotch
Dave organized with me for an 18 day trip to El Chalten, Patagonia. On his first trip, he successfully climbed three of the nine major summits in the Fitz Roy group.
Regardless of the weather the bouldering is always good in El Chalten. It's worth the trip just for the boulders in my opinion......
but if you're lucky you get to climb big.
A few days after arriving we got a good window and decided to climb Aguja Guillaumet via the Brenner-Moschioni.
Sunrise on the Brenner.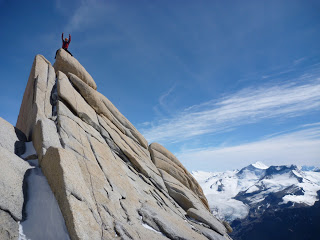 Dave on the summit of his first Patagonia tower.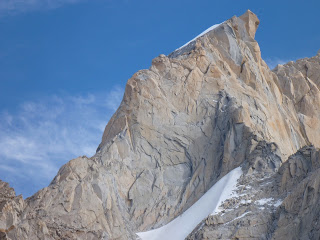 The Brenner ascends the left skyline of Guillaumet and skirts the snow field at the top that is barely visible.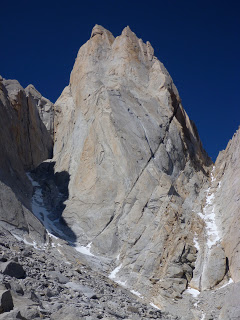 After a few rest days and some bouldering, a huge high pressure rolled in off the Pacific. We decided to head into the Torre Valley with the goal of two more towers.
Saint Exupery is a beautiful chunk of rock that rises just over two thousand feet off the talus. We decided on climbing Chiaro di Luna (light of the moon) which is the ultra classic alpine rock climb, 650 meters at 6c. It starts at the toe of the tower and climbs to the north summit which is on the left in this photo.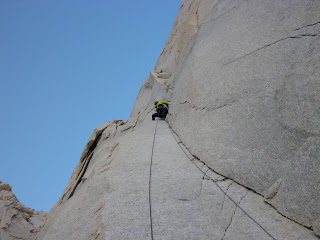 The initial pitches of perfect splitters. Pure glory!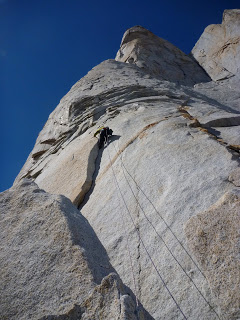 Still going up the sea of endless granite with the summit taunting above.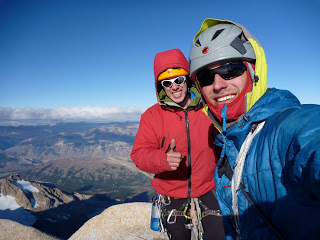 We climbed the route in 11 hours to the top which is pretty good time. Dave did an excellent job with speedy transitions at the belays and full effort trying to free climb every pitch.
I found the route extremely high quality and due to it's popularity it was quite clean.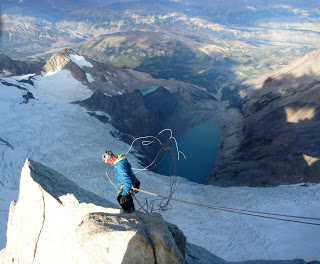 Once at the summit you're only half way.
The descent was standard, full of mini epics all the way down, but we eventually made it back to camp 20 some hours tent to tent.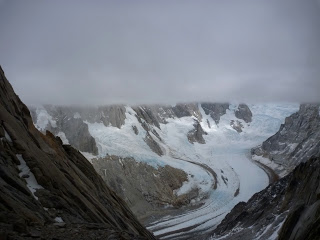 The morning after was the hardest part of the trip. Feeling fairly worked after St. X we had one more to do.
The weather was also a bit funky.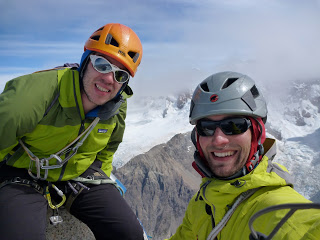 After some burly coffee we got moving and finished off the the trip with a quick ascent of De L'S which is the smallest of the towers in the Fitz group. The approach being the crux
One more cheesy summit shot.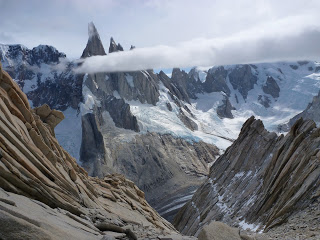 The view looking from the summit of the S into the Torre Valley.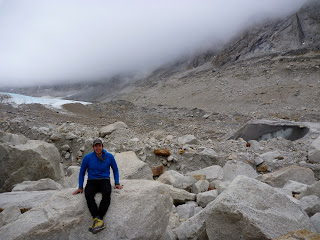 A very tired and very happy Dave Kotch.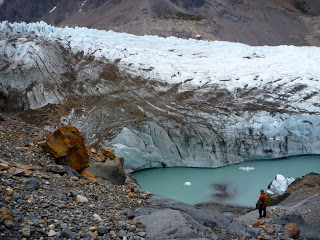 Thanks to Dave I was able to finish off the remaining towers I had not done in the Fitz Range. I recently found out I was the first person to summit all nine of the major summits in the Fits Roy Massif.
A surprising honor for me.
Feeling psyched for the Torre Group and looking forward to the 2013 season.
Whit Magro


Mammut gear list:
9.2 revelation - 7.5 twilight - stratus flash puff coat - courmayeur pant - yukon tech jacket - kento jacket - dyneema slings - moses biners - tripod helmet - togir harness - kompakt sleeping bag