150 Peak Project: Mt. St. Helens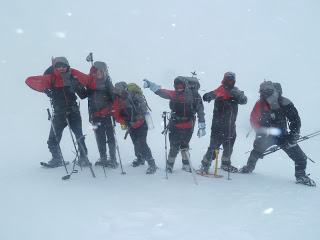 The team arrived in Cougar, Washington on Friday afternoon geared up and ready to go. The plan was to hike in from the trailhead, set up camp at treeline and then go for the summit. Unfortunately, the weather had other plans as a large storm rolled in that evening as well. We abandoned the idea of a mid mountain camp and decided it would be best to make a one day ascent and try to push to the highest altitude the weather would allow.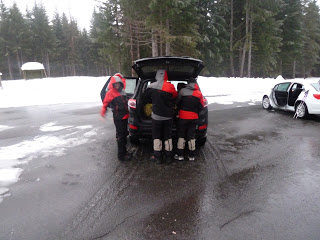 Saturday morning we woke up to the sound of rain down in the valley. We left the trailhead at 6am with warm temperatures and hanging clouds. The approach through the pine forest kept us mostly dry until we reached treeline. At this point, the rain turned to snow and we put on our snowshoes as the snow was too soggy to continue walking without them. We walked through the falling snow, catching glimpses of the mountain here and there, but mostly making our way from rock outcropping to scattered trees to keep some visibility.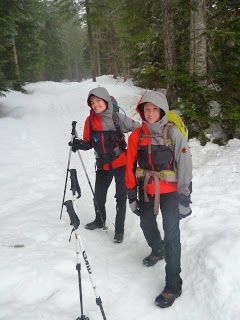 At an elevation of 4400 feet, we stashed our snowshoes in the rocks and strapped on the crampons. At this point, the ridge was windswept enough that the snow was not soft, and we needed the security of the crampons and ice axes for further ascent. We continued on as the ridge became more pronounced and the chain of volcanic rock to our side was the only thing providing enough visibility to not fall off the edge! The wind increased as we were now very exposed to the storm, and the snow was driving hard at our sides. We continued on, stopping only long enough for some quick snacks and to put on more clothing. At 5400 feet we found a weather station that was a good point to stash some extra gear to make the climbing go faster.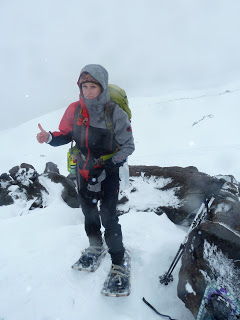 Only a little ways further up the mountain, at about 6400 feet we reached our high point. The wind and snow had decreased visibility to almost nothing, and the line of rocks we were following had disappeared. From here to the summit the route would follow a large bowl with no distinct features to follow. We decided to take our "summit" photos and head back down.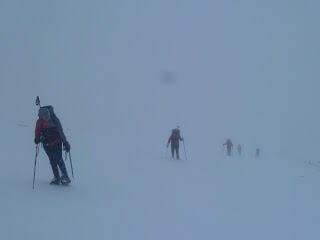 The descent went quickly and everyone was bundled in all our clothing to protect from the wind and cold.
As we reached treeline again, the snow turned back into rain and the layer of ice encasing our clothes quickly melted and soaked us to the bone. Luckily from here it was only one more hour of walking back to the trailhead.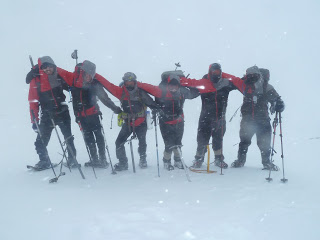 Steve Banks
IFMGA Guide