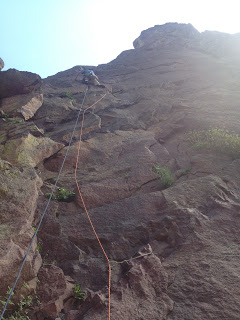 Gaining ground in Eldo Canyon
This May I began my tenure as an instructor for the American Mountain Guides Association. It is an honor that my guiding peers deem me fit for this job, and I went into my first course with open eyes. I was teaching a Rock Instructor Course (RIC) which is the preferred entry course for aspiring mountain guides. This course is designed to make sure the students are prepared for future alpine, ski or rock guide courses with the basics of safe guiding. The course has changed a bit since I went through the program some 10 years ago. Many new "tweaks" have been added over the years to create a better, more rounded course.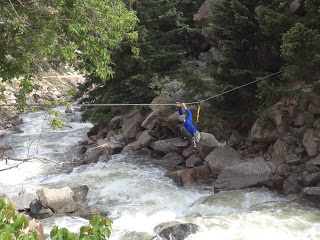 Tyrolean Traverse in Boulder Canyon
The course was held in the Boulder area, utilizing Eldorado Canyon, Boulder Canyon and the Flatirons. The weather was perfect, even giving us one rainy day to work on rescue skills. Not too hot or too cold on any given day.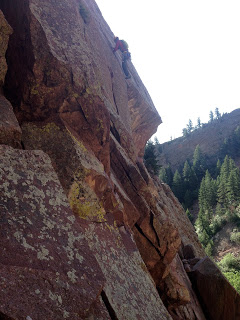 Setting off up the Wind Ri
After a couple days of "ground school" walking through different methods of placing protection, building anchors, rapping, lowering, etc that guides use, it was finally time to hit the rocks. We got in many quality pitches in Eldo Canyon on the Wind Ridge, the Bastille and the West Ridge as well as on Cobb Rock in Boulder Canyon and the classic 1st Flatiron.
Each day the students lead more and more, practicing the guiding techniques they had learned. It was great to watch the progression as they practiced something, got better, then owned it by the end of the course.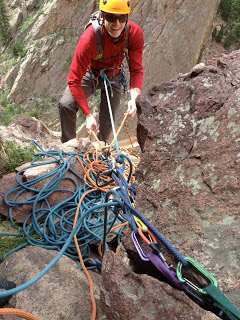 Is that a Mammut rope I see?
Being new to the AMGA Instructor Team, I wasn't too sure how the course was going to play out for me. Having been an AIARE avalanche course instructor for many years I am no stranger to the teaching scene, and I have taught many similar rock courses for Western State College over the years, but this was different. Now I had the opportunity to train young guides who are on their way to becoming the most qualified in the profession. It was a great experience for me, and I am now looking forward to teaching other AMGA guide training courses in the alpine and ski disciplines as well.