First off, I need to introduce myself. I'm Doug Shepherd, a new addition to the Mammut team. I live in northern New Mexico, where I was born, and am now working as a scientist. On any given weekend I might be playing in our local mountains or attempting big, cold, icy climbs in some remote mountain range. My friends occasionally stage interventions on my behalf, particularly when it's rock climbing weather and I'm packing for yet another try on some frozen/mixed horror show on a remote peak instead of enjoying the perfect basalt climbing right by my house.
Recently, I've been attempting these climbs on short trips (less than a week) from home because of my family and work responsibilities. Some people have termed this kind of climbing "smash and grab", but I prefer "ninja alpinism" and have a great story to share from this past weekend that definitely qualifies as a sneak ascent...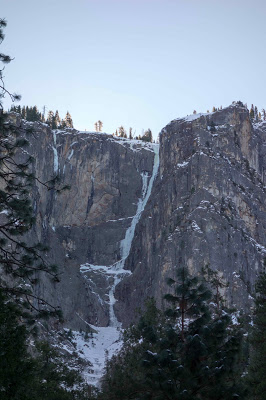 Widow's Tears, ~1200 ft of continuous ice, in Yosemite National Park
I was in southern California for work when my friend Greg Loniewski let me know he had climbed Widow's Tears, a rarely forming 1200 ft ice climb in Yosemite National Park, on January 3rd. It had seen three other ascents after his and was holding up decently. This route has been a dream route for me since I started climbing, one of those climbs that is more rumor than truth and many people had attempted but never succeeded on.
Unfortunately, I was stuck in meetings until Thursday, January 18th, and the temperatures were warming up. Florian Dörfler, a climbing partner of mine who lives in Santa Barbara, was game for a crazy mission. He picked me up around 10PM on Thursday night and we drove straight to Yosemite, stopping at a massive 24-hour grocery store in Fresno for supplies and at Greg's house to pick up ice screws and a hand-drawn map of the approach and descent. This climb would not have happened without Greg's map, which gave us just enough information to find the route and the descent, leaving the spirit of adventure alive on the route itself.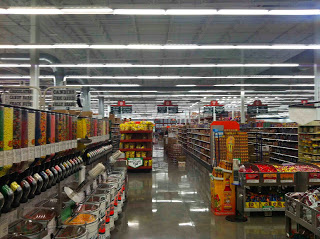 Just a small part of WinCo, the largest grocery store I've ever been in. We lost time on the drive just because we wandered around forever looking at all the different food!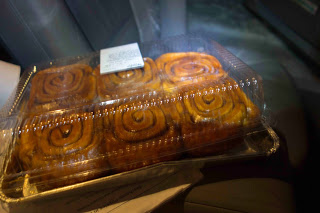 One of our better finds at WinCo, fresh cinnamon rolls at 1AM
We arrived at the parking lot around 4:30AM on Friday and quickly repacked, pounding as many cinnamon rolls that our stomachs could take. We were soon off, following Greg's map that laid out the general direction to go. Despite his excellent directions, we still managed to get lost in our sleep deprived state, eventually making it to the base of the climb as it started to get light.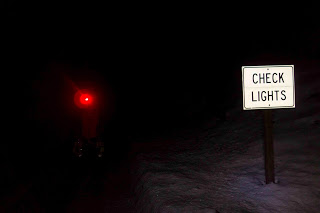 Florian starting the approach after no sleep and driving all night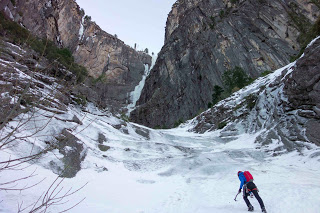 Florian soloing up the approach ice and snow before Widow's Tears
The first two pitches had started to delaminate in the heat, but we managed to find just enough gear and bonded ice to make them go. From the third pitch on, the ice quality continually improved until we were climbing hero ice at the top. As I started up the third pitch, we both remarked that it didn't seem that far to the rim. How wrong we were, as we were at least 200m from the top. We kept a good pace, feasting on the variety of snacks we had bought in Fresno and marveling at the position and quality of the climb. At one point we simul-climbed a long pitch hoping to reach the top, only to be stopped 50m short because I ran out of gear and had to bring Florian up. This is a huge route!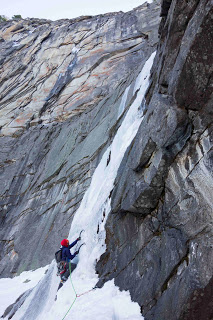 Myself leading our 3rd pitch, where the ice quality dramatically improved
We thought we could reach the rim on our 5th pitch, but had to stop and belay for one last pitch after simul-climbing for a bit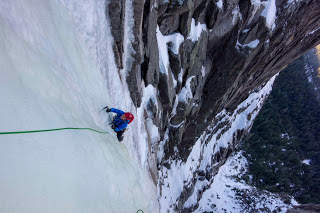 Florian finishing our 5th pitch, thankful for the protection of his Tripod 2 helmet!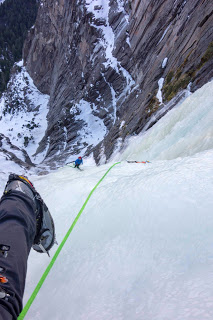 Looking down at Florian on my way to the top of the climb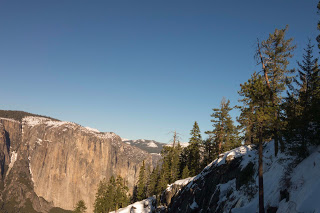 The view of El Capitan across the valley when we topped out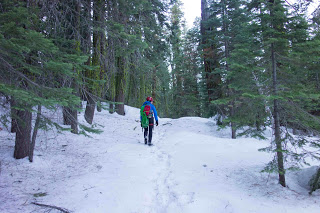 Florian starting the descent through the woods
The route took us about 6.5 hours from the base to the top and we lounged in the sun for a bit because we had gotten soaked on the last few pitches from the water pouring down the sun-lit ice and snow above the climb. We knew the descent was roughly four miles through the trees, crossing a few ridges and then finally picking up the trail leading down to the Wawona tunnel parking lot. Thankfully, a few teams had already been that way, providing us with a foot track to follow through the woods. Both Florian and I were starting to slow down at this point, the effects of not sleeping the night before catching up with us. We slowly stumbled our way back to the car, arriving shortly after the sun had set. We drove back to Greg's house to drop off his gear, where he surprised us with cold beer, fresh pasta, and a place to crash. The next morning, after sleeping in and eating a huge breakfast, we rallied over to Reed's Pinnacle and climbed classic granite cracks in the warm sun. A huge ice route one day and perfect rock the next day made the long drives totally worth it! Huge thanks goes out to Greg for his hospitality and sharing his hard-won beta.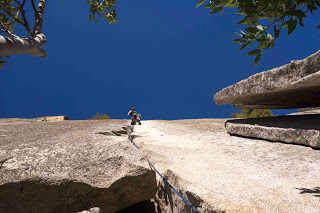 Florian about to receive a Yosemite education in hand-stacking
Stayed tuned for stories from a quick two week trip to Patagonia, including an ascent of Cerro Torre! I'm really excited to be part of the team and honored to share this space with so many friends and awesome athletes.