The climbing helmet, one of the most important pieces of equipment a climber can own. Why do so many not wear them on a regular basis?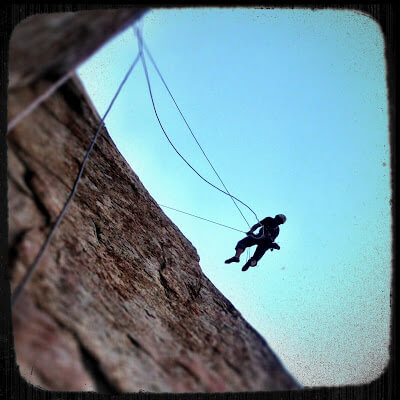 Opening a new 1000 foot rock climb with my Rock Rider Helmet on!
The reasons are many: They are either too heavy, too bulky, uncomfortable, or they look funny. Whatever the reason, Mammut has figured out the answer. They built a good one! It is light; at only 250 grams, which is about half a pound. The low profile of the Rock Rider prevents the bulky feel of the average climbing helmet; I must say it looks pretty cool. It meets all the safety guidelines. Mammut designers cut weight without sacrificing safety.
After extensive testing I have found it to be the most comfortable helmet I have ever owned. Aside from the attributes I mentioned above the harness system within the helmet is what sets it apart from all the other super light and low profile helmets. The adjustable band in the back not only adjusts in and out for sizing but you can also adjust the position of the band up and down so it cups to your head perfectly, right where you want it. No matter what angle your head is positioned, the Rock Rider helmet stays put and doesn't move around. It's incredible!
Checkout the details of the
Rock Rider Helmet
on the
Mammut website
.
Whit Magro
Bozeman, Montana