From the sea and snow this past spring...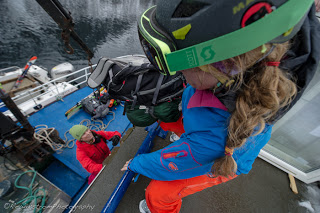 Mammut Athlete, Brandyn Roark prepping for ski hut trip
in the Arctic circle
with Athlete/friend Rachael Burks
Special thanks to Mammut, Scott, Grivel, and
Hammer for all their awesome help!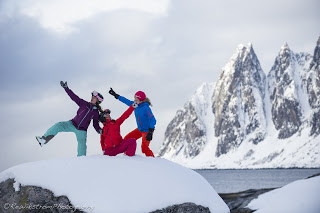 Writer Brigid Mander, and skiers Rachael Burks and Brandyn Roark
taking a SERIOUS look at their Arctic surroundings!
To the dirt this summer!!!!
Mammut Multisport Athlete, Brandyn Roark
Riding some steeps in Whistler, BC
Looking forward to getting on a bigger bike!
After 8 years racing XC, it's time for some more travel!
This week in Whistler, BC is the Crankworx Freeride Mountain Bike Festival! After a long, long season on the snow in the Pacific Northwest (Baker and Rainier were amazing!) And, an INSANE trip to Norway for some ski mountaineering. (Huge thanks to my partners and sponsors at Mammut!!) I am now playing on my bike and doing some epic long trail runs before the snow starts up again. Playing up here in British Columbia, I am trying out my friends 29er to see what bike I want next season. I am looking at hopefully getting on a new Scott (one of my other partners) and was excited to see Scott had a beautiful line-up of bikes at the festival.
Driving up on a stunningly beautiful day, my best friend and riding partner (also former US skier), Erika and I had to make a stop in Squamish to admire the looming, grey, walls of gorgeous climbing lines. I've been blessed in my life to have a kindred spirit buddy who not only bikes and skis, but also climbs and paddles! After a bit of play in Squamish, we headed further north to her place just outside Whistler. Our first day riding was tremendous, it's been a really dry season up here in the Northwest, but the forests look gorgeous and the trails were in awesome shape.
We spent five days riding, cooling off in the lakes, then packing in some miles trail running. I am excited to try out some new MTR gear from Mammut for my next adventure. I'm heading out to the Wonderland Trail with photographer Fred Marmsetter for a trail running adventure around the bottom of our local beauty...Mt. Rainier! Thank you again to Mammut for all my adventure needs, and to Scott, Grivel, Hammer, Rudy, and Fatypus for taking care of me so well!
Trail building in BC is amazing.
The lines are gorgeous, the fun factor is epic!
A lot of blown-down this season in the forests,
but the trails were in awesome shape!