I am a week away from the Cranmore Hillclimb! This is my first time up this slope and I am very excited to have the chance to run up this incredible slope with the BEST competition at a USA Mountain race ever. Not only will runners such as Max King, Joe Gray, Matt Byrne, and so many others but tons of fast road racers are giving this race the shot at making the team. Whether I make the USA team or not, that is not my worry, I am going out there to compete and to have fun. Recently, I have really taken a liking of the ultra distances and though this race is a mere 12k, it incorporates some great elements you could feel in an ultra. With tons of ups and downs, this race is very exciting and I look forward to another fun competition. Heading out to New Hampshire at least once every summer has become a starting tradition for me. With Acidotic Racing, one of my gracious sponsors, heading to New Hampshire feels more like a family reunion. I am so excited about the race and with smelling some of that fresh mountain air. I will provide more with pictures and a full-race recap when all is said and done!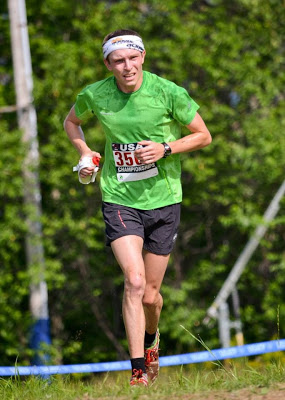 The push to the finish!
What a weekend! I did not have my best race probably one of my worst honestly considering my fitness, though I slugged through and had a nice time! The race went out super hard and I think that hurt my quads a little bit. Also, being pushed in knee-deep mud is always enough to stop a runner right in their tracks. For me, I ended up tweaking my back enough that I felt like my back was tied to a huge wooden plank. I was a stiff as a board attempting to run uphill as all I could muster was a fast power-hike. I lost a lot of time from around 20th place to 40th place or so. It is in races like these that I appreciate ultra races more so and really feel like my strength lies in ultras. I can run a pace for a long time and playing with endurance is a fun aspect of the ultra distances. You are always trying to figure out how to run as fast as possible while still leaving a little left. With Cranmore, my 4:50 first mile placed me around 17th as the top 5 probably split 4:20 down the mountain which is just Crazy! It is because of reasons such as that where I have not done the specific explosive training to excel at a race such as this one.
I load-up into my car and all of a sudden, I type in the GPS Walmart. It gives me the location in North Conway which I was about 10-15 miles away from Conway. I got into my car and off I went. I followed the directions as they asked for me to turn onto a particular road. Soon the road becomes a gravel road and the sun is going down, my gas light is coming on and I get diverted to Walmart road in the middle of the woods on a private road. I am lost. The GPS signal is bad as I find my way to a gas station in Conway as the sun fully sets and I have just 5 miles before I am expected to be empty. Pretty wild stuff. I then look up the Walmart location and find the store in North Conway with ease. I grab some goodies without ever eating dinner and then head back. I make it home near 10pm after leaving around 8. What an adventure. I microwave up some frozen dinners and eat the pizza lunchables for dinner. Around 11 it is lights out as I crash into a deep slumber.
I wake the next day around 6:30 am, take a shower, grab some Dunkin Doughnuts and then off I go to the race. I was still very tired but ready as I could ever be for the race.
I headed to the race and had the chance to meet everyone from my Acidotic crew to the Sorokas who were hosts to me and my family when I ran Mount Washington 2 years ago. I made it to the registration by 7:15. I got myself all checked-in, I had the chance to talk to everyone as this year the race start was at the top of the mountain and taking the gondola up to the top was a fun experience. I am not normally scared of heights but let me tell you that taking gondola when it is windy up there and no railing to hold you in is a little scary. All it would take is one big gust and I would be flying down 2,000 feet to my demise. So yes, I held onto the back of the chair with a mighty grip because you never know. The views were incredible having the chance to see the whole entirety of the White Mountains of New Hampshire.
I made it to the top and just hung out and jogged around waiting for the women's race to begin. At 8:15am the ladies were off. It was fun to watch them compete as I had no idea how I would do. I had not done the exact type of training I should have done for my overall fitness for the event. I had run up and down my local ski resort Greek Peak only three times before the race so I was feeling alright with my confidence but soon would learn of my improper preparation. As the last few ladies were finishing we hit the line which was a massive drove of men all piled together. THIS WAS CRAZY! The start was going to be dangerous as we crest the first hill and then bomb downhill to the base of the mountain. On your marks and "BOOM" we were off. I tried to settle into a rhythm with the massive group of people. I spotted Jim Johnson who I have run with before so I tucked in behind him and followed his lead as we headed downhill. We were flying down as people were passing me flailing arms and all from all directions. It was chaotic. The pace through the first mile was around 4:48 and I was in about 20-30th place. That meant that the top guys were running sub-4:30 down a technical, rock-littered, muddy and patchy downhill. That is INSANE! I settled with Jim Johnson mimicking his every move as he knows how to race mountains; he has it with this type of terrain. We hit the climb together and he exclaimed, "COLE FROM OKLAHOMA!!!!" I responded with a "THAT'S ME"!!!! It was fun running tough with Jim. Then coming up the last climb I was a little behind Jim. I felt pretty solid and was ready for lap 2. I was sprinting on the downhill ready to make up ground and I was stride for stride with a Mexican national athlete. We were running side-by-side for the whole second loop until midway through the loop through the mud section. He wanted to cross past me and got tangled up with myself. He gave me a little nudge and BAM!!!!! I fell into knee-deep mud collapsing on a rockbed of granite. It hurt. I bounced back up to continue and everything seemed fine until I crested the next big hill in the woods. My back began to tighten as if I had a Wooden Board attached to my back. I had no climbing strength. I used everything I had and the steep grades killed my back as I groaned in pain. Now my running became a powerhike then a walk. I thought if I just survive this I could drop out after 2 laps. People started passing me left and right. My race was shot. I ended up walking all the climbs the last lap being passed by other people and finished around 45th place. I felt that I was about 20 places away from where I could have finished on a solid day but today I was just not having it. It is from races like these that you could be angry at yourself and throw in the towel with running.
That is not me. I feel that every race and competition is a test for oneself to see what one can do on that given day. I learned a lot from the day and I will take the lessons I learned into both the Virgil Crest Ultra and the Can-lake 50. I am poised to get back to the ultra distances where I feel I excel. I cannot wait to prove my worth out there and to redeem myself from last weekend's race. With the Virgil Crest, the race is right in my own back yard in Virgil, NY and I hope I can run a solid sub 8:23 performance on the course to set a new course record and to get myself ready for the sub 6:19 record attempt at the Can-Lake 50 miler that will be October 12th.
Running through a state park
Gotta love the trails!
Great place! White Lake State Park
The campsite and the lake with the White Mountains in the distance
New Hampshire terrain
My race gear!
The start here we go!
Suffering with a bad back but still having fun
The MTR 201 and my Fits Socks Performance Trails performed incredibly well!
Muddy shoes
Acidotic Racing tent
Team Acidotic
My gear laid out the night before
The ski slope at Cranmore, a long way up
I would like to thank my sponsors for being the best out there: Mammut, Karhu/Craft, Acidotic Racing, Fits Socks, Dion Snowshoes, my family and friends for the continuous support.
I am on my way and I would love to thank you all for giving me the drive to train hard day in and day out and to work to pursue the dream for excellence. Without you, I would not be where I am today. Thank you!