After the second wettest June since records started being kept in 1895, the weather has
finally
started drying out in the East. That means FULL days of climbing again- not squeezing in as much as possible between storms and downpours! I returned to Cannon Cliff in NH to climb Vertigo, a climb I had been rained off of about 5 years ago. This route is a classic, full of history! As Mark Synnott put it in an article for
Climbing
Magazine, "
Vertigo
climbs a 400-foot granite buttress reminiscent of Yosemite or Squamish."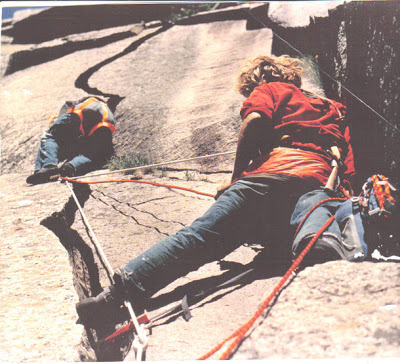 First Ascent:-July/1971. Mike Peloquin starting the Half Moon Crack belayed by John Bragg. Photo Paul Ross from mountainproject.com
The second pitch requires an A0 move of clipping a bolt, lowering 15 feet and making a pendulum swing to catch a crack out to the right. So much fun. I linked the second and third pitches together, continuing up a beautiful thin finger crack to the wet and slimy (yay...) technical crux of the route. I was in a position to follow the Half Moon Crack, the mental crux- an offwidth crack with about 25 feet of unprotected climbing- unless you are carrying a Big Bro- which not many climbers in the East do! Offwidth climbing is a bit of an acquired taste- perhaps like eating liver or drinking moonshine. For me, it's Type 2 fun-- the kind of fun that while you're doing it, you're asking yourself, "WHY?!" but at the end of the day you look back with a feeling of satisfaction. I'm thankful that the weather finally held out for me to tick off this route.
One of the guides for our good friend Art Mooney provides some great photos of each pitch:
http://mooneymountainguides.blogspot.com/2012/10/vertigo-dream-realized.html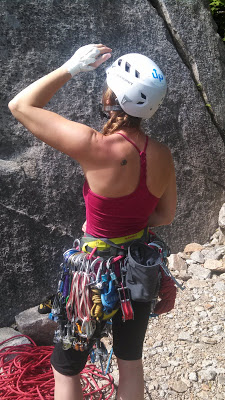 In the photo above, I'm looking up at Reppy's Crack, a starting pitch to Moby Grape on Cannon Cliff. If there's time, I love to end days on Cannon with this pitch, moving fluidly up one of the best 200' hand/fist cracks in the East. I'm pumped about all of the new colors and styles that Mammut has added to their Women's line over the past couple of seasons. Here are the highlights of this photo, besides the stunning granite:
Dyno Top
: I love the back of this top- it allows for such freedom of movement and looks trendy with the braided straps. It breathes well and is a great length, so it doesn't ride up under your harness.
Togira Light Harness
: Before this harness, I used the Men's Togir Light-- but always had a bit of an issue feeling like it was falling down over my hips when it was loaded with gear. This was my first Women's-specific harness, and it is fantastic! This harness has a slightly longer belay loop to fit the longer torso of a woman; I prefer to rack up on my harness instead of carrying a sling when possible, and the Togira Light stays put all day above my hip bones.
Smart Alpine
&
Belay Sling
: I am a believer that efficiency and simplicity in climbing increase safety. The Smart Alpine is my go-to device for belaying with double ropes, top belaying, and rappelling. By eliminating the need for a back-up hitch below the device while rappelling, the climber becomes more efficient and there is less room for error-- and for getting lazy ("I'm only rapping one pitch," or "I'm not going to fall, I don't need a back-up..."). The Belay Sling compliments the Smart Alpine for multi-pitch rappelling. The sling extends the rappel device and has a longer clip-in point for readily clipping into an anchor- no need to rig up an extension from a runner, which takes extra time.
Genesis 8.5 Ropes
: My choice for double ropes on rock and ice, and the Genesis can also be used as a Twin. These ropes are long lasting, handle well, and they are lightweight.
I'm looking forward to a drier and bug-free (what, too much to ask?) remainder of the summer and Fall!
Cheers from VT-- Andrea Charest