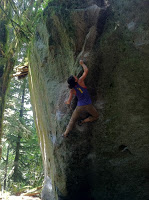 An inspiring friend on an inspiring thing
I like Squamish, BC a lot. This isn't the first time I've said it, and it won't be the last. I've spent 3+ months there in 3 years, and though I wasn't climbing every minute of every day, that's a lot of bouldering. But all that time doesn't stop me from feeling like I never want to climb there again at least once per trip. Squamish has the steepest learning curve of any area I've ever been to. Every time I return to the forest, I need at least a week (sometimes more) to get reacquainted with the style. Last year it was so bad I (and others)

[1]

refused to take rest days, lest we lose the knack. It seems that even the locals need a couple days to remember how to do it right.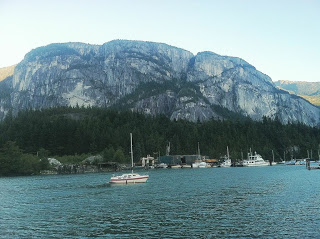 The view from my 'bedroom'
This learning curve hit me hard this year, way worse than even my first time in Squamish. This beat down lasted two brutal weeks, weeks where I was more inclined to read in Wu (our decked out cargo van)

[2]

than fall off another V4 (keep in mind, Squamish V4 is really, really hard). Thanks to inspiring friends, I was forced to pull out of my deadening climbing depression by week three. The first couple weeks were markedly uninspiring, but the last week more than made up for it. I managed to log the highest V point week of my life.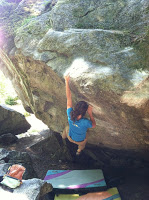 Shannon Joslin on Mindbender
After reading the above, purely climbing related recap it seems to me I've left out all the important bits. Yeah, I've written down basically what happened. First I climbed poorly, then I didn't, then we left. But all these other awesome things happened in the mean time. We spent rest days watching terrible 90s television, eating toaster waffles and brownies, and playing Settlers of Catan. We ate sushi, lots of sushi. I saw the best and the worst hip hop shows I've seen in a long time. I watched other people climb amazing things. We had dinners parties every night. (When I say "We" in the aforementioned statements, I mean a great group of people, some locals, some not, and every one of them awesome.)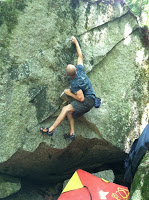 Paul Nadler on Styx
Squamish is my favorite place to road trip to, and it's not because I climb well there. I usually don't leave with big ticks or lots of numbers. Squamish is a great road trip destination because of the people, the community and the experiences

[4]

. I hope that I can remember that climbing trips aren't always about the climbing, it's about the people and the sights and the dogs and everything around the climbing, but I'll forget that someday, and have to relearn. And that's okay, too.
It's been said that "you can't make homes out of human beings"

[3]

, but I think you can make homes out of seasonal climbing destinations.
([5])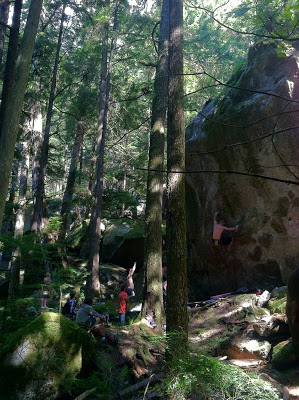 Jeremy Smith on the FA of Snakes of Shaolin
[1] The Owl
[2] The Story of Wu
[3] Warsan Shire
[4] Squamish recap 2012
[5] I took all these photos, which is why I'm not in any of them.