On foot: Mammut MTR 201 Dyneema
On leg: MTR 201 3/4 Tights
On body: MTR 201 Micro Jacket
One of the last trail runs of the season on Rainier before the snow!
I took my Mammut MTR gear out for a late fall trail run around Rainier's Wonderland Trail. Washington state is filled with gorgeous peaks in the Cascade and Olympic ranges, but the beauty of our 14er Rainier is unparalleled. From the city of Seattle, you can leave the blue-green sea and salty air, drive through giant cedar forests, and be at the base of Rainier in less than two hours.
Fred Marmsater, a friend and photographer from Colorado, and I woke up before the sun rose, knowing it was going to be a glorious day. We started at the trail head as the light was just hitting the top of Rainier, the alpenglow was dripping down the mountainside and we sped up our pace.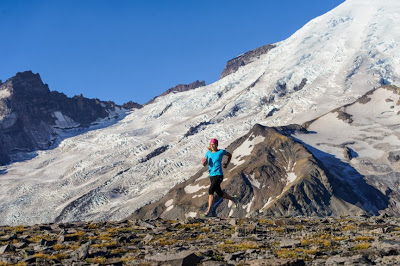 We had a fantastic day, spending the morning on the mountain, then down to the lower elevations for some shots in the giant Cedar trees. Now, the snow is here and I'm ready to play! I'm looking forward to getting on the mountain with some of my new Mammut Freeride gear, and many more adventures with Mammut this season!