I had no idea what I was getting myself into…
Little did I know that this race would break me.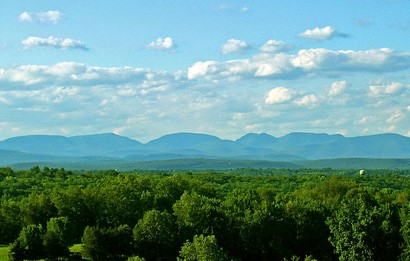 Ladies and Gentlemen, I give you--The Devil's Path and the mountains that we were tasked to summit in succession.
I felt that I have also had solid uphill strength for long races and was intrigued with the challenge that Manitous' Revenge could pose.
It would challenge myself beyond anything I have ever encountered with running in my entire life.
And as I write this to you, I am pleased to document my journey from a Top 5 hopeful position to a matter of praying I finish and do not die from exhaustion.
This is my story.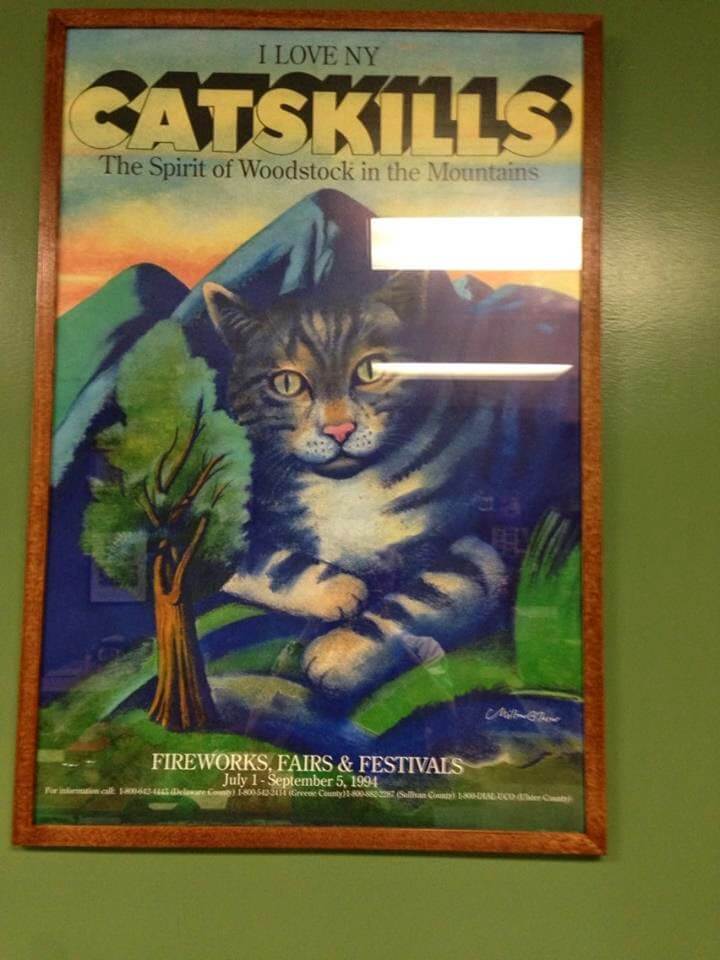 I also give you what I thought the Catskills actually were! Note the large cat!

This image was used from Charlie Gadol-Race Director
On Paper, this race looks hard but for a strong athlete, it seems doable and offers a unique challenge. Truly, this race is INSANE! What it boasts is elevation gain and loss like nothing around with rock-hoping, cliff jumping, loose stones, soggy feet and scaling eroded rock walls and roots that with one misstep, you fall type of experience. Do many places have all this stuff? Probably not!
As we can see the first 20 miles of the race to N/S Lake is the famous Escarpment Run.
After the Escarpment, which you summit Blackhead and Stopple Point, a long downhill into Pallenville, the race begins with insane summits of some of the most intense mountain trail around: The Red Trail---Devil's Path with four of the Catskill High Peaks summited in succession followed by Edgewood and then the death descent where I injured myself and suffered the last 14 miles of the run. The Devil's Path gets its claim to fame from the fact that it is rated as being one of the most-difficult hiking trails in the Country! And imagine we were to run the course…run/hike very fast. I soon found that this race was a true mountain event.
So why do I label my title: "Chasing the Sun"? Well, my story will trace the events through my eyes over the mountains, hopping along the rocks, slipping, sliding, crawling and falling through terrain that is beyond challenging. This is Manitou's Revenge.
I begin my journey loading up my car after work on a Friday afternoon behind the schedule I wanted to have to make it to Phoenicia around 5-6 pm but with a hectic day, I did not leave until 4pm. The three-hour drive did not take long at all and before I knew it, I was in Catskill Country. The mountains of the Catskills remind me of a mixture of the Green Mountains of Vermont and the White Mountains in New Hampshire. The lush greenery and seeing all the cool restaurants, bars, shops you name it gave it this laid-back appeal. Really cool stuff. I was excited to be in the Catskills for the first time ready to take in all of the sights and sounds. I got out of my car, changed into some running gear and met some other awesome New Jersians. I then ran a shake-out run to loosen-up the legs to prepare for the action tomorrow morning.
After the shake-out run, it was time for some grub. I wanted to explore out of the small strip of town so I headed out looking for some good food and cell service. Just pass the Phoenicia Diner, I saw a strip mall with a pizza place. I love pizza as my pre-race meal. Something about bread, cheese, and Italian herbs that gets me in the mood to run fast. The family-owned business had amazing pizza. New York makes the best pizza. I cannot remember the name of the pizza place but I did snap some photos of their artwork.
Photo time: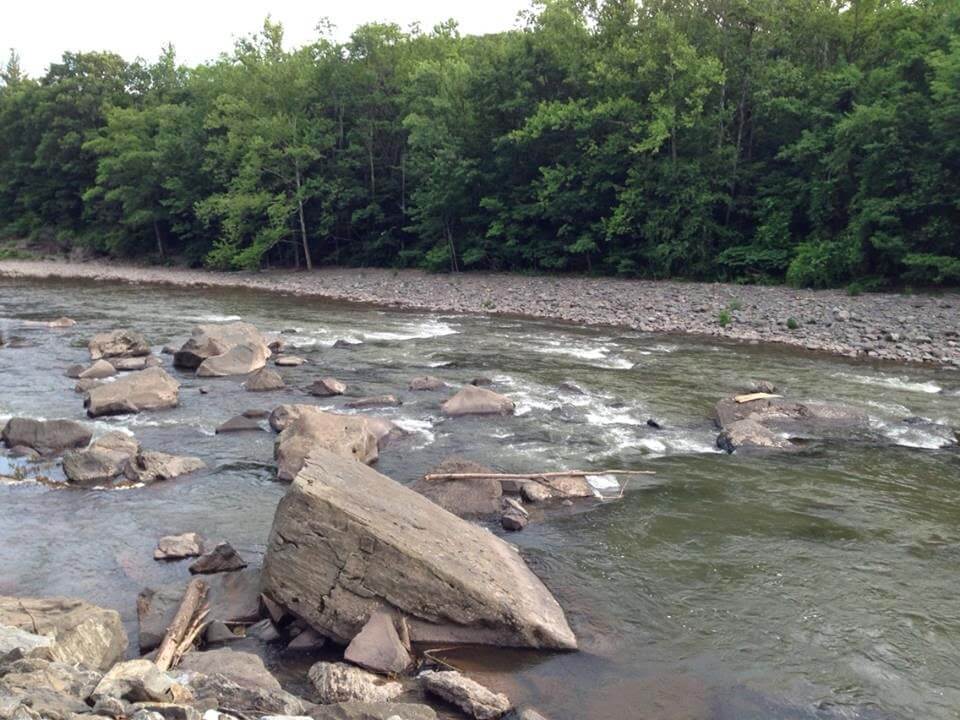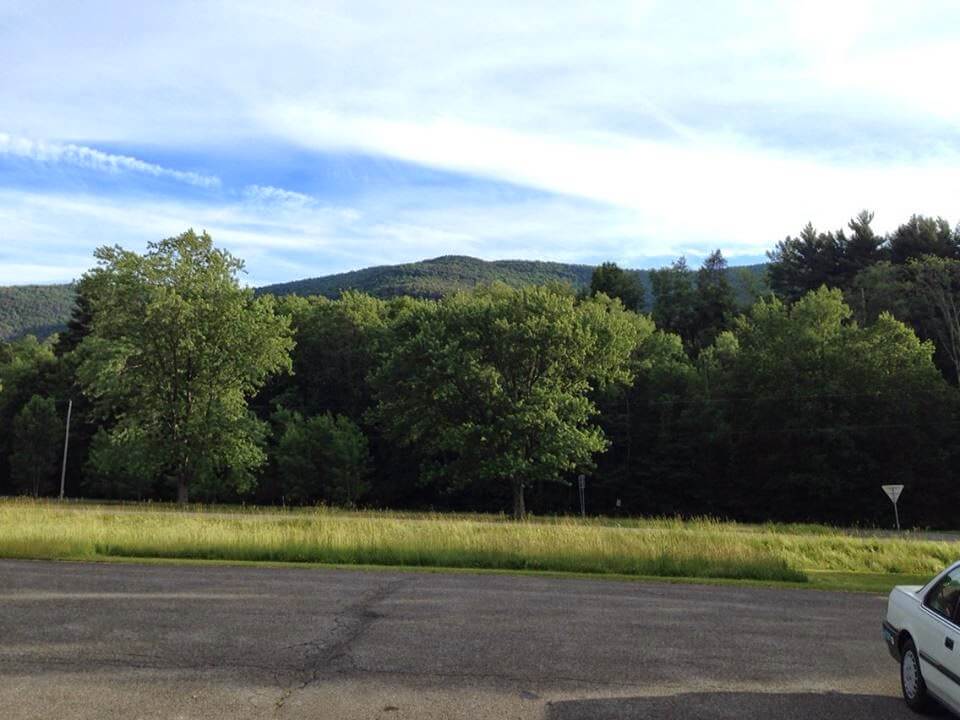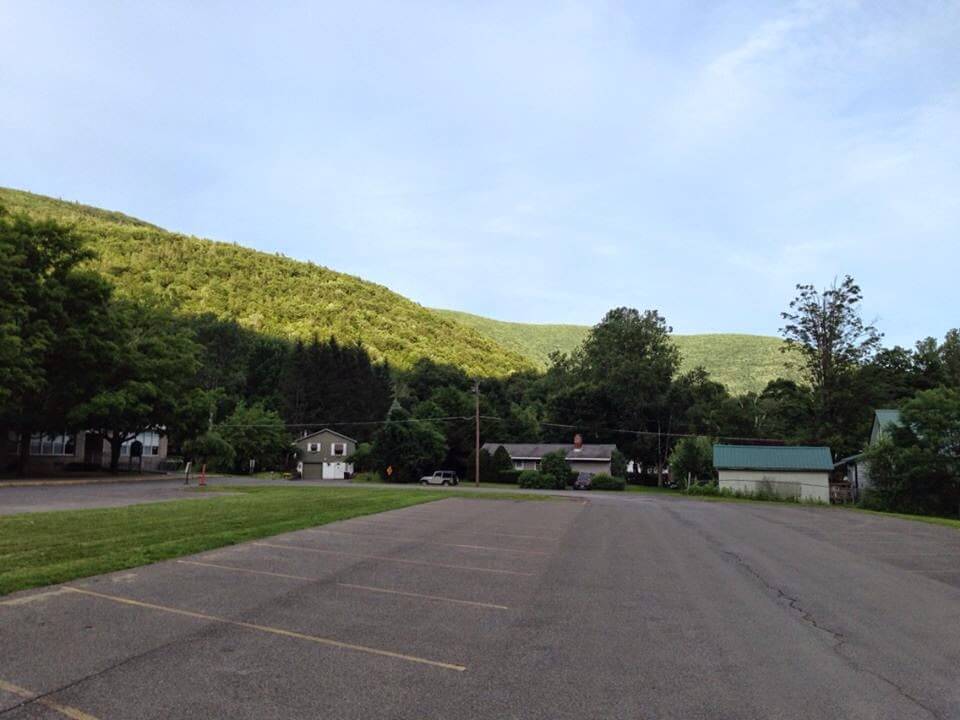 The view of the mountains around the area was incredible seeing the different places we would be running up and down the next day. The town of Phoencia is small and quaint but has some awesome little shops and a nice Pharmacy where I would station my car for the early morning pick-up. I went over to the next town since I had no cell service, called my family and also stopped at the nearest gas station to load up on Arctic Freeze (White Powerade) and some water for my Nathan Firecatcher vest and handheld. I was going to be wearing more gear than I have ever worn before in a race. I was going to be wearing 40 oz of fluid on me plus my Ultimate Direction Essential belt starting with 4 gels so that I had my fuel source ready to rock and roll. I found my sweet campsite outside of town, pitched my tent and grabbed some zzzzzzs after some delicious Black Forest Gummi Bears (Hint: Black Forest makes AMAZING CANDY) That's right, you better try it!
I hydrated grabbed some zzzzzzzs and awaited the 3am wake-up call to catch the bus to the starting line.
I awoke at 12:30, packed up my gear and headed to the bus section at the Pharmacy. I took my sleeping bag, crashed in the back of my car and reset my phone alarm for 2:45. It was tough sleeping with all the excitement of the day building. I was nervous but excited about having the chance to do something totally out of my element.
I do run trails and perform well on technical terrain. But….I have always run on courses that are runnable. This course….Runnable? Not really. I hiked more than ran for sure and rock hopped as best as I could down the steep rocky ravines and cliff drops. I know that my strength runs in pacing. I hope one day to run Comrades as I feel my ability to run by feel and to hit solid mile splits all day long favor a successful Comrades performance.
This race was a first of many for me:
Summiting more than one mountain above 3k,
Running on sharp rocks for more than 10 miles,
Running over 8 hours in one sitting,
Having to eat solid food for sustenance,
Drinking 40 oz X every aid station,
Power-walking at 12 minute pace like my life depended on it,
Not falling off a cliff or getting too lost.
Anyway, my alarm goes off at 2:45, I stretch and check-out the cars beginning to enter the parking lot. It is early. I get all my running gear ready, meet Charlie, the RD and get my gear and get all ready to rock and roll. Having a sponsor like Mammut is great for a race like this. Our products are designed for RUGGED and I was very happy to put on my Mammut MTR 201 Pro Lows that I raced in Virgil with as well as the Reco-fit calf sleeves that powered me to the Can-Lake 50 record which has been my crowning achievement to date and my new Fits Socks made of merino and Cool Max…which are the best socks I have ever tried and trust me I have a sock fetish and love high quality socks….Fits absolutely kills it with these new Coolmax blended socks debuting this Fall 2014. I talk with some of the race participants, get myself ready mentally for the task at hand and then board the bus.
Off we go!!!!!!!
I am talking with Brian Rusecki, a stud of technical ultra running and Vermont 50 crusher. This guy represents East Coast Trail Running like no other. And as once a Pearl Izumi Athlete, now under Patagonia, he is representing us Outdoor Brands in style. (Good Pick-up Patagonia!) Anyway, we chat about the race as I have Ben Nephew as my pick to win it all just because of Ben's experience with Escarpment and the Catskills but if anyone could upset him, it would be Brian. What an honor to be in the same conversation as some of these guys. It floors me to have that sense of being respected by such talented ultra runners that have accomplished so much in their careers. We talk about how Cayuga went which we both had tough days but still hung tough and talked about what to expect for this race. We also catch a little nap time and then time flies as we make the start of the race.
Bathroom break followed by a meet-up with Ben Nephew, Brian R., and Ryan Welts and Kristina Folcik-Welts who are fellow Acidotic Team Members. We talk about the event as I shiver in the cold go the morning. Race start is 5am and we are 45 minutes from go time.
We begin our pre-race checks and then it is call to race.
Our "Wave 0" lines up, we get the pre-race briefing, and then like a bat out of hell, we are off. The pace is relaxed as we all know that this race is going to be a toughie and running anything too quick to start would be a rookie mistake. We run as a large pack of 12 as we are chatting and relaxing. I am taking in the views and gauging how we are going to survive this thing we call Manitous. I am up with Brian chatting with the crew, talking with Ryan and Ben and our squad of mountain goats.
It is always fun running with such men so accomplished in mountain running to pick their brains. Talking with Ben Nephew, I hope that my performances this fall can get me to run on the USA 50k-100k team. I think with a solid Fall 50 and/or JFK 50 run, I can be in the mix to make a USA squad.
A first 5k on the roads, we all can't feel our hands. I have a handheld that has melded to my hand and we all joke before the race takes the turn for the RUGGED. We hit aid "station 1" at the turn to Escarpment and so it begins. I am behind Ryan Welts as we are running UP UP UP UP UP UP at a relaxing pace. 20 mins in, I ask Ryan if this is the Escarpment Trail that is famous amongst our trail culture of the East, and he confirms that it is indeed the Escarpment. I am baffled that it is no-where as difficult as I initially thought, as of yet. Yes, the Escarpment has rocks and sharp rocks scattered all over the trail, but I was thinking more of a wild jungle run right off the bat. The tough stuff did not begin until the ascent to Blackhead. It is still early and I am chatting with Ryan. After climbing for a century, I see my first view. WHOA! We did get somewhere. I could see the early morning clouds hundreds of feet below us. Time to get tough! We fly off the boulders like rock-hoppers (the New Hampshire version of grass hoppers) as we descend a little which Ryan gains some ground on me as I surge to keep contact. Brian and Ben are chatting it up behind us. Ryan Welts ladies and gentlemen, has some moves on the rocks. This guys dances the tango on boulders better than anyone on any season of Dancing with the Stars, I promise.
I try to keep up and then, the scrambling begins. I am sweating like a pig as we huff and puff up Blackhead. Steady does it. It does not feel too crazy but yeah we are climbing on jagged boulders. Soon I can see we are almost above tree-line. I follow Ryan's moves and cadence and soon the view comes……HOLY SH#$%! That view, took my breath away!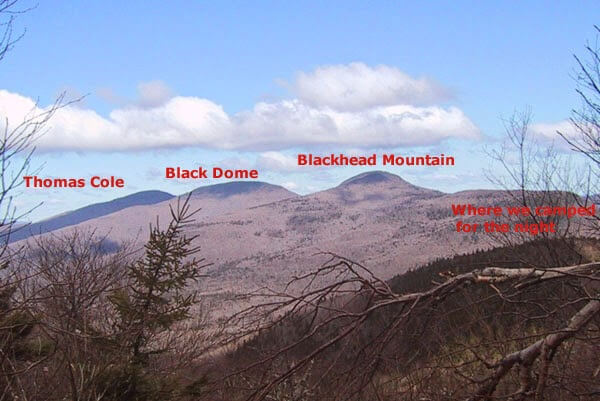 Photo credit: mirolka
Summiting Blackhead was something else. Then began the descent. These guys began flying on the descent which had rock shelves that were loose and dangerous. With my weak ankle, I was nervous of how I could hang. After the first big descent off of Blackhead as I let Brian, Ben and company pass me, I could tell my descent skills were not able to compete. I was now in like 5th-7th place. I soon began to run my own race. I realized that these guys meant business. I surged on the rocky flats to catch the group. After a nice descent section, I was back in eye-sight of the main crew. We hit an aid station. I grabbed water and then off we went.
I soon felt that running my own pace would play big later on. This was the easiest part of this race! CMON PEOPLE! I soon lost the group and then hit another climb to Stopple Point. Once atop Stopple, myself and Carlo got lost together on the summit. "Where are the blue markers?" I thought as I could not find where the trail would meet up. We went all to the right and then realized after maybe 5-10 minutes of confusion we found the trail. As we hit the trail, Carlo wanted to move on the down-hill and I let him go. My ankle was suffering a little bit and wanted to still relax on those descents.
I was now alone………….
Come from behind victory…not so much.
I came into N/S lake with a low 3 hour time which would place well at any Escarpment run. I fueled up and off I went. Every aid station gave me that jolt of energy needed to hang tough. This race's curve goes hard to harder to stupid hard to still hard to kinda hard then 1 mile of road (YES!).
Time to play the chasing game. Now came a rocky downhill 6 + mile section into the low point of the race at Pallenville. I flew into there after struggling on the downhill only being 15 minutes behind the leaders! Not too shabby. I talk to Charlie hearing about the runner's who have dropped and then fueled up, got those dreaded rocks out of my shoe and then off I went. I hit the road like a man re-born. Now begins the hard stuff. We hit the dreaded climb out of the valley on what seemed to me as a season access road. I have great energy levels and have the hopes of catching to top guys. I surge like no other up the dreaded 2k-2 mile climb. I run the majority of the climb with brief walking stints to rest the quads only lasting mere seconds. I was going for broke. I was climbing like a champ and as the heat of the day began to set-in, I was getting my second wind.
I finished the climb then hit my rough patch. I struggled to fuel at the top after sweating it out and then hit the mud pit. Miles of mud drained me. I lost so much time here. Oh and we have another hands on knees climb---Kaaterskill High Peak.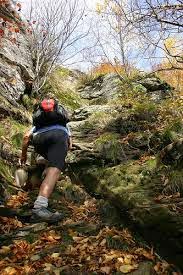 The climb went for days. I made it and was feeling my first low-point. Gels all the way to save me. 10 minutes later, I felt the resurgence of energy.
My first battle of weakness began here. The descent I was careful not to hurt myself. I began to fuel more and more and with the mud, I lost so much energy. Then the gels kicked-in and soon I was flying down the descent to the next aid station. Whoa, who am I? I felt brand new. From slogging through mud where I lost my shoe like 3 times, to flying down the hill like Batman in the Batmobile, I was there. I hit the aid station in need to a re-charge. I got all of my gels, bottles refilled and talked with Charlie about the make-up of the race. I was off again on the heels of the top group.
I felt like a million bucks and now I was gearing for the dreaded DEVIL's PATH! THis of course is the toughest hiking trail around and the big challenge of the race with 4 3500+ summits in less then 10 miles followed by a treacherous descent and another mountain summit. Running the trail, I was awaiting the tough stuff. It started out no problem then once we switched from Green to Red Blazes, it began. UP UP UP UP UP UP UP UP….UP UP UP…UMMMM. This trail just keeps going up. I can see above tree-line now and we are still climbing. I am sweating buckets and breathing like I am in labor. I eventually make it to the summit of Indian Head and yes the Devil's Path is INSANE but I was expecting deathly. This was no joke climbing the rock cliffs and roots to hoist myself onward and upward. Once the flats came, I shuffled my feet. I was beginning to hurt pretty bad.
The Descents killed me.
I hit one of these rock cliff descents scooting my butt against the cold rock and shuffling down the wall of death to the next shelf and on the descent of Sugarloaf, missed a ledge and slammed down popping my ankle. "GAHHHHHH" as my handheld and running pack caught my fall. It hurt! Bruised knee and tons of aches and I knew I had to go careful. Welcome to 50 minute miles. I knew I was losing time here but I kept saying… (Don't Die). Near the bottom towards Plateau, I was caught by Ashley Lister. She let me go on the ascent and I knew she would get me on the descent. At this point, my body was destroyed and mangled from my fall. I was really feeling weak. The descent came and Ashley flew by me with ease.
What was once a race to place tops with the group, I just wanted to finish. I had run a solid Devil's Path and now 14 miles stood between myself and a finish. I forgot to consume enough calories and by the entrance to Warner Creek, I was done. My body was shutting down and soon I realized, I could not come out of this. My race was done.
Now began the power hike phase.
I could climb pretty well but I hobbled the descents with many times re-hurting my ankle. I felt broken. On the descent to Warner Creek something crazy happened.
NAME THIS ANIMAL: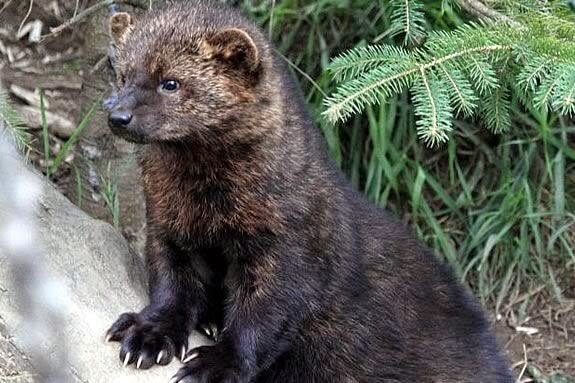 (Photo Credits: http://dhenry.hudsonvalleysportsman.com/small-game/fishers/)
If you guessed Fisher------YOU WIN!!!!!!
I heard this hissing. I am walking on the trail, post 9+ hours, never running this far before. The run of Devil's Path sapped all my energy and hit me once I came off of the section. The last 14 miles were supposed to be easier than the last 10 but it still had its tough climbs and descents. ANd some DAMN FISHER CAT is taunting me. It is right along the trail on some rock den. I say many profanities at this badger-weasel thing I thought was a hallucination. I am power walking on the trail in the Hurt Locker and see this odd creature. What happens next? It charges me. I pick up a Catskill boulder and fling it near the creature like a frisbee. Yup it scared the creature as it was zipping back and forth like a squirrel chasing its tail. It then heads back on the rock Hissing AWAY. I yell " YEAH (BLEEP)! WHAT YOU GOT"! I know, kind of mean but how I felt, no animal was going to make my hurt even worse. I was not going to have it. Along the trail I continue.
I am probably walking 30 minute miles. I feel so down, depressed, you name it and even thoughts of death cross my mind. At this point the race changes for me.
It is as much a race of survival as a race of chasing the sun.
I am not the type to drop from a race. I rather show resolve and finish even if it is not where I hope to be. I had the thought of dropping but I had just ran 40+ miles and all this stuff was the hardest parts of the race so dropping out now I thought would show weakness in my character. I dug deep and walked faster than I have ever walked before in my life. At Warner Creek, I was being passed by all kinds of people but I just wanted to make it before it was dark. If I had to run this trail at night, I would drop out for fear of being attacked by other Fisher Cats.
I suffered. I struggled, I grunted. Thank you to the volunteers that cheered for me at my lowest point and to the other competitors that gave me confidence. I cried on the trail, scared of not making it. I was walking through all this poison ivy which I have it all over me almost a week out from the race and am still sore. You powered me through. Simply, You got me through it. I was beginning to look like this: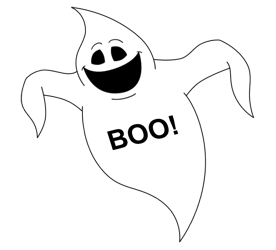 I was pale white, hallucinating that tree logs looked like people as I mismanaged my hydration between Warner Creek and the next aid station. I was told 5k, and it turned out to be 7 miles. We were still climbing. I became sick of this uphill stuff. I was on my death bed. I felt so bad and did not care. And so my death march continued. I met with a runner that took me through to the last aid station. Once at the last aid station, I found my angels in disguise. I now had 4 miles to go! I took my time now knowing I would finish around 14 hours instead of 12 like I had hoped. I sat down ate Chips, Cookies, M&Ms, all kinds of goodies and fueled up. I spent maybe 15 minutes fueling. Thank you to everyone for getting me through this.
I had some conversation with the aid station ontop of MT Temper and then off I went to the finish. All downhill. All that solid food after 13 hours of running began to turn me around. I was alive again. I could run and the soreness of my muscles and ankle was suddenly gone. I was heading back to civilization.
Once I hit the road, I felt like I could split a sub 5 minute mile…It didn't happen but sub 6 works right. I hit the sprint home as soon as my feet hit the pavement.
I sprinted home and as soon as I turned to the finish I knew I had survived.
14:01:35!!!!!!!!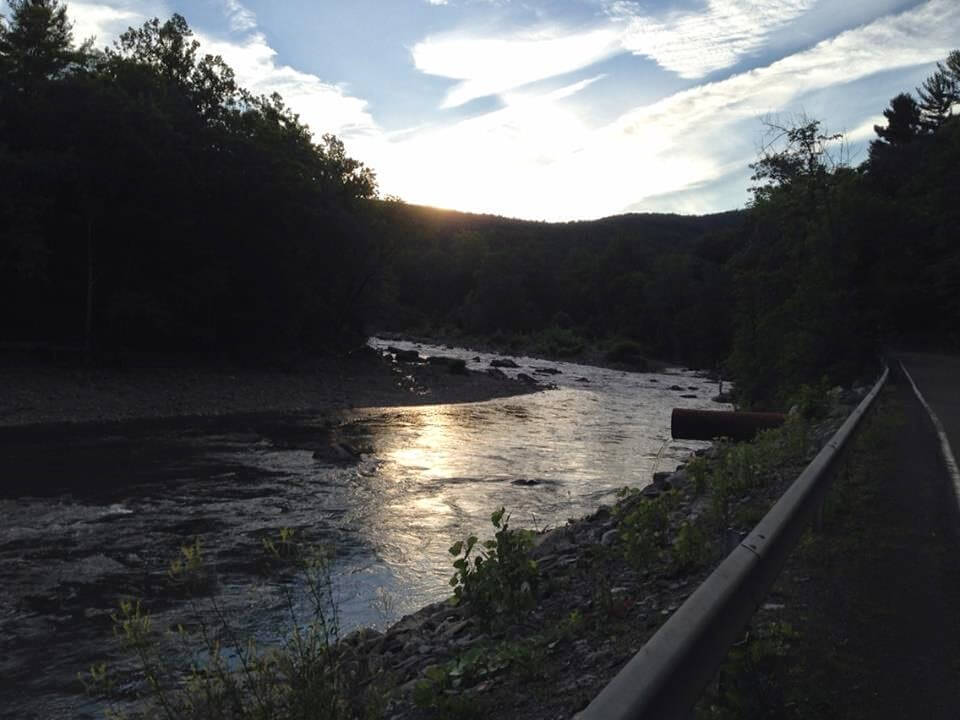 I was 12th and after struggling for what felt like days, I beat the sun setting with time to spare. I cannot stress the technicality of this race. This is no joke. I was way-too unprepared.
I found out straight fluids and gels would not cut it for the amount of elevation gain and loss that occurred. I needed solid food to replenish my frail frame. Also, probably some extra muscle would have come in handy to climb up those summits. This race will always be a race to remember for me. I ran with the mountain men and women as best as I could and hung tough when everything went drastically wrong. I have never struggled this bad in an ultra. My body was beyond spent.
I have gained an immense level of respect on what happened on June 21st. It was was race against the sun. As I started my journey on June 21st, I thought I could place top 5 and hold my own and never before had I felt so vulnerable in a race before as on that day.
Kudos to all the runners that took on this challenge! Even more kudos for finishing as I was this close from throwing in the towel.
I would like to thank you sponsors: Mammut North America for making the best products and some rugged tough shoes, Acidotic Racing for being my amazing club team of choice, Fits Socks for keeping my feet protected all day long with no blisters ever and with the new Cool-max socks, Redfeather Elite Snowshoe, and Karhu and Craft for some of the best road-running apparel and shoes around.
Will I be back next year?
I am going to have to sleep on that one and get back to you.
To Ryan Welts, Acidotic Teammate: You are one crazy-rock hopping guy!
Gear Used: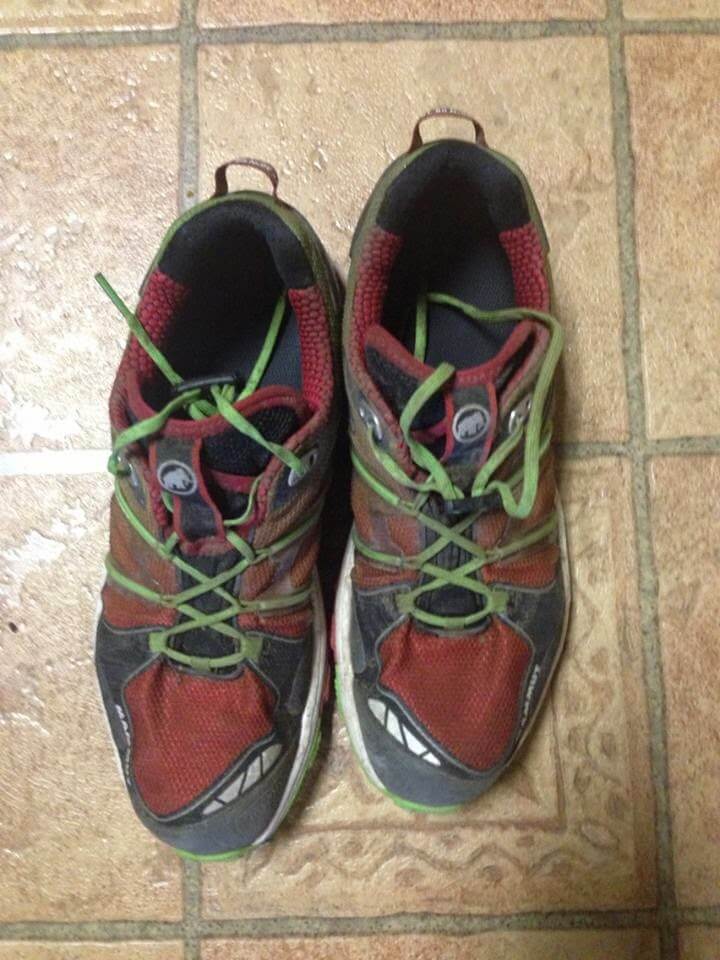 MTR 201 Pro Low---Best shoes ever! Kept my feet protected all day long and these are how they looked after being submerged in mud for hours! Where's the mud? Exactly!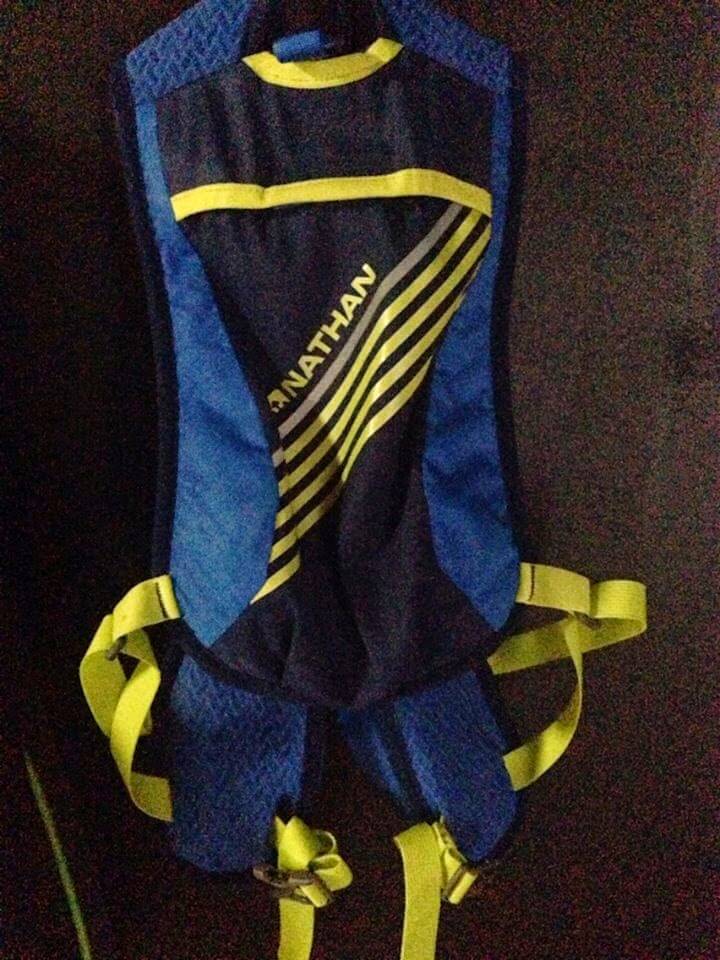 This Firecatcher Vest from Nathan is too good to be true. 2 10oz bottles tons of storage space, and a fit system that makes the vest feel like it is not even on you. I have always loved Nathan minimal vests, this one is a grand slam.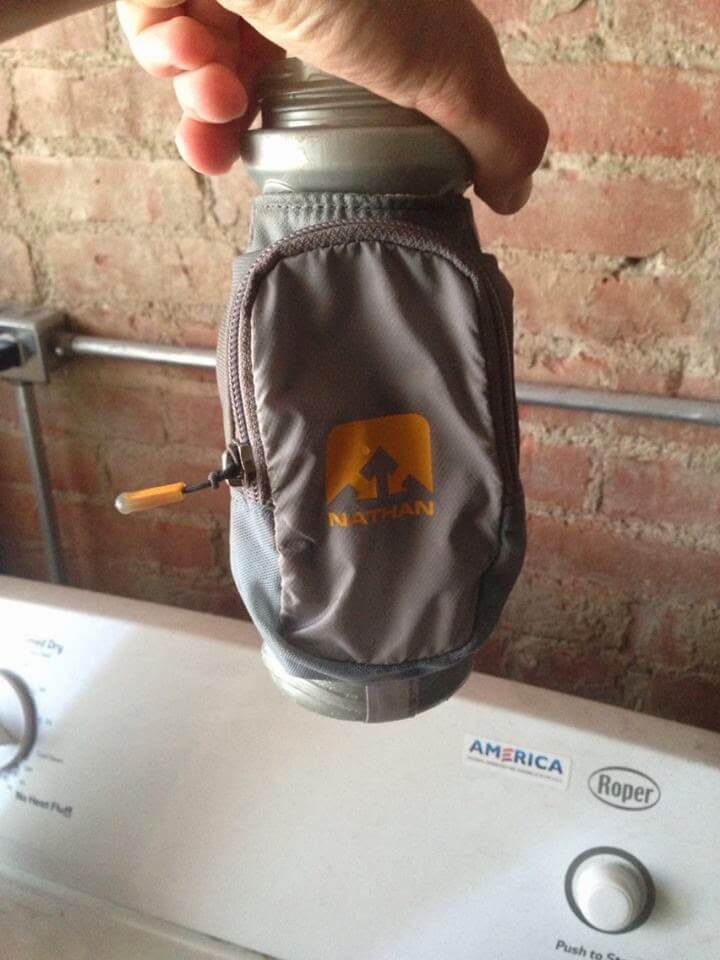 Usually I use an Ultimate Direction handheld, this Nathan one is my new favorite. The valve I can open with my teeth and it does not hurt, the pocket is stretchy and holds all my wasted gel wrappers, and the hand strap allowed for me to be hands-free while still carrying the bottle. And the bottle caught my fall on Devil's Path and I lost no water in the process.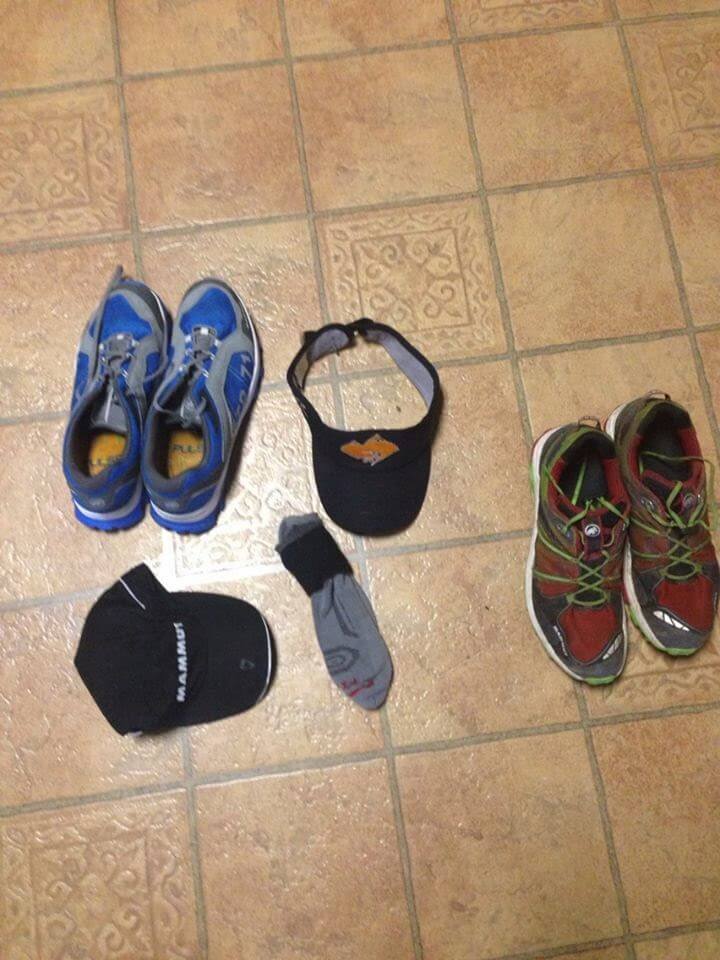 Mammut Hat, MTR 71 shoes which are my go-to trainers for the roads, trails, you name it and priced at $99 retail, this shoe is a steal. Mammut is just giving you the shoe! Fits socks are always comfortable and need more respect as they are by far the best socks I have ever run in, and my Acidotic Racing Visor cause I have to show Chris Dunn CEO a little love.
Have a great summer everyone!
- Cole Crosby