What is it with me and making wrong turns? It happens. And for some reason it happened to me... AGAIN. I need to get better watching for course markings and memorizing the course layout beforehand!
But on this day around some Green Lakes, I made history for myself.
This is my story...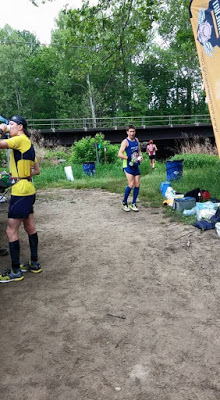 There I am on the left before I bonked at the CT 50. Photo Credits: Lauren Ashley
The Green Lakes 50k was my first big race of the Fall season. I had been putting in some solid training since the Skymarathon in June as I dedicated all of July to some strong training. I ran plenty of shorter road races to keep myself sharp for my ultras. I felt decent coming into the week and was hopeful I could give the course record of 3:28:27 a run for the money. I know I have split a faster 50k in a couple of 50 milers (Can-Lake and Tussey Mountainback) so I knew I had what it could take to dip under the time.
My words of wisdom is that running is plain tough work. In order to do well, it takes time, sacrifice, consistency, and perseverance. I feel these are all important qualities that are beneficial for anything we set forth to succeed in with our daily lives. This year has been tough on me trying to figure out what to do with my life post-graduation and just being able to be happy with where I am, who I am, and what I have to offer to the world. I know this sounds all "tongue and cheek" but it can be very hard to put in the training week in and week out and there are many times where I felt like just throwing in the towel. It is because of the reader's out there that support me, my sponsors, friends, family, loved ones, and people I have yet to meet that write me nice comments that proves to me that I am in fact doing something great. I have worked hard for my fitness and why not go out and express myself the best way I know how to, by running. Thank you for keeping me going!
Back to the race...
So, the weather for race day was perfect with 50s and 60s forecasted, nice abundant sunshine, and low humidity. We awoke at 4am for the 6am start in Syracuse. It was early but luckily I was able to snooze off a little in the car ride.
It was pretty dark for an early morning start in August. I realized a headlamp might have been a smart move but of course I did not think to even bring one. I made my race strategy simple: follow the lead guy for about the first loop or so until the sun came up and until I felt comfortable with the course not to get lost. I planned on running near 7 minute-mile pace the first loop then jump into 6:35 minute pace for the following loops.
The race was broken down into four loops of 7 or so miles each. I knew that if I kept a strong consistent pace, I would be in the clear.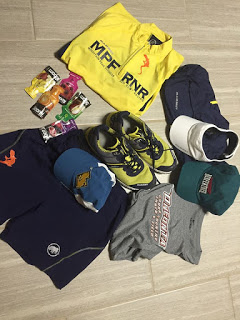 Pre-race gear: Mammut NA shoes and outfit, Redfeather hat, Boom Gels, Oneonta XC/TF shirt, Fits Socks, Craft Sports longsleeve. Photo Credits: Cole C.
The Race Start:
The Setting of Green Lakes State Park: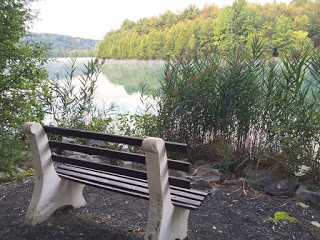 Photo Credits: Ashlee Prewitt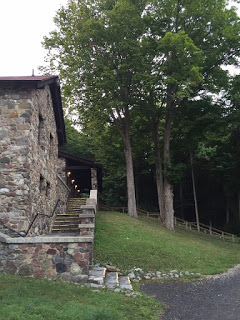 Photo Credits: Ashlee Prewitt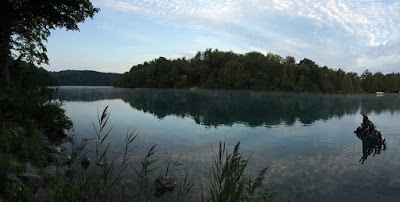 Photo Credits: Ashlee Prewitt
With the start of the race, I kept pace with second place athlete, Justin Weiler as we chatted and he was gracious enough to help direct me through the course. Let me tell you, that kind hospitality is what I love about the ultra running community. Here he could have been trying to make me get lost or trip or doing something to compromise my race but truly he went out of his way to help me navigate the course.
We had a group with us in the opening miles but knew that would change as the laps went on. It was fun running with Justin as we let the early morning miles tick by. Once up past the long climb in the race, the fun began.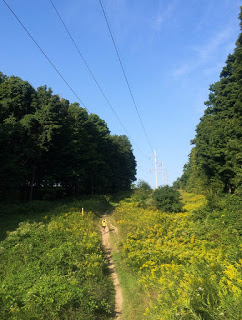 Going up into the Serengehti. Photo Credit: Steve Gorgos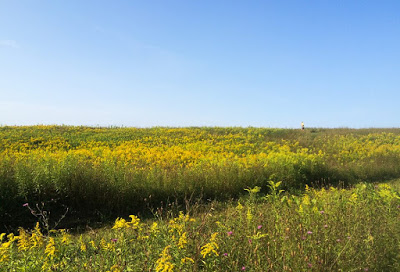 Running in a field of wildflowers. Photo Credits Steve Gorgos
I began to get rolling into the 4 mile aid station and started to feel really good. I continued to generate some sub 7 minute miles coming into the end of the first loop.
THEN THE MISTAKE HAPPENED!
As I bombed down the nice hill we ran up the first time and then apexed the turn like a race car knowing I was about a mile from the first loop. I was on pace to run about a 48 minute first lap which would set up nicely for the rest of the race. I felt fresh and able to keep the pace going. As I headed towards the loop marker, I hit an intersection with a volunteer who mentioned to me that I came from the wrong direction. I stopped and talked with him and he motioned to where I actually was supposed to be coming from. Man was it frustrating for me to realize I had made a huge error already in the race. I headed out on the trail and took his advice to turn left at the lake. I turned left and then lost the trail markings, I followed another trail and it took me to the juncture I needed to come from but was still the wrong direction. So I back-tracked and found out I needed to turn left instead of right at the juncture I went the wrong way on. I now was back on course sprinting sub 6 minute mile pace knowing I had lost at least a mile already on my pace. I finally came back the way I needed to to the volunteer and go back on track. I nearly lost more than 2 miles and had tired myself with sprinting to catch up.
Who knew what place I was in at this point. I came across the other lake and could see the loop section. My watch read close to 55 minutes and I knew I was way off of pace by about 20 minutes as 56 would ensure a 3:45 finish time. I was not happy and disappointed I made such a huge error. I felt the record, which was a solid time for the course, was completely out of reach. 20 minutes to make up in a 50k is a gigantic effort. That is the difference between a USA Top 3 at the Olympics to winning a local marathon but not qualifying for the Marathon Trails.
I was in third at the moment and made a huge move to place myself back into the race. I used way too much of my precious energy stores to get myself back into first position. I should have been more chill and relaxed but foolishly, I pushed to regain that lead as soon as I could.
Here are the photos of my disappointment to Ashlee and my Father at the conclusion of the first loop: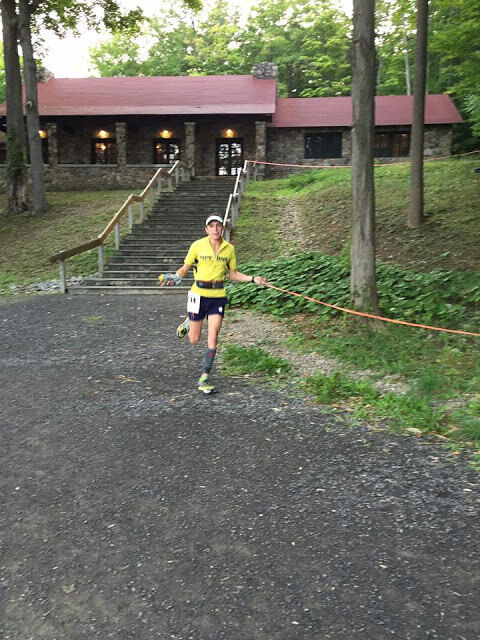 What is going on?? Photo Credits: Ashlee Prewitt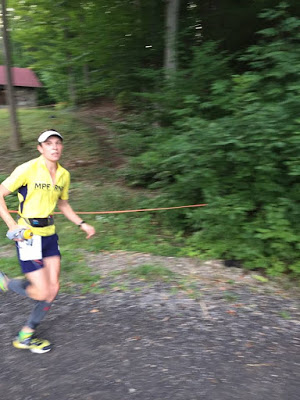 Looking at Ashlee telling her what happened. Photo Credits: Ashlee Prewitt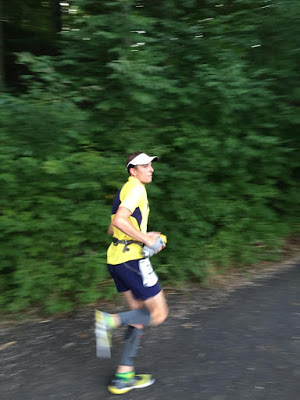 "Snarky Face". I am not a happy camper! Photo Credits: Ashlee Prewitt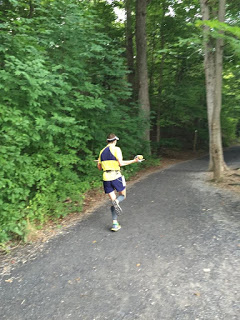 Throwing my arms up. Photo Credits: Ashlee Prewitt.
I came into everything worried and confused about where I had made the mistake. It was only after I came around to that same spot where I saw the markings on the path indicating a "left turn" instead of the right that I took on the previous loop. I split some fast miles to try to make up time. All I could think of was see if I could get back on track to course record pace.
On my second loop I split: 50:59 about 5 minutes faster than my first loop. I was averaging about 6:25 or so on this loop and was back on track to for the course record pace.
I felt tired from the first two loops but hung tough to keep the pace going strong. I stayed on top of my nutrition and kept myself fueling intelligently with Boom gels every 40 minutes and tons of Tailwind, Mountain Dew and Water. I pushed very hard but was faltering around mile 19 of the loop. Into the last few miles of the loop, I regained my energy stores with some smart re-fueling.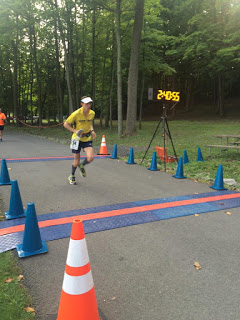 One more lap to go! Back on track! Photo Credits: Rick Streeter.
I ended up coming into the last lap needing a 48 minute last lap to just beat the record. I needed to average 6:19 a mile. I decided to go for broke and hit the last loop hard. Up the big hill I sprinted up it then got to the field section and mixed-up power-hiking and running. My body was running out of fuel and my hamstrings grew tight and non-responsive. I pushed as hard as I could into the 4 mile aid station. I hit that mark with 3 or so miles to go and saw I was just on course record pace. I decided to take a minute to re-fuel and I decided that the record was totally out of reach. I thanked the volunteers one last time and off I went. The downhills felt great as I could open it up but the up potions made me run at a pace slower than a walk. My quads had no more ability to push anymore. My last 3 miles I had to be averaging 8- 9 minute miles. I saw my watch with 2 miles to go read 3:28 and knew the record was out of reach officially. Now I was planning my finish time. If I kept running under 8 minutes I could finish around sub 3:35 maybe around 3:33-3:34 but my body failing from exhaustion from the hot early pace made me decide to just finish the race out no matter the pace. I headed towards the finish happy to know I was about to be done.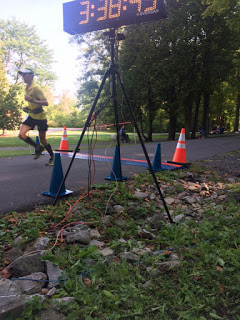 Crossing the finish. Photo Credits: Rick Streeter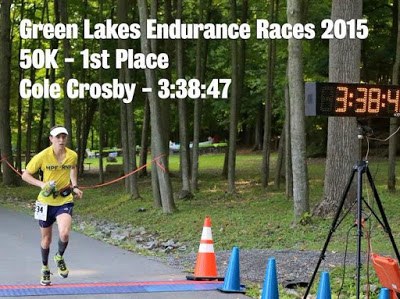 Official Finishing Photo. Photo Credits: Syracuse Half Marathon and Doug Hardy.
I hit the line in 3:38:47 more than 10 minutes off of the course record. I averaged right around 7 minutes a mile for the overall race. It was well off what I was hoping as I know I am capable of running this pace over 50 miles but was very happy with how I bounced back and ran tough. When I pulled my GPS data, I saw I averaged 6:41 a mile for the 32.7 miles I ended up running which would have placed me just under the time of 3:28. The course is much harder than I expected with some good climbs that eat at you in the first few miles. The footing was amazing with a few roots but mostly smooth gravel and super-mowed grass like a grass track. I learned that more sleep was needed into the taper week before the race. I was averaging maybe 6.5 hours of sleep a night which is not enough for me as I like 8 hours a night and this brought me into the race already tired and weak. I need to improve upon that for next race.
I had a great time at Green Lakes and will love to be back in the upcoming years. The course suited my running style well and I think that I could make a push for those records in the 50k and 100k in the near future if I put together some solid training and preparation.
Special Thanks To:
I would like to thank Tim Hardy the Race Director for putting on a classic Upstate New York Ultra Race, the amazing volunteers, my fiancé Ashlee, my Father, my Sponsors: Mammut North America, Fits Socks, Boom Nutrition, Red Newt Racing/Mountain Peak Fitness, Redfeather Snowshoes, Karhu and Craft Sports and everyone that has helped to support me on this journey.
What did I learn?
The lessons learned from this race are to never get discouraged even when something does not go your way. Mistakes happen and how you come out of those moments of doubt are some of the most important. I felt I rebounded well from being so ticked off at myself for not paying attention. And thank you to the volunteer who helped to get me back on track. I know at the time was not happy and felt like I was being mis-lead but it goes to show that the error was all my own.
Gear Used and Food Consumed:
Mammut Zip T-shirt
Mammut MTR 201 Tech Low
Mammut MTR 71 shorts 6 inch
Craft Longsleeve
Mammut MTR Visor and Hat (2016 Concepts)
Fits Socks: Padded Run Sock (Green)
Calf Sleeves
Redfeather Ball Cap
6 Boom Gels
60 oz of Tailwind
Water, Ginger Ale, Coke, and Mountain Dew.