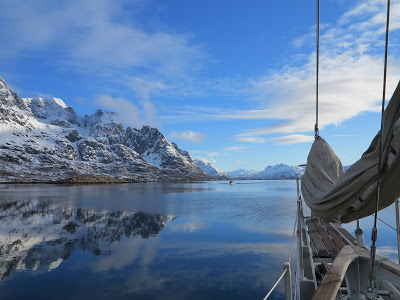 Heading towards Grunnfjorden on the Skydancer.
Growing up in Seattle, I became accustomed to the mountains and water surrounding me at all times. Having proximity to both allowed me to explore and fall in love with some of our Earth's great elements, sometimes both in a single day. The mountains provided inspiration and motivation, while the water always gave me a calming emotion that I came to require.
Over the past few months, I have been lucky enough to visit other places around the globe that provide a similar, and even closer distance from the mountains to the sea.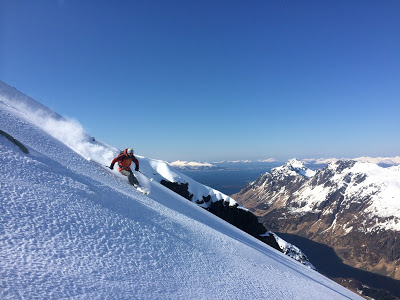 Skiing in Lofoten, Norway.
I currently work as a ski guide in the Lofoten Islands of Norway for March and April. We work out of the Lofoten Skiers Lodge that is located seaside in a quiet fjord. We have daily trips into the mountains skiing incredible lines, and return to the lodge to fall asleep with the quiet rhythm of the waves beating against the sand.
One particular outing this spring, we took a sailboat into a zone called Grunnfjorden, a place that can only be accessed by boat. The water was glassy as we made our way from the sailboat to shore on the small rib boat. You could see the sandy bottom of the Norwegian Sea drifting below the turquoise water, with the reflection of the snowy mountains hovering above. Once on shore, we put our ski boots on next to the seashells. We toured up into this quiet basin, which we shared only with the ptarmigans and foxes. After climbing up onto Tverrdalstinden, we skied perfect powder back down to the boat.
The combination of sharing a mountain and water experience in the same outing is beyond comfort for my soul. It provides a grounding excitement, something that I will never be able to go without anymore.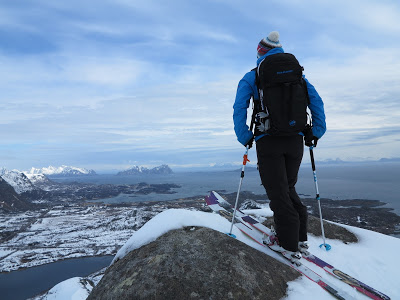 The views don't get old.
After an incredible season in Lofoten, I made my way home to Chamonix. I enjoyed some perfect turns down the Glacier Rond and Cosmiques couloir in a day, and then headed off to Kalymnos, Greece for some time on the beach and sunny rock.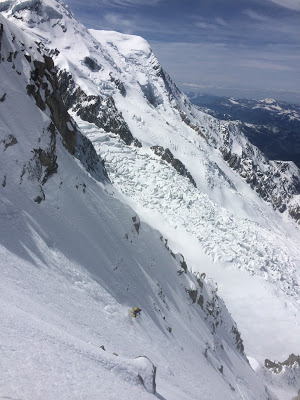 Heading down the Cosmiques couloir in perfect conditions.
A quick flight brought us to the island of Kos, where we hopped on a small ferry to take us to Kalymnos during sunset. Another boat, yet a world away. This one was taking me to sport climbing, swimming and olive oil.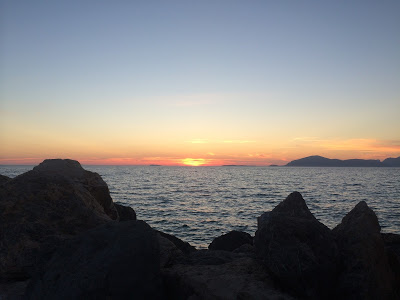 A world away from snowy mountains.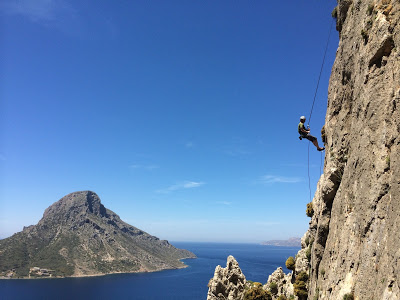 Day one and already in love with Kalymnos.
Perfectly placed crags with views of the Mediterranean are scattered all across Kalymnos. We climbed as long as our ski season arms and hands would allow us to hold on, and then would make our way to the beach to swim, sit, read and enjoy the sun. After a short week, we just barely scratched the surface of this incredible island.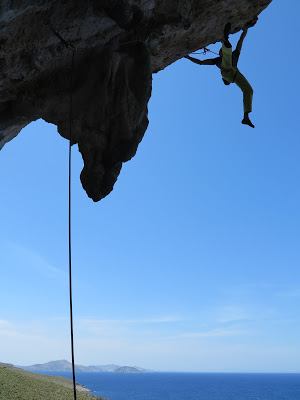 Pat Ormond showing us how its done!




If you haven't yet explored an area that provides skiing or climbing directly next to the sea, make it your next trip—you have waited long enough.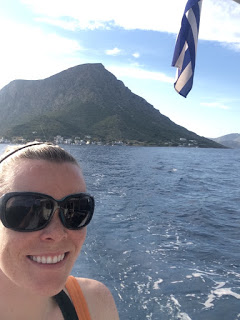 I'm on a boat!