Climbers descending from the Parrot with the Dufourspitze in the background
Some guiding seasons are punctuated by epic conditions others by extraordinary routes. 2015's guiding season was marked by exceptional clientele for me.
As per usual, I found myself guiding in the Alps on classic routes and historic peaks from Chamonix, France to Zermatt, Switzerland and around the Aoste Valley of Italy.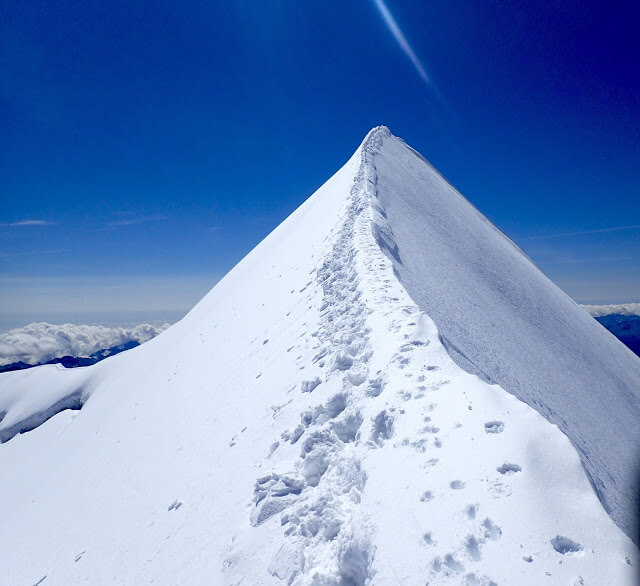 Summit knife-edge ridge of the Castor, above Zermatt on the Spaghettis Traverse
After a quick storm dropped 30-40cms of new snow in the peaks above Zermatt, we were sent a week of sunny skies, perfect temperatures and great conditions for a 5 day "Spaghetti Traverse" in which we topped out on 6 of the 4,000 meter peaks of the Monte Rosa massif. Each morning gave us a spectacular sunrise as we were above the valley clouds and level with the sunlight tips of surrounding peaks.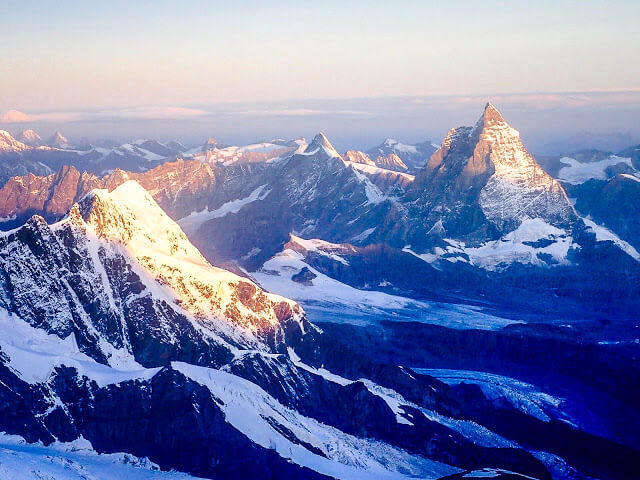 Sunrise on the Matterhorn
After spinning a quick lap back to Chamonix to change gear, I headed to Ste. Foy in the Tarentaise Valley of France. Just south of Chamonix and near the vast ski resorts of Val d'Isere, Tignes and Les Arcs, Ste Foy is an untrammeled alpine playground. I was on my way to
Eleven Experience's
Chalet Pelerin to meet a group of adventurers for ten days of playing in the mountains. But this group was a little different.
First Descents
is an organization providing adventures for young adult survivors of cancer. FD put together a great group of climbers who were up for any challenge I could throw at them.
Via Ferrata on the Cormet du Rosalind photo:Stephan Glover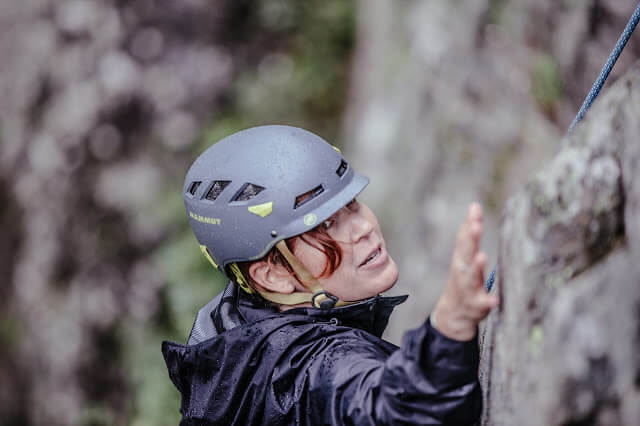 Rock climbing in the rain in Le Crot photo:Stephan Glover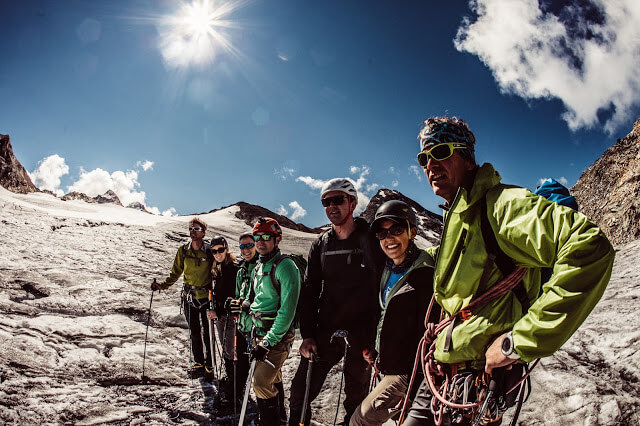 Glacier training on the Glacier du Tsanteleina photo:Stephan Glover
After via ferrata, rock climbing, glacier training,
hydro-speeding
, feasting on french cheese and general good times, we headed down the Aosta Valley of Northwestern Italy for our main objective, the Gran Paradiso. This 4,000 meter peak is the highest mountain contained entirely within Italy and a great climb for aspiring alpinists.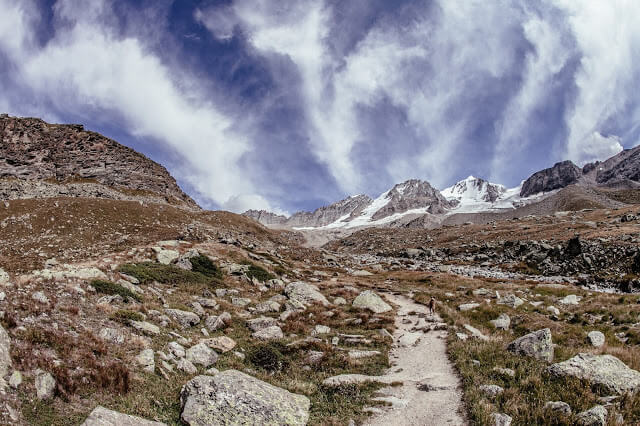 Hiking the approach trail to the Gran Paradiso photo:Stephan Glover
After a perfectly cool and dry approach to the hut, an amazing Italian hut dinner and an early morning revelry we began our ascent of the mountain. The glaciers were extra dry this season so we went from hiking dirt trails and rocky scrambles to walking on icy glaciers threading our way through the crevasses before getting onto the still broken up snow slopes on the upper reaches of the peak.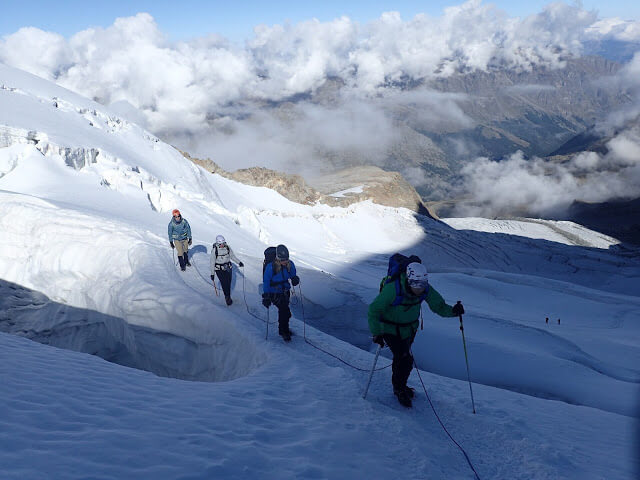 Threading through the slots
Threatening weather turned out to be cool temperatures, light winds and clearing skis allowing us to move steadily toward the summit. Due to the dry and warm summer, there was a new, and very large, bergshrund which had opened up near the top. The local guides had equipped this gap with two ladders to facilitate progress and add a little more to the experience.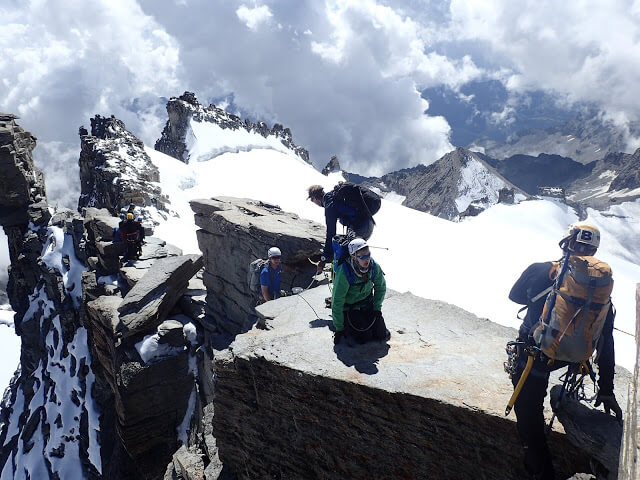 The summit sidewalk
Topping out requires a bit of rock scrambling including a very exposed ledge traverse. While this is technically easy, the 2000 vertical foot drop to the North is a bit unnerving and required some coaching, positive vibes and deap breathing to get all the climbers across.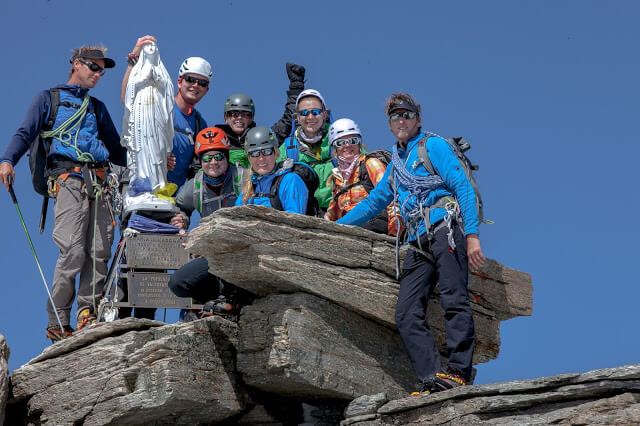 On the Summit! With an obligatory Virgin Mary of course
This was a very cool trip to be a part of. Watching these climbers dig deep to overcome fear, exhaustion, uncertainty after the personal journeys they have been through was inspiring to say the least. The teamwork, support and camaraderie of the team showed how much strength can be gained from working together and giving and receiving a helping hand.
Thanks to Mammut for supporting the Irwin Guides team and providing the equipment essential to this journey including Via Ferrata kits, Zephyr Altitude harnesses, El Cap Helmets, Glacier Ropes and of course the exceptional outerwear!