Me on the second pitch.... first of the two jade faces, incredible feature at 5.11. Photo: John Dickey
In August 2015, I made my annual pilgrimage into the Wind River Range of Wyoming and for the third time I returned to the massive walls of Mount Hooker.
It was an "all time" team consisting of Mike Pennings, Jessie Huey, and Hayden Kennedy. The energy was high and the 2000 foot tall X 2500 foot wide North Face of Mount Hooker was in prime summer condition.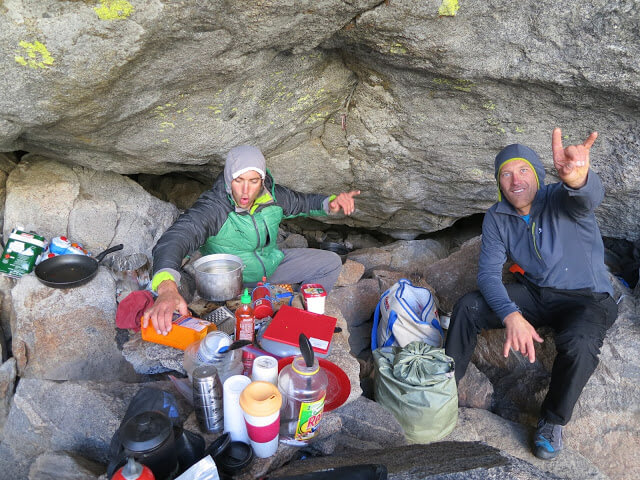 Me (on left eating cheese) and Jessie in the kitchen..................... Photo: Hayden Kennedy
We packed in with LOTS of food including: 45 pounds of ribs, bacon, pre marinated steak, and pork loin packed in dry ice. Yes, it was a bit absurd and had it not been for Mike insisting on these quantities of meat we would never have been able to sustain the climbing schedule the good weather forced upon us.
Quick Note: If you have never had a rack of ribs 15 miles deep in the back country you should try it.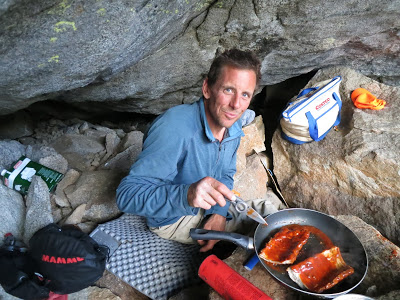 Mike Pennings, master of the rib feast. Photo: Hayden Kennedy
Base camp with a view... Photo: John Dickey
Well, aside from all the good living, we did manage to get in some climbing also. In fact, it was the best weather window I have ever experienced in the Winds. Of the 11 days, it never rained. That's right, blue bird the entire time. Mike and Jessie pretty much climbed everything! Including the second free ascent of "Hook, Line, and Sinker," a route I opened up last year with Josh Wharton and Hermes Lynn.
Topo for "Hook, Line, and Sinker" for those that have interest. Photo: Whit Magr
Hayden and I focused our attention on a new route. After hours of glassing the wall in search of a perfect new adventure, we chose a line that stood out because of two massive sections of jade colored rock. The jade rock on Mt. Hooker is as close to climbing on marble as I have ever come. The more the better.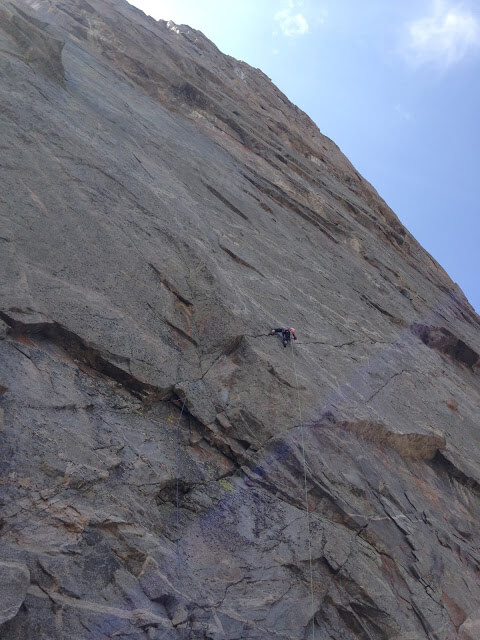 Hayden on pitch 1 of Gambling. 5.11+. Photo: Whit Magro
We spent six days climbing ground-up to establish "Gambling" with the use of fixed ropes to reach the previous day's highpoint. After a much needed rest day we climbed the route in a single push to the summit completely free on our seventh day of effort. We hiked out the following day. Cutting it close.
Hayden starting up pitch 6 into the unknown. Photo: Whit Magro.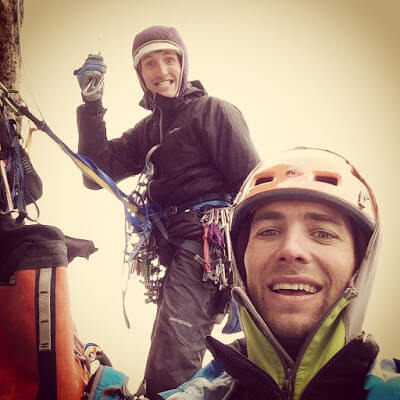 Another work day in the week on Mt. Hooker. Hayden holding our most prized possessions, the beaks.
Photo by Whit Magro
"The Good Hand Pitch" crux of the route at 5.12c. Photo: John Dickey
The end Result was a new route we called.......
"Gambling in the Winds" VI 5.12R
Topo: Whit Magro
The route hosted amazing sections of face climbing, roof pitches, and splitter cracks. At the top of pitch seven, we traversed right and joined into the same finish as for "Hook, Line, and Sinker" which was originally climbed by Boissonneaut / Larson. We would like to return and straighten out our line by adding a direct finish. Perhaps next year.
Thanks to the awesome crew I was with, thanks to John Dickey for pictures, and a mammoth thanks to Mammut North America for support and the confidence in my efforts.
Whit Magro
Bozeman, MT.