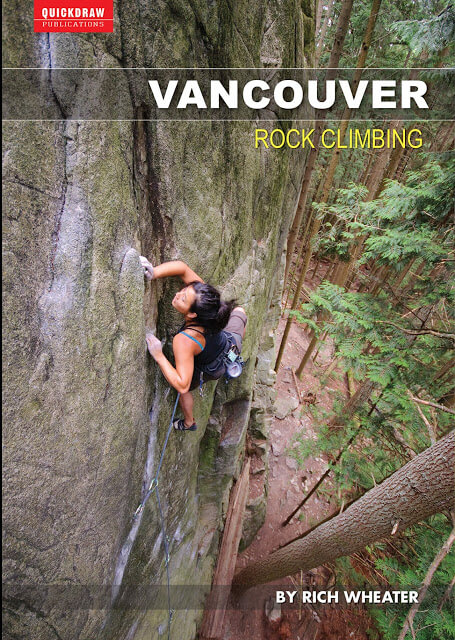 The new guidebook...
Squamish is rightfully known as a world-class rock climbing destination, and climbers flock to the area throughout the summer months, but what many visitors fail to realize is there's plenty of interesting climbing just down the road in Vancouver, the coastal city passed through on route to their holiday destination. In fact, Vancouver has a long tradition of rock climbing and mountaineering, starting with the formation of the British Columbia Mountaineering Club (BCMC) in 1907. This was many decades before a coastal highway was built to Squamish, so enthusiasts living in the city naturally turned their attention to Vancouver's North Shore Mountains. In the century since, an interesting story of mountain exploration and climbing development has been written into this range and our newest guidebook, Vancouver Rock Climbing by Quickdraw Publications, now provides climbers with an excellent resource for exploring the "Shore's" varied terrain. Read on...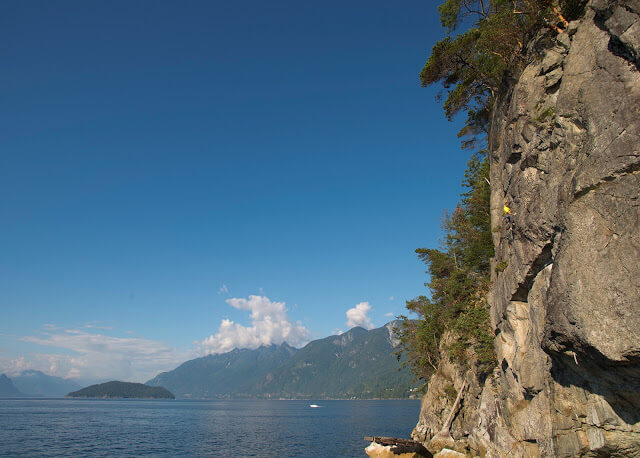 Climbing at Copper Cove. Photo by Rich Wheater.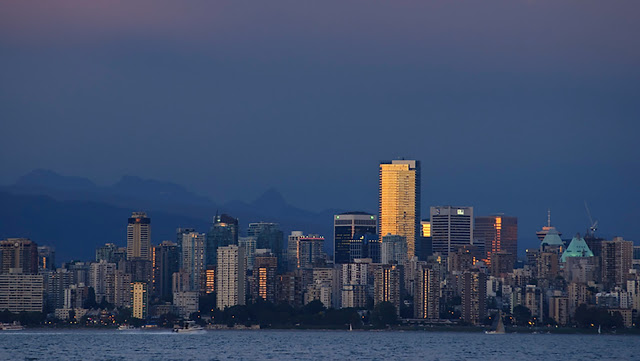 Vancouver in evening light. Photo by Rich Wheater.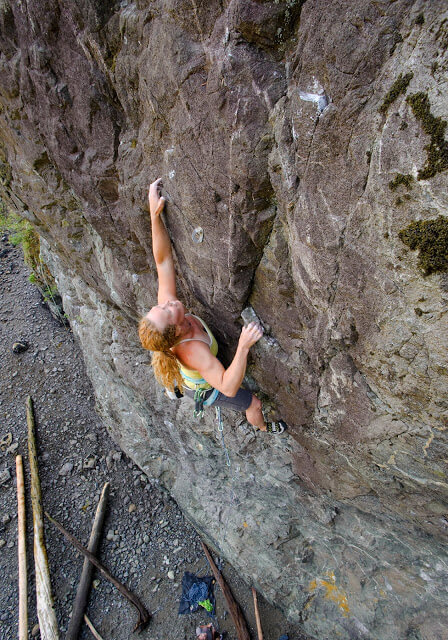 Climbing on Bowen Island. Photo Rich Wheater.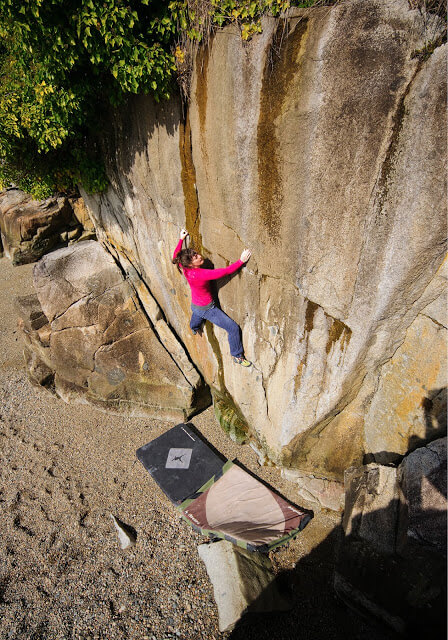 Bouldering at Sandy Cove. Photo by Rich Wheater.
The Climbing -
Much like Squamish, the stone on Vancouver's North Shore is primarily granite and the climbs share similar characteristics, albeit on a smaller scale. Rounded boulders scattered through lush forests provide interesting sloper problems and traverses, and small, steep crags offer up lots of challenging face climbs with the odd, quality crack. Once above the city's thick forests, the weathered granite features a variety of fine alpine rock climbing objectives, with views of the city and ocean that are impossible to beat. The guidebook documents over 600 boulder problems, 300 rock climbs and a handful of alpine routes, enough to keep any visiting climber busy for some time.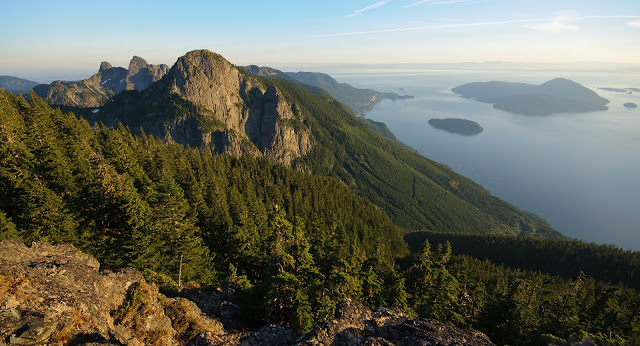 Vancouver's North Shore Mountains. Photo by Rich Wheater.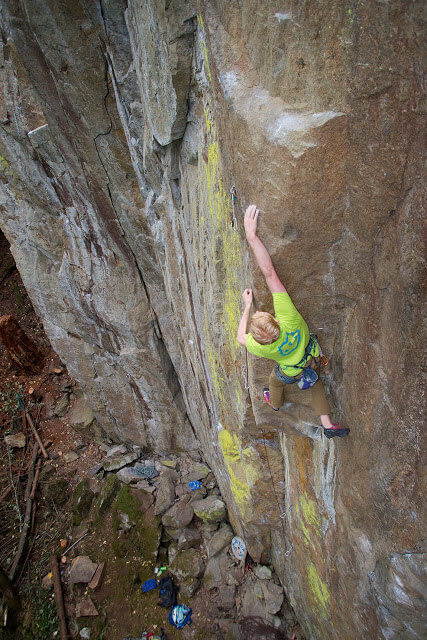 Sport climbing at Tunnel Point. Photo by Rich Wheater.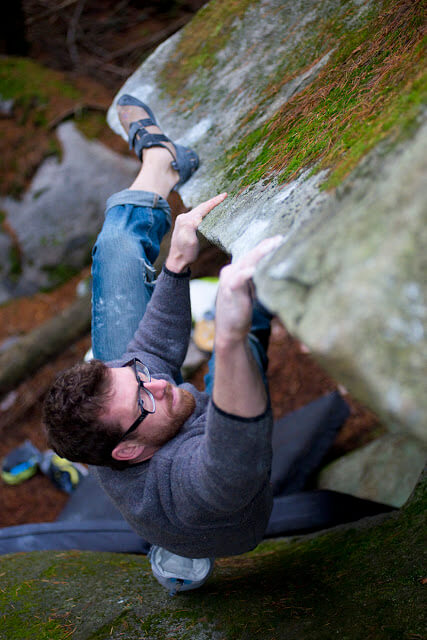 Bouldering at Cypress Falls. Photo by Rich Wheater.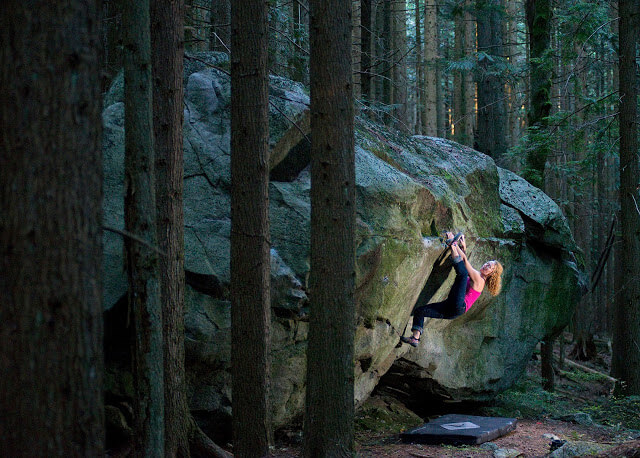 Bouldering on the Hollyburn Erratic. Photo by Rich Wheater.
When to Go
- Vancouver's climate and elevation is almost identical to that of Squamish, so climbing is possible year round. However, the best (driest) season is usually from July through to September when the summer high pressure settles onto the Coast and thoroughly dries the stone. Winters in Vancouver are typically very wet, but long periods of cold, dry weather do occur and provide fantastic conditions on the boulders and open crags. A winter cragging session down by the sea at Lighthouse Park is an annual tradition you don't want to miss.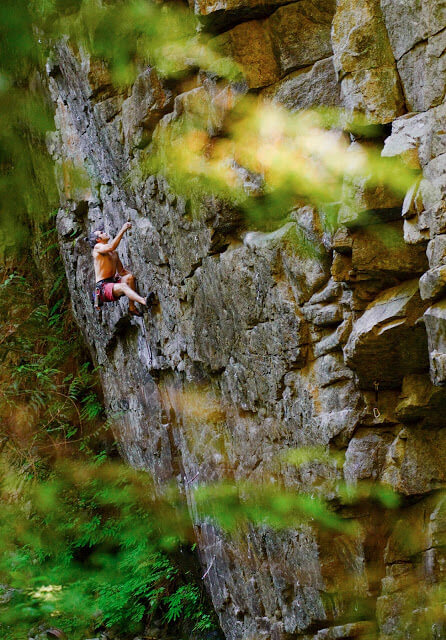 Sport climbing at Cypress Falls. Photo by Rich Wheater.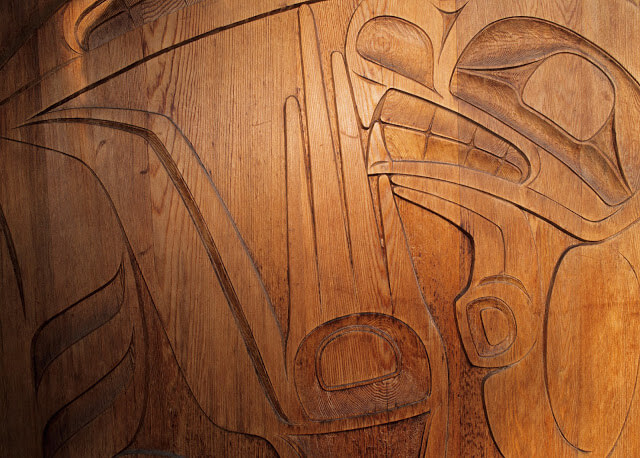 Indigenous

carving. Photo by Rich Wheater.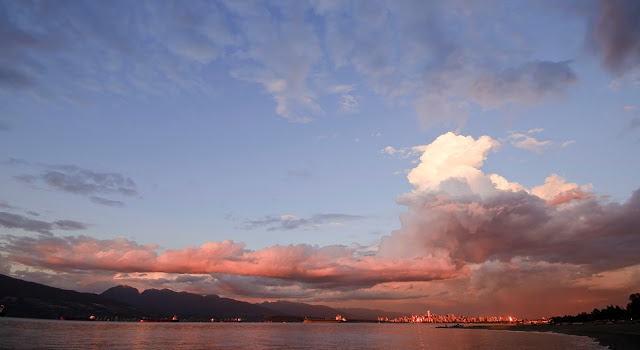 Storm clouds over downtown Vancouver. Photo by Rich Wheater.
What to Bring - If you plan to boulder you'll find landings that are typically quite friendly, so a single crash pad will suffice for a good session at most of the zones. A 60-metre rope and a dozen draws will be adequate for most of the sport climbs in the book, and a small rack of cams and nuts will get you up the majority of single-pitch cracks and mixed climbs. The alpine routes are a little on the "adventurous" side. If you're keen to have a go, you'll need the usual assortment of trad gear and retreat tools. The guidebook lays it all out...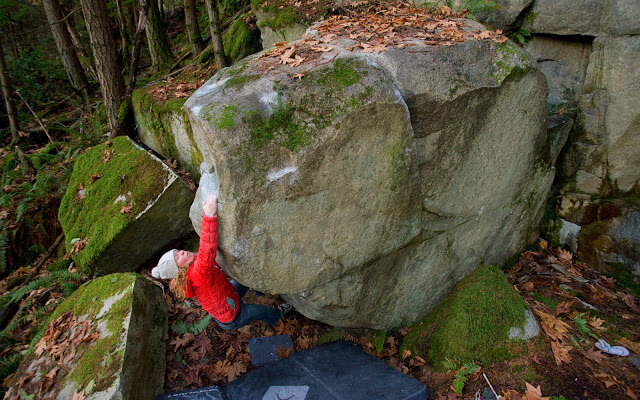 Bouldering at Godman Creek. Photo by Rich Wheater.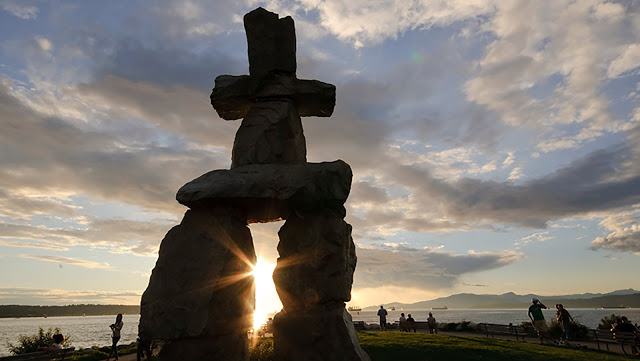 Inukshuk in West Vancouver. Photo by Rich Wheater.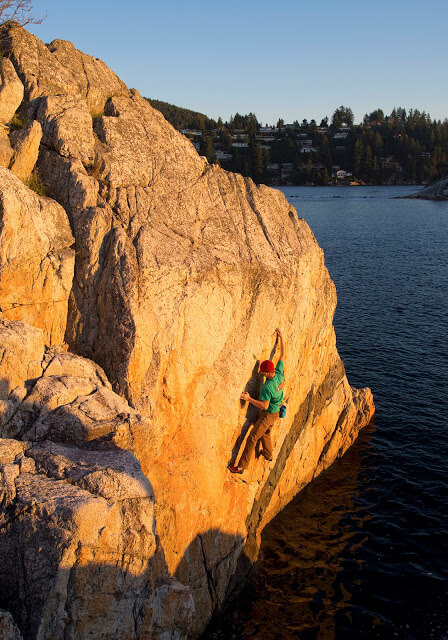 Deep water soloing at Whytecliffe Park. Photo by Rich Wheater.
Where to Stay
- Vancouver is a major metropolis with all sorts of accommodation, but cheap camping is decidedly lacking. If that's your thing, you'd be best to stay in Squamish at one of the local, climber-friendly campgrounds and commute to the city for a day on the rocks. It's an easy and very scenic 45-minute drive from the campground at the base of the Squamish Chief.
Local flavour. Photo by Rich Wheater.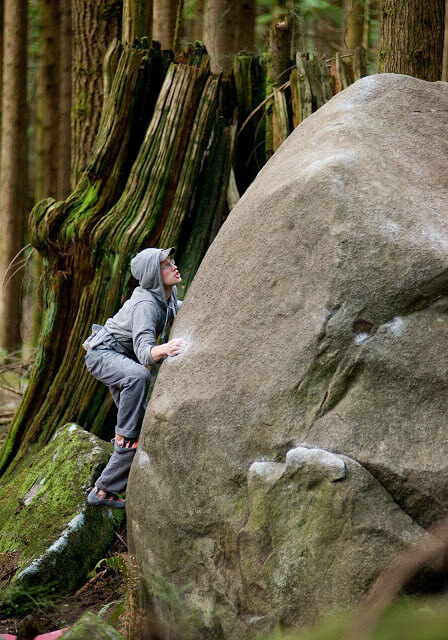 Bouldering in Lynn Valley. Photo by Rich Wheater.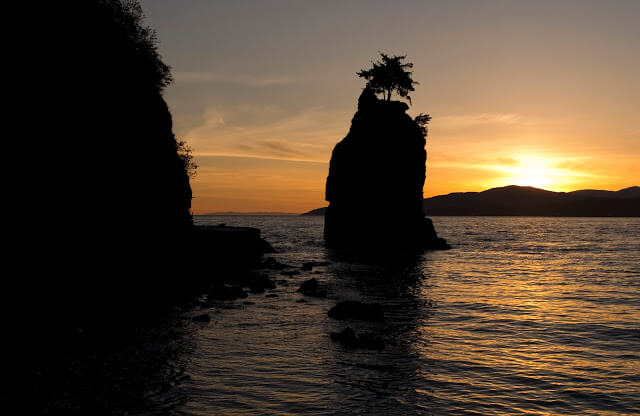 Siwash Rock at sunset in Stanley Park. Photo by Rich Wheater.
Other Activities - Vancouver has a gorgeous location that's spread out between the gleaming waters of the Pacific Ocean and the snow-capped peaks of the Coast Mountains. Many think it's one of the most beautiful cities in the world, and it certainly contains a robust population of outdoor enthusiasts. In winter, three ski areas provide lots of opportunities to get onto the snow, and throughout the year city dwellers enjoy great mountain biking, hiking and trail running, all a stone's throw from downtown. A variety of climbing gyms keep climber's fit throughout the winter, and thousands of interesting restaurants make food exploration a popular local pastime. Even if you don't climb in Vancouver, it's worth visiting the city if you've not been to British Columbia before...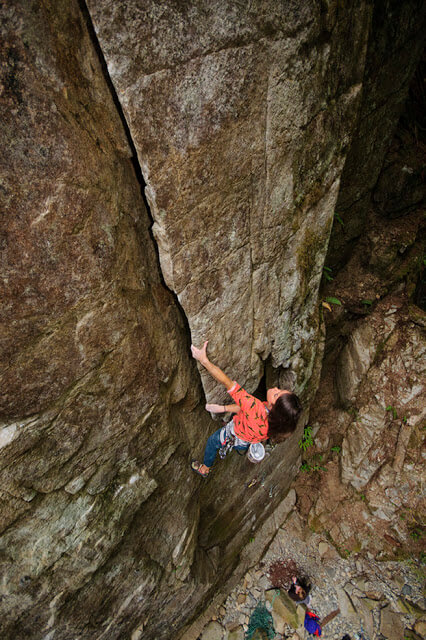 Crack climbing at Cypress Falls Park. Photo by Rich Wheater.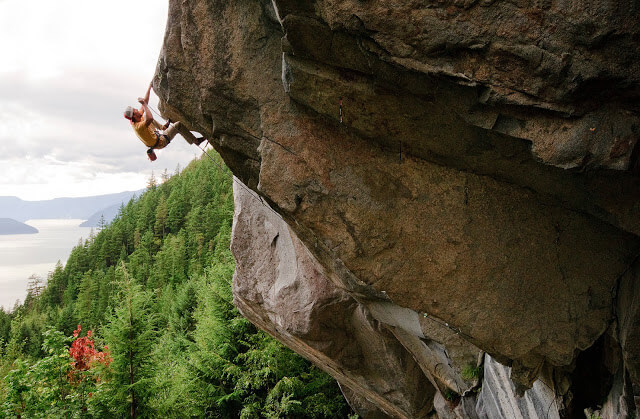 Sport climbing at Furry Creek. Photo by Rich Wheater.
While it may not be an international rock destination, Vancouver has a unique climbing culture and set of natural resources that provides a great diversion for any climber spending time in the city. The guidebook, Vancouver Rock Climbing, contains everything you need to know to plan a short yet intriguing visit, and will be a valuable resource for any climber traveling to the city or passing through on route to the crags of Squamish. Visit Quickdrawpublications.com to purchase or to hit us up for more information!
Marc Bourdon - Quickdraw Publications, Squamish BC