Recently finished up a few weeks in the Canadian Rockies. Spent the first 10 days guiding classic lines like Guinness Stout, Louise Falls, Murchison Falls, and the GBU. It was great, except for the extreme cold snap we happened to time perfectly. There were many mornings at -25F, perfect for the Stratus Hybrid Jacket.
After that my Buddy Kevin came up and met me, once they let him in the country. We had hoped to get on some bigger alpine lines, but conditions were not cooperating so we settled for more classic waterfall ice and mixed routes.
We started with Opal Creek. Whiteman Falls WI5+ and Red Man Soars M6 WI5 served as good warm-ups.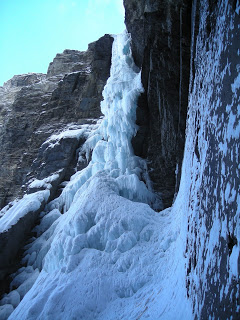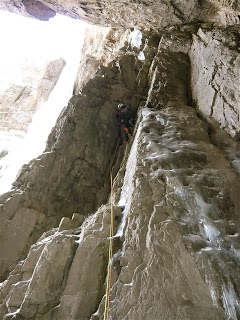 After that we spent a day tooling around Haffner Creek, and then climbed the classic, but often hazardous Bourgeau Left WI5 above the Sunshine Ski Area.
Kevin needed to see the Ghost, so we went in to do the superb route the Sorcerer WI5+. We had heard the 3rd pitch wasn't in, but we found a way up a short hanging dagger that was pretty fun. Kevin did a fine job with the funky and steep last pitch, which definiely earned the + rating.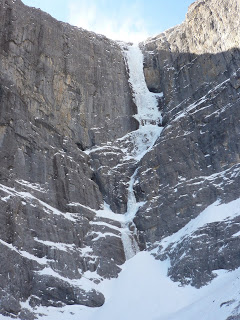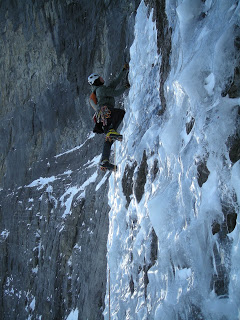 We climbed up on the sun-baked Weeping Pillar (WI6-) next, and it was ok. Much easier than usual. Then climbed the excellent Curtain Call (WI6-).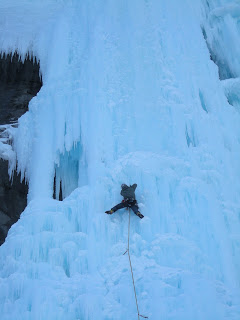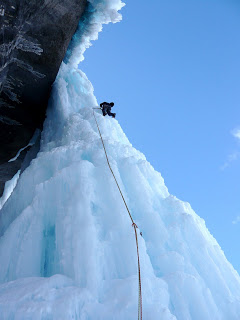 All in all it was an excellent trip, I guess I'll have to go back next year to do some alpine climbs. I'm psyched to be back with the fam in Ouray, and go climb in the desert! I've got a full plate of technical Alaska Range guiding coming up soon, so I'm trying to get as much fun in the sun as I can.
Cheers, Clint