Eiger Summit!
After two weeks of working on Jeff Lowe's new film (bit more then the 5 or 6 days I was expecting), I was beginning to think that my chances of soloing the Alps Great North Faces were disappearing. Luckily, just as the film project wrapped up, the weather cooperated. Conditions weren't ideal, but I was able to squeeze in solos of the Eiger and Matterhorn North Faces.
Half way up the Matterhorn's Schmid Route.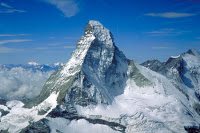 The Matterhorn. One of the more visually stunning peaks I've seen anywhere! The Schmid route climbs the center of the North Face (shaded aspect in the photo). I had very little snow, and lots of old black ice and choss, on my solo, aka a good adventure!
Although I didn't have time to get over to the Grand Jorasse, the trip was a fantastic success given the circumstances. I had a wonderful time, met some great folks, and fulfilled two alpine climbing dreams! Thanks to everyone at Mammut for helping me make this trip a reality!
As a quick aside, two pieces of Mammut gear that I used in Switzerland that were very impressive were the Glacier Pant and the Shelter Ultimate Glove. Don't know why I hadn't used this Shelter Ultimate Glove much before, but I'm now a complete believer! They're perfect for when you need your fingers free for a bit of rock climbing, but want to quickly switch back to a mitten to keep your hands warm on icy terrain. The Glacier pant, is clean, simple, fits well, and held up to the constant abuse of alpine climbing.
Some more details about my climbs can be found here:
And some clips from the making of Jeff Lowe's Metanoia can be found here: