Hey everyone (who reads this blog),

It's been exactamente two weeks since the Gravity Brawl and I decided to write on its biweekly-versary. Late in the season this year, Mammut and Native Eyewear put together yet another kick-a$$ comp that once again set a true bouldering comp standard. That's right: a bouldering… comp… standard… I've been to many comps in Russia, attended tons of junior comps in the US, and I've been to Italy, France, Bulgaria, and even Spain… and I've never seen better and more exciting comps than these!

Picture this: a citizens comp with problems of 20 styles and ratings, DJ spinning sick music, one of the best indoor bouldering gyms operating solely on the climbing energy (yes, it's an alternative energy source that might be the answer to our oil dependency). This battery lasts for several hours until Pete Ward, Jason Danforth, Kyle McCabe, etc. are forced to put a huge metal lock on the front doors until 6pm. The comp isn't over, it's about to begin! Crowds rush into the gym to get good seats while 10 male and 10 female competitors ease their way through the back door and straight into their panic room, where they try to distract themselves from the harsh reality of being stuck with their arch enemies for the next hour.

Lights out, visibility: one person in front of you and one person to the side. Yet you know there is another hundred somewhere around that are breathing heavily in anticipation. You wonder for a second what it's like in the panic room. There, male specimen already wearing their game clothes: shorts or pants, khaki or spandex (based on preference), always a T-shirt and it's always a lucky one whether you take it off during the comp or not. Guys' hearts are beating fast yet they pace slow, trying to hide any possible anxiety; if their cover is unveiled, they will pay the price of mental defeat. Gals have chosen what to wear the previous night, yet they are unsure in their minds about their decisions: tight pants, booty shorts or booty shorts… color, color, color: black or bright red? What about striped? Tank top or T-shirt, that would depend on… well, you can never go wrong with a tank top.

Finally, there comes the moment, you own it, you better never let it go… The 20 finalists come out with all they got: 10% luck, 20% skill, 15% concentrated power of will… something about pleasure and pain, and another 100%. No matter what each brings, her heart races, but her arms are steady, ready to show explosive power on the overhang behind her. "Climbers, begin climbing!" – Jason's words penetrate through the heads and the chosen finalists turn around in an instant. Bright lights suddenly shine on Problems 1 through 4; "I know what I'm doing… cross here, match, dyno, heel hook or toe hook?" echoes in your head, 4 minutes remaining and it's time to start climbing… All those percentages from before add up to 200 I believe, and you grab the finishing jug. Hop down, the lights turn off. "WTF," - you think – "The lights knew I finished the problem! Technology…" The bright lights remain focused on Problem #4, the last and hardest of them all. Only one energy can get the competitor up to the top, and it's the climbing energy! Music fades, crowd's cheering becomes a continuous noise, and gravity lowers to slightly below 9.6m/s2. Unreal, unheard of, and absolutely the most fun climbers can ask for.
To top it all off, a live band starts playing and an after-party fueled by more climbing energy pushes Mammut Gravity Brawl to the top of any ranking system! I have to admit that adding giant 20-person paellas to NE2C competitions would result in the greatest climbing party of the year… every year. Enjoy the pictures!

Yours truly,

Vasya Vorotnikov
Results by Max Breslow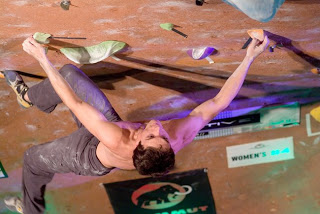 Me on Problem #4 by John Maier
Cool photos by Tim Kemple: