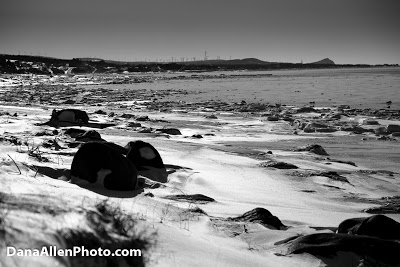 As a Vermonter, Quebec sometimes seems like a bizarre alter ego to the north. We are not sure exactly what goes on up there in the frozen north, but what we do know is that their beer is unbelievably good and they know cheese curd better than anyone else. For these two reasons alone I like to travel in this remote portion of Canada, but I am especially drawn to the Gaspe Peninsula where the mountains rise from the shore of the Saint Lawrence sea way like giant breaching whales. This range, known as the Chic Chocs, is an incongruity in the flat agricultural expanse that makes up the majority of Quebec. They are not spiny peaks, but more rounded like some of their pacific counterparts, the Monashee and Selkirk mountain ranges. Despite this softer geometry, the Chic Chocs provide some serious descents for the interested skier. All the skiing is backcountry, but most approaches are just a few hours and can be accessed directly from the road that cuts through
Park National de la Gaspesie
. We had set out to ski a new region in the park that just opened to backcountry skiing this year. What we found atop these coastal mountains was a series of open ridge lines, spacious forests, and around 4+ ft. of new fresh snow to shred at will.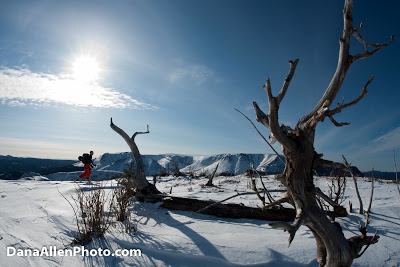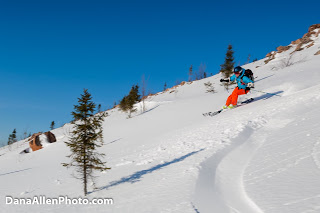 Gite du Mont-Albert.
We also toured the local town of St. Anne des Monts where we took in the local sites and tried a few regional dishes.
I was not prepared for the quantity of pig product that I got at L'Express, the most popular breakfast joint in town (even the cops were there eating). Skiing was no easy task after putting down bacon, sausage, ham, eggs, potatoes, beans, crepes with maple syrup (not real syrup sadly), toast, fruit, and a piece of something resembling breakfast pate, although I am not sure exactly what it was and I lost steam before getting to that particular item on my plate. I guess I will have to go back and try it next time.
When we packed up the car after the final tour, I was already planning my next trip and lines that I did not get to ski. This Chic will definitely be in the Chocs again soon!!!!!!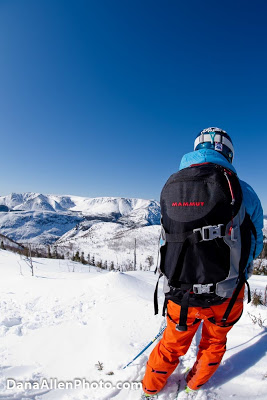 ~Louise Lintilhac
a.k.a Steezy Weezie