I have finally succumbed to summer. My skis are bedded away after an incredible May in the Tetons.
Despite a relatively meager snowpack in the West this last winter, Spring skiing conditions in the Tetons were perfect in May. Corn skiing in the Tetons is not as easy to find as, say, in the Sierra where cold, clear nights and warm days are commonplace in the Spring. Spring skiing in the Tetons is often obstructed by unstable weather and late season dumps. And the rocky, cliff-riddled nature of the skiing requires a deep snowpack up high.
Luckily, despite a relatively low snow year in the Tetons this winter, warm Spring storms deposited plenty of late season snow above 10,000' and May was blessed with cold clear nights and sunny days. As a result we had plenty of snow in the alpine and pool table smooth conditions up until a 2' dump on Memorial Day weekend which subsequently gutted the range with runnels and debris.
This May I guided several parties down the Grand Teton via the East Face-Ford Coulior route. The clients had trained on a lot of steep, exposed terrain in the Alps and at Valdez Heli-Ski Guides, providing them with the needed level of comfort in the No-Fall Zone.
Skiing the Grand requires that skiers negotiate 50+ degree terrain while skiing above a precipitous ice-choked coulior. While rappelling is necesary to descend the iciest of sections, the goal of such an outing is still to ski all that is skiable. While guiding, ski-belays are necessary but hopefully minimized if the client is extensively trained in steep and exposed terrain. The most successful clients have trained in both the Alps and in Valdez, Alaska where the No-Fall Zone is easilly accessed, respectively, via a 20 minute tram or a 2 minute flight.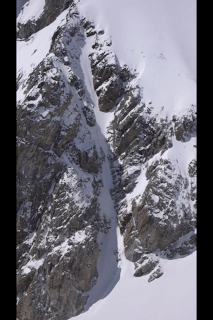 Ascending Shea's Chute on the Middle Teton, an excellent warm-up run which requires skiing sustained 50+ terrain.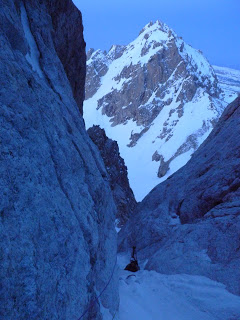 Shane Toohey ascending the Stettner Coulior on the Grand Teton. The East Face of the Middle Teton is seen in the background.